Posted by: Nick Redfern on May 23rd, 2013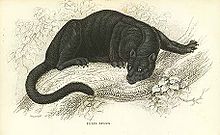 "Imagine the scene: It's late on a chilled, winter's night and the witching-hour is looming perilously close. Your high-pressure job takes you out of town on a regular basis, and right now – after a hard week spent on the road – you just want to get home to your wife and the comfort of your own bed. But before you can do both, you are forced to concentrate on driving through the winding, tree-shrouded roads of large, ancient woodland. Your eyes are tired, the light is poor, and mysterious shadows dominate your field of view. And, little do you know it, but there's something else on the road, too. It's something terribly monstrous, as you are just about to find out.
"As you negotiate a sharp bend – a bend you have traveled on probably hundreds of occasions and one which is particularly dense with tree cover – you slow down and turn on your high beams to help illuminate the blackness that beckons. Suddenly, your eyes become hypnotized by something incredible on the right-side of the road."
The above is how my latest Mysterious Universe post begins, on a saga of an out-of-place animal and an infamous forest.

About Nick Redfern
Punk music fan, Tennents Super and Carlsberg Special Brew beer fan, horror film fan, chocolate fan, like to wear black clothes, like to stay up late. Work as a writer.