Posted by: Dave Coleman on April 4th, 2013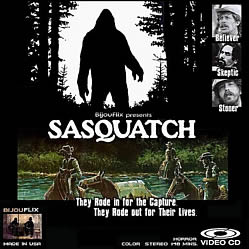 Ed Raggozino, director of the cult-fave Sasquatch, the Legend of Bigfoot, reveals the ardors of shooting in the wilderness to make your Bigfoot flick authentic; having flick fans still seek him out (like we did!) after all these years; and his own belief or not in the Hairy Giant of North American folklore.
Though obscure to most who did not see it as children in its original release in the 1970′s, for those lucky enough to have hidden behind the seat in front of them during this classic shocker they never forgot just how damn scary a "G"-rated kiddie matinee could be!
Read: Innerview of Ed Raggozino, director of the cult-fave Sasquatch, the Legend of Bigfoot »
---