Posted by: John Kirk on May 27th, 2014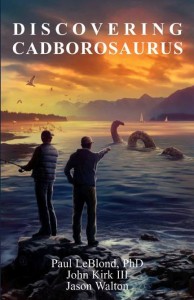 Got the go ahead today to let everyone have a look at the front and back covers of Discovering Cadborosaurus the new book by Paul LeBlond, Jason Walton and myself.
Jason did the cover artwork and it's absolutely stunning. The Caddy in the illustration is a composite of various sightings. We are damn proud of this book and can't wait until the autumn when it is released.
Read: Discovering Cadborosaurus »
---