Posted by: Lyle Blackburn on October 23rd, 2013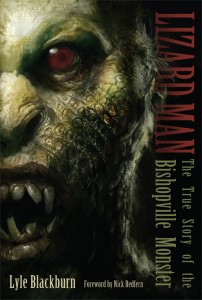 I'm proud to announce that my new book, Lizard Man: The True Story of the Bishopville Monster, is now available from Anomalist Books.
As with my previous book, The Beast of Boggy Creek, I offer an in-depth look at one of the most bizarre and hair-raising cases of an unknown creature. During my research trip to Bishopville – and to Scape Ore Swamp itself – I discovered that there's much more to the story than I first realized… and much more than meets the eye regarding the media's portrayal of this modern-day 'creature from the black lagoon.' All in all, it made for a fascinating research trip and resulted in a book that I think everyone will truly enjoy.
Read: Lizard Man book is here! »
---