Posted by: Rick Noll on October 21st, 2005
The Whites left the conference early. It surprised and disappointed me. They were supposed to show the film publicly there – but didn't. The only people seeing it were those in the after-session secret meetings. The ones that still take place after conferences now. More on that later though.
I couldn't talk to Grover about it since all of his time was being spent with Carleton Coon, John Green would have nothing to do with me because of my association with Peter Byrne and that left Rene, who reminded me of my grandfather. Not a very nice man but quite entertaining. I won't go into one of the camping trips we took together where he video taped my wife and her girl friend sunbathing in the buff while hidden in some trees… I guess that tape made it to those secret meetings.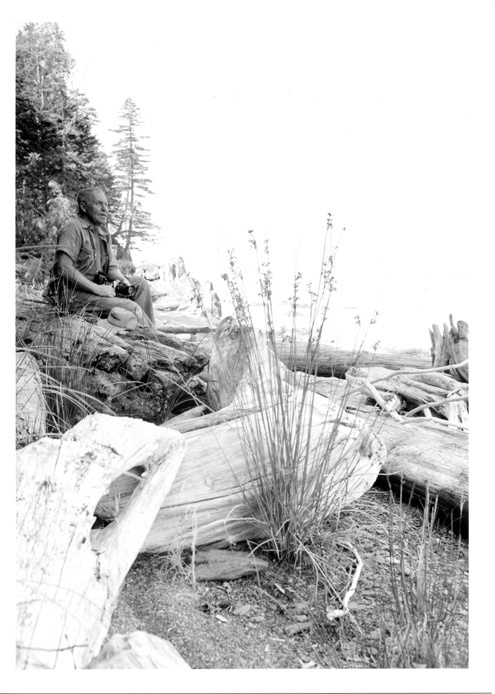 When asked about the film Rene just waved his hand to say that there was no comparison to the P/G film so why bother. I guess he didn't understand that two films would be better than one. It could corroborate one another when studied. If each had common information but different sources…
Leaving the conference I made a stop at Rene's place, the Gun Club in Richmond, BC. He lived in two small utility trailer boxes to the side of the main club lodge there. He entertained in one of them and the other was for storage and living.
Other people were there visiting as well. Rene was holding court, laughing at the some of the shenanigans that went on during the conference. They could not believe that a car antenna was on display as having been bitten and bent by a Bigfoot, but it was.
Dennis Gates, Tony Healy, Bob Walls and Bruce Bonney were there too. Dennis and I had a small history coming from the North Bend tracks in 1975 (which I am sure I will eventually get to in these blogs). Dennis had a studder problem and it was difficult to understand him sometimes. Of course one always wanted to complete his sentences for him and that would just piss him off. Dennis would later travel the US with John Green in the making of the monumental Sasquatch: The Ape Among Us, a tome for anybody but us Bigfooters.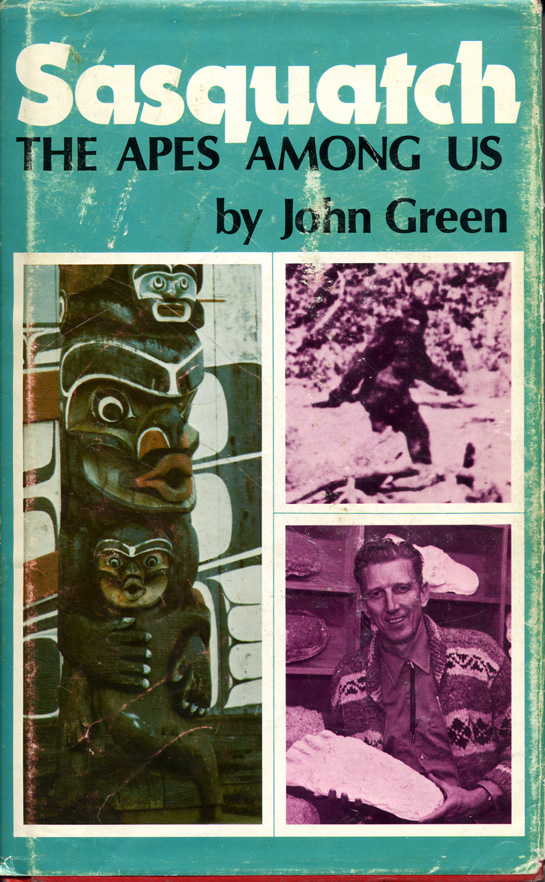 Please don't get me wrong here… I love this book and think it one of the best on the subject ever written. I also have the utmost respect for it's author, having spent many candid moments and conversations with the gentleman.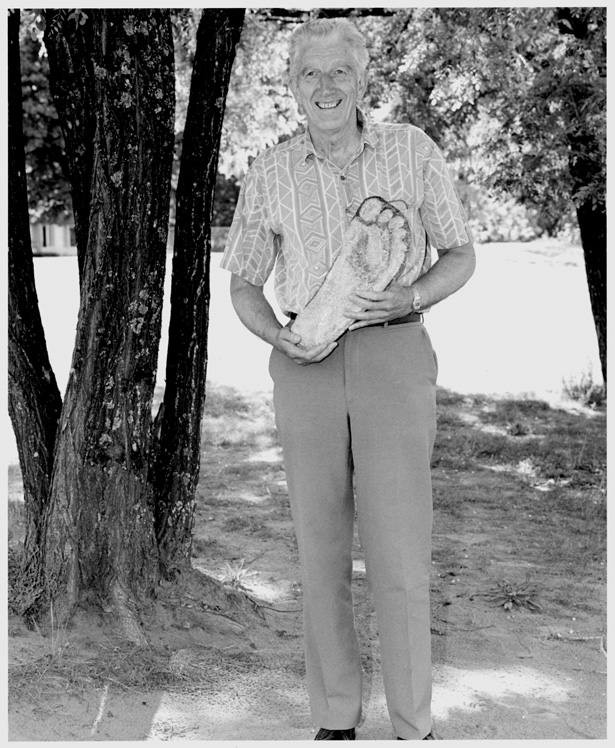 I brought up the interest the media had for the kill debate while standing with the group outside. That was the first time I heard Rene say that the only thing he would kill when he finally sees a Sasquatch would be his partner (whoever that might be at the time) because there could only be one coming out of the bush with the goods. He was laughing at that but you could tell that he could very well be serious about it.
While in Canada this trip I bought a new 35mm camera and was taking pictures with it… my first roll of film. It was B&W. I got an idea and asked for Rene to lay over the hood of my truck like a dead deer come back from a hunting trip and I would have a couple of the guys stand in front with a leg up on the bumper. He looked at me and smiled and said sure, then went and got a rifle and we took the picture.
Rene loved the idea, wanted to use the picture as a Christmas card to send to the media. Unfortunately the camera, that picture and many others on that roll disappeared when my truck was broken into, all stolen along with a rifle less than a week later.
I asked Rene about the White film again and he pretty much dismissed it but said that we should go anyway and take a look. Anything that Grover Krantz took note of Rene would counter. It was becoming Rene's MO.
Tony and Bob asked me if they could go too. I said sure. I had the White's phone number and called them. They gave me directions and we were soon off on target.
We arrived in the night and with about a foot of snow on the ground. It was very cold. We met up with a camp time-share manager at a dinner near the small town of Baker and he told us that we could camp there since it was pretty much vacant. We could use the pool and hot tub also if we wanted.
What a treat… the pool was cold and covered by a plastic translucent dome. Going back and forth between the pool and tub put my skin on fire since we didn't have bathing suits with us nor towles. It did stimulated a lot of conversation concerning the conference and Bigfoot research in general.
The next day we located several spots that looked like it could be where the film was taken… OK, make that several thousand spots. Directions were not that easy back then. No GPS or accurate map markings so people naturally used landmarks for the most part to describe a location.
I don't really know what we were looking for really. Some time had passed since the film was made and we were in a completely different season with snow on the ground. I think back then I still believed that one could even the odds with return visits to places like this… with a history… maybe the creature would return, that kind of thing.
We didn't spend but two days there and thought – sure, a Bigfoot could be around here. We were on the fringe of a wilderness. We went back to that same dinner and I called Rene. He told me to go home, don't bother with it, that the Whites had confessed to having faked the film and that it was just the wife in a suit.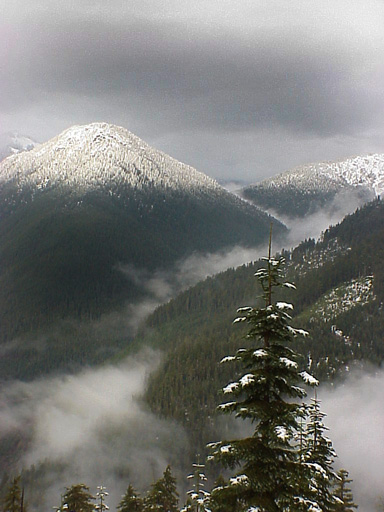 I was disappointed and we left the area but I was determined to hear this for myself, straight from Frank. I called him when I got back and he said that no he did not say that it was a fake film. He offered for me to come and look at the film at his home.
I made it over there the next day and listened to their story, watched the film and they allowed me to take a picture off the screen. They signed their names to the bottom of the Polaroid. Not a very good picture but a picture none the less.
I don't know who has the film now or even if it exists. I have some ideas though. One just surfaced at the TBRC 2005 Con. Which soon brings us back to it.
There are some differences between the P/G creature and this one though. Here are some of my notes from the time:
White versus P/G –
1. Pronounced human shaped nose. (there is a rather flat faced picture taken from the P/G film, no protruding nose, but that picture may have been distorted, being that the camera was about 150 feet away and the heat coming off those California creek bed rocks could have sent heat waves up between them, making it all but disappear.)
2. High hairless forehead. (sexual dimorphism, region)
3. Thicker fur/hair covering. (region, age)
4. Slower moving. (human proximity, age)
5. Much closer to the camera. (fakery would be more evident)
6. No smell. (gender)
We made plans to go up to the site and they would show me where it all happened. Sorry, but I can't tell you any more than this except that yes I went up with them, saw the spot and found evidence that leads me to believe it may be just as they said it was and is shown on their film. I don't know why it was labeled a hoax or who contributed to it being called that.
So this became one of my main reasons for picking the North Cascades for a long term research project. Bob Walls and I were to explore the areas where sightings happ
ened in the past here. Later Owen Caddy and I were to section off a piece and work it very hard, continuing to this day and just recently a new History channel show filmed an expedition Dr. Jeff Meldrum had there.
Oh yeah… one more thing. Another picture emerged from the area near about the same time. A picture that might be of a dark, hair covered hand reaching out from some bushes, late in the day, towards the photographer. The photographer was 10 miles into a trail and was quite spooked when finally exiting. This photographer was following up on a much publicized incident at Cub Lake where a couple of teen aged boy scouts claimed to have been chased off a mountain.

About Rick Noll
Rick Noll has been actively searching for the Sasquatch since 1969 and continues his pursuit with extended field trips into the Pacific Northwest's most remote regions. Rick has worked with Peter Byrne, René Dahinden, Grover Krantz, John Green, Jeff Meldrum and the BFRO during all this. He helped with many documentaries on the subject including Animal X: The Skookum Expedition and Sasquatch: Legend Meets Science.