Posted by: Rick Noll on January 31st, 2006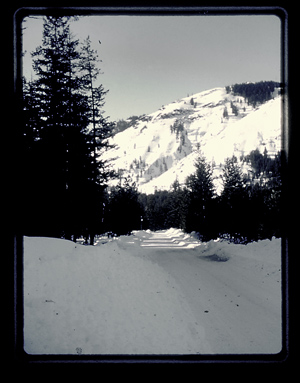 (Led Zeppelin – What Is And What Should Never Be)
The lay of the land rolled across my mind like an endless topographic map with those sporadic red and green indicator pins showing up where Bigfoot sightings and tracks had been found. Was there some common link between all these areas?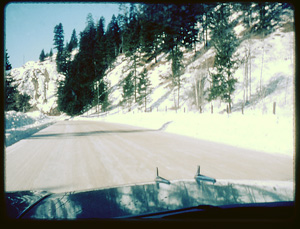 We were crossing Snoqualmie Pass when Dave mentioned that we were going to have to stop for gas soon. I wondered about this for a bit and then spoke up… "I thought you filled up before we left?" To keep the car going in a straight line Dave had to over-steer to the left and right about 10 inches or so and he looked like he was getting a pretty good work out.
"I did but there is a bullet hole half way up the gas tank and so I can only fill it so much." Dave answered back. Dave and his brother apparently was target practicing with a 22 cal rifle one day out in the woods in back of their parent's home. They had set up a tin can lid by nailing it to a tree. One of the shots hit the proverbial nail on the head, ricocheted back, hit his brother a glancing blow to the head, knocking him out and then nicked a rock near the rambler, bouncing up and you guessed it… hitting the gas tank.
"Wow!" I said. "What happened to your brother?" Dave told me it scared the bejeebers out of him. He thought his brother was dead. There was some blood but he came around pretty quick. They laugh about it now but man, I can't even imagine.
About 15 minutes later, Dave spoke again, telling me that he didn't trust the gas gauge either. Sometimes it sticks in one position till he hits a good bump, jarring it loose. So… we really didn't know what our gas situation was.
OK… the car only starts with compression, there is a hole in the gas tank and the fuel gauge doesn't always work. What else do we have to worry about here? Is Bigfoot hunting supposed to be this hard?
I watched as small towns went past as we drove. I didn't want to run out of gas and have to walk to get some. I didn't even know if Dave had a gas can in the car. I just wanted to get to the site and start the investigation. Now I was wondering about how we were going to get back.
I kept reminding Dave about getting gas and he would say yeah the next town… you see there was also a hole in the muffler and the car made quite a bit of noise while driving, not allowing too much in the way of conversation. You could go back and re-read the quotes of our conversation above… but with us yelling it to one another.
(Pink Floyd – Fearless)
Oh yeah! One more thing… we couldn't turn the heater on either… fumes.
It was very dark out now, but the snow gave an eerie glow in the headlights…
I don't think I drifted off but with a start I looked out the front window of the Rambler. It was quiet. Too quiet. Damn… I wasn't really mad. Just wondering how we were going to get out of this. We had just passed through Chelan and everything was closed. It was 2:00AM. Dave had decided to keep driving. We got about half a mile out of town before the Rambler died.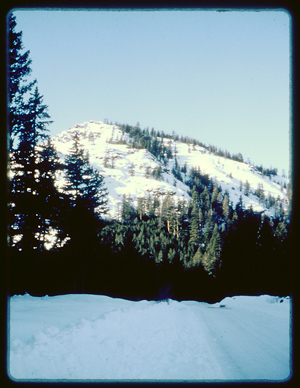 Now we had to wait for a station back in town to open up. We were tired, cold, thirsty and hungry. We started talking about what we knew of the events so far to keep ourselves occupied. Our situation slipped from our minds and at least I was lulled to sleep after a couple of hours talking. I think I dreamed of Bigfoot tracks in the snow…
I woke up and had to go to the bathroom. This woke Dave too. We were both freezing and had massive headaches; the air was a lot drier on the east side of the Cascades but it might also have been the very dry tuna sandwiches we had eaten on the road with nothing to wash them down with. Looking at the time we figured we could start walking back towards town to get some gas. Dave rolled down the station wagons back window and we looked in. There was all our gear… including food and drink. We had forgotten about our sleeping bags and began laughing at ourselves.
Yeah right… the fumes. At least my leg felt good being this cold.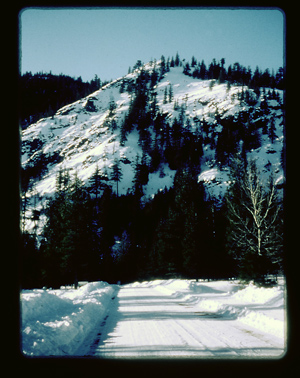 About Rick Noll
Rick Noll has been actively searching for the Sasquatch since 1969 and continues his pursuit with extended field trips into the Pacific Northwest's most remote regions. Rick has worked with Peter Byrne, René Dahinden, Grover Krantz, John Green, Jeff Meldrum and the BFRO during all this. He helped with many documentaries on the subject including Animal X: The Skookum Expedition and Sasquatch: Legend Meets Science.