Posted by: Craig Woolheater on March 3rd, 2012
Now available from my good friend Lyle Blackburn is the definitive guide to the history of the Fouke Monster and the film The Legend of Boggy Creek. The foreword for the book was written by Cryptomundo's own Loren Coleman.
Amazon.com shows the book is available to be ordered and shipped now!
The Beast of Boggy Creek: The True Story of the Fouke Monster
by Lyle Blackburn
Foreword by Loren Coleman
Illustrations by Dan Brereton
——————————————————-
Tales of the creature have long existed in scattered pieces across news clippings, memoirs, police reports, and movies, but it is only now that the complete history of the Fouke Monster has been assembled in one place. This book collects all the facts, theories, and amazing sighting reports, and weaves them into a fascinating tale about this undeniable southern mystery.
Available from Anomalist Books in March 2012.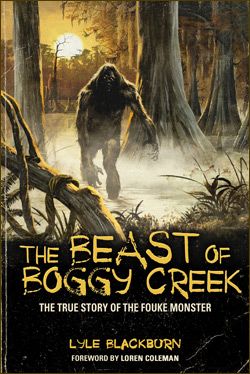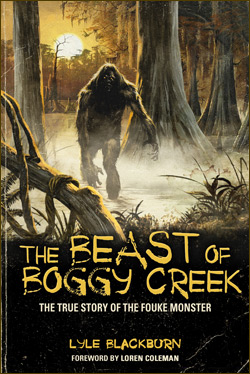 Early reviews…
"An extremely enjoyable and spooky ride, this book will make you wonder if a monstrous man-beast might indeed be watching you from the shadowy confines of the bottomlands."
– Sean Whitley, director Southern Fried Bigfoot
"Take a shot of monstrous menace, add to it a high degree of abominable intrigue, and top it all off with a dose of near-Lovecraftian-style terror, and you have Lyle Blackburn's The Beast of Boggy Creek. Destined to become a cryptozoological classic!"
– Nick Redfern, author of Monster Diary and There's Something in the Woods
"This book brought back all those memories of watching The Legend of Boggy Creek as a child and being fascinated with the beast that always follows the creeks. This is a must have for all movie fans, history buffs, and bigfooters!"
– Kathy Moskowitz Strain, author of Giants, Cannibals & Monsters: Bigfoot in Native Culture
About Lyle…
Lyle Blackburn is a frequent contributor and cryptozoology advisor to Rue Morgue magazine, one of the leading horror media publications in print today. Lyle's Monstro Bizarro blog is featured on Rue Morgue's website and his "Monstro Bizarro Presents" news column appears monthly in Rue Morgue magazine.
Growing up in Texas near the film site of the cult-classic, The Legend of Boggy Creek, Lyle has always been fascinated with legends, lore and sighting reports of real-life "monsters." He has studied the phenomenon in legend, fact and film, and is the author of the upcoming book, The Beast of Boggy Creek: The True Story of the Fouke Monster.
Lyle is also the founder and frontman for the rock band, Ghoultown. Since 1998, Ghoultown has released eight albums, toured extensively in both the U.S. and Europe, appeared on several horror movie soundtracks, and was recently featured on the syndicated television show, "Elvira's Movie Macabre."
Lyle lives near Dallas, Texas where he enjoys a day off every once in a while.
For more information about the author, visit Lyle's website.
About Craig Woolheater
Co-founder of Cryptomundo in 2005. I have appeared in or contributed to the following TV programs, documentaries and films: OLN's Mysterious Encounters: "Caddo Critter", Southern Fried Bigfoot, Travel Channel's Weird Travels: "Bigfoot", History Channel's MonsterQuest: "Swamp Stalker", The Wild Man of the Navidad, Destination America's Monsters and Mysteries in America: Texas Terror - Lake Worth Monster, Animal Planet's Finding Bigfoot: Return to Boggy Creek and Beast of the Bayou.