Posted by: Craig Woolheater on September 6th, 2010
SYFY PREMIERES BEAST LEGENDS
NEW SERIES INVESTIGATES LEGENDARY CREATURES FROM KRAKENS TO FIRE DRAGONS
DEBUTS THURSDAY, SEPTEMBER 9, AT 10PM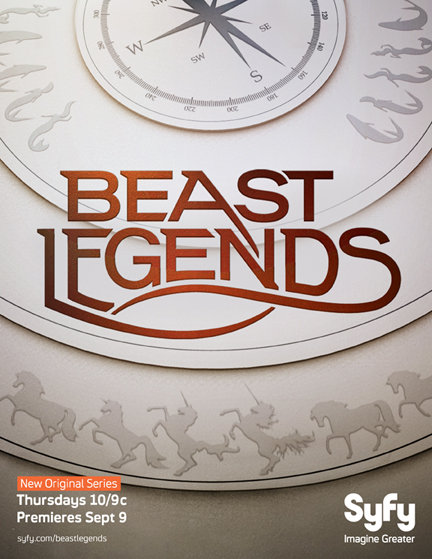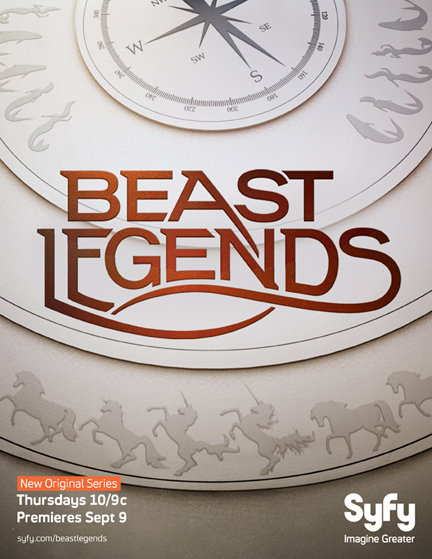 New York, New York – August 17, 2010 – Syfy will premiere Beast Legends, a new six-part series which journeys around the world using scientific data to reconstruct what mythological monsters, from Krakens and Griffins to Fire Dragons, would have looked like.
The debut of Beast Legends on Thursday, September 9, at 10PM (ET/PT) follows the fourth season return of Destination Truth at 9PM (ET/PT). In each of the hour-long episodes, Beast Legends uncovers historical and eyewitness accounts by zeroing in on archaeological and other physical evidence to assemble the most accurate picture possible of these monsters, from where they might have lived to how they would have behaved.
Beast Legends then moves to the 'Beast Lab' to build the creature, first as initial sculpts and wire-frame forms, before finally bringing it to life in stunning 3D CGI.
The investigations are conducted by the "Beast Seekers," an expert team of specialists:
■ Stephen Leonard: Adventurer and Veterinary Surgeon based in Bristol, England.
■ Kathryn Denning: Myth expert, anthropologist, archaeologist and professor at Toronto's York University.
■ Scott Edwards: Professor of Organismic and Evolutionary Biology and Curator of Ornithology at the Museum of Comparative Zoology, Harvard University.
■ Francis Manapul: Philippine-born, now Toronto-based, renowned comic book artist.
This season, Beast Legends will explore:
■ The Kraken – Thursday, September 9, at 10PM (ET/PT) The Beast Seekers investigate the sailor's legend of the Kraken, a terrifying multi-tentacled sea monster that snatches men from ships' decks and crushes entire vessels, sending them to the ocean bottom.
■ Fire Dragon – Thursday, September 16, at 10PM (ET/PT) The Beast Seekers venture deep into the primeval forests of Poland in search of the truth behind ancient legends of a terrifying, fire-breathing dragon called Smok.
■ Megajaws – Thursday, September 23, at 10PM (ET/PT) The Beast Seekers travel to Fiji to learn about Dakuwaqa, an all-seeing, all-knowing Shark God – a huge beast that can change shape at will.
■ Winged Lion – Thursday, September 30, at 10PM (ET/PT) The Beast Seekers explore Mongolia's Altai (Golden) Mountains in search of a massive, legendary creature with the head of an eagle, razor-sharp talons and the body of a gigantic lion – the vicious beast known as the Griffin.
■ Wildman of Vietnam – Thursday, October 7, at 10PM (ET/PT) The Beast Seekers explore the remote, unexplored jungles of Vietnam in search of the Wildman, a giant, hairy, bloodthirsty beast similar to North America's Bigfoot or Sasquatch.
■ Bird Monster – Thursday, October 14, at 10PM (ET/PT) In the ancestral Navajo lands of New Mexico, the Beast Seekers investigate the legend of a giant bird predator the size of a small airplane.
About Craig Woolheater
Co-founder of Cryptomundo in 2005. I have appeared in or contributed to the following TV programs, documentaries and films: OLN's Mysterious Encounters: "Caddo Critter", Southern Fried Bigfoot, Travel Channel's Weird Travels: "Bigfoot", History Channel's MonsterQuest: "Swamp Stalker", The Wild Man of the Navidad, Destination America's Monsters and Mysteries in America: Texas Terror - Lake Worth Monster, Animal Planet's Finding Bigfoot: Return to Boggy Creek and Beast of the Bayou.