Posted by: Craig Woolheater on July 6th, 2006
I attended the Bigfoot Rendezvous several weeks ago in Pocatello, ID. I had a great time. I saw some friends and colleagues that I had not seen in some time, others that I had seen only months or even weeks earlier.
Yesterday, the Boise Weekly published an article about the event.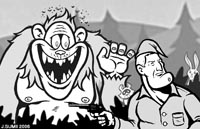 The article focuses on wildlife biologist John Mionczynski, who told his story of a strange encounter he had in 1972.
It also mentions several of the other characters who attended.
POCATELLO–A hulking 6-foot 3-inch believer cornered John Mionczynski as he left the lectern. "I know you're a skeptic, right? But look here." The man jabbed a photo with his thick finger. "See. See. That's Bigfoot."
I peeked over the man's meaty shoulder to see a grainy black and white of trees and shadows. I felt like I was flunking an ink blot test.
He prodded Mionczynski. "Obviously you see that's Bigfoot there. What do you think of that?"
The man then presented a shot of an oval smudge on a gray background, captioned: "Bigfoot in UFO."
As a wildlife biologist, Mionczynski has spent years tracking bears through Wyoming's Wind River Mountains. He's the sort of man Marlboro puts on billboards and the gray at his temples is the only suggestion that he is nearly 60 years old.
Mionczynski grinned at the big zealot and said, "I think you have a great imagination."
The man arched an eyebrow and, with Gandhi-like dignity, lumbered off.
"You have to listen to what they have to say and just try to be courteous to people like that," Mionczynski said.
At the conference, one sasquatch-sized man demonstrated Bigfoot's heavy, arm-swinging stride. A woman described several encounters where she didn't see Bigfoot, but found puddles of Bigfoot urine. Another time she heard what could only have been Bigfoot flatulence. Another man with a California surfer accent talked about a woman who, after being abducted by Bigfoot, was returned to civilization years later, wild and crazy.
"They had to keep her in a cage," he said.
About Craig Woolheater
Co-founder of Cryptomundo in 2005. I have appeared in or contributed to the following TV programs, documentaries and films: OLN's Mysterious Encounters: "Caddo Critter", Southern Fried Bigfoot, Travel Channel's Weird Travels: "Bigfoot", History Channel's MonsterQuest: "Swamp Stalker", The Wild Man of the Navidad, Destination America's Monsters and Mysteries in America: Texas Terror - Lake Worth Monster, Animal Planet's Finding Bigfoot: Return to Boggy Creek and Beast of the Bayou.