Posted by: Craig Woolheater on July 8th, 2006
Over on the Johor Hominid website, people have been posting comments on their scrolling message board asking for the photos to be released. Others have posted saying don't listen to the whiners demanding that the photos be released.
Some of the latest comments…
guest_7196 : Why no photos yet?????
tindalos : hopefully the pics will come out soon…
guest_2451 : I agree

guest_2188 : Vincent, don't be bothered or distracted by the "super-fans" … the hardcore geeks who are impatient. They do not matter. Don't let their remarks deter you. from MM (Is this Matt Moneymaker?)
guest_436 : STICK TO YOUR GUNS PEOPLE, DON'T LET IMPATIENT CRY BABYS BOTHER YOU WITH THEIR TIRADES OF "S HOW THE PICS OR I WON'T BELEIVE ANYMORE!!
guest_2120 : Sean and Vincent … You don't need to post updates to Cryptomundo … rather, post them on your own web site, so you don't have to listen to ignorant quips from losers and shut-ins. If the BFRO site has a link directly to your site, it will get 1000 times more web traffic than Cryptomundo will ever do for you. (Is this Matt Moneymaker again? Or just another BFRO sycophant?)
Cryptomundo reader jsnpritchett posted the following message:
jsnpritchett : Matt Moneymaker: why are you trying to turn this into a "battle" between the BFRO and Cryptomundo? If you read my comments, you'll see that I suggested posting the updates here and/or on Cryptomundo. I suggested Cryptomundo because Sean has been active there. Why refer to people who post at Cryptomundo as "losers" and "shut-ins?" Most of the people who post there, including me, simply want the pictures to be made public. Why don't our opinions matter? (And no, I have no affiliation
So I posted the following message:
ecwool : 1000 times more traffic? You think so, huh? Well, you can take a gander at the website traffic details between Cryptomundo and BFRO that I will post to Cryptomundo tonight. Go to Alexa.com and check traffic ranking for sites and compare the 2 sites and you will see…
So is it Matt Moneymaker, or perhaps someone else at the BFRO, that is claiming that the BFRO website would drive 1000 times the traffic to the Johor Hominid site with a link there versus what would come from a link from Cryptomundo?
Below are the traffic ranking graphs from Alexa.com, comparing the traffic to both sites. Mind you, Cryptomundo went live on September 29th of 2005. That was the date that I posted the very first topic here on Cryptomundo. So we are talking about a site that has been online a few days longer than nine months.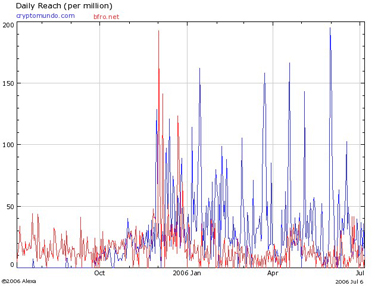 Click on graph to expand to full-size
The above image is the traffic rank for the last 12 months. You can see when Cryptomundo went live, it is the spike of blue right before the word October, September 29th. Before January 1st, 2006, we were pretty consistantly outranking the BFRO, and have continued to do so since.
Below is the traffic rank detail for the last six months, which will give a slightly larger graphic.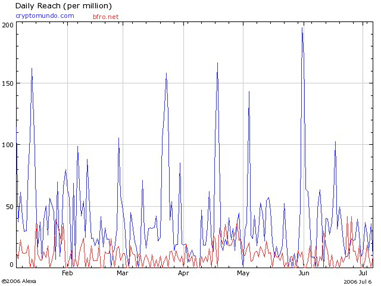 Click on graph to expand to full-size
Once again, Cryptomundo traffic rank is blue, BFRO is red.
And before anybody accuses me of starting this, read the posts from the Johor Hominid website above. I'm just stating facts…Go to Alexa.com and see for yourself.
About Craig Woolheater
Co-founder of Cryptomundo in 2005. I have appeared in or contributed to the following TV programs, documentaries and films: OLN's Mysterious Encounters: "Caddo Critter", Southern Fried Bigfoot, Travel Channel's Weird Travels: "Bigfoot", History Channel's MonsterQuest: "Swamp Stalker", The Wild Man of the Navidad, Destination America's Monsters and Mysteries in America: Texas Terror - Lake Worth Monster, Animal Planet's Finding Bigfoot: Return to Boggy Creek and Beast of the Bayou.