Posted by: Craig Woolheater on December 17th, 2014
ISU prof to offer class that factors Bigfoot into theory of evolution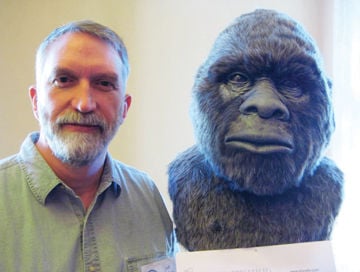 In the upcoming semester, Idaho State University professor Jeff Meldrum will be teaching an experimental course titled The Relict Hominoid Inquiry. Part of that inquiry will address scientific theories on Bigfoot, alongside other links in the human evolutionary chain.
"It's not a course about Bigfoot," Meldrum said. "What I'm trying to do is address a shift in perception that's been gaining traction in the anthropological community."
That shift involves looking at human evolution as a tree in which scientists are discovering new branches all the time.
"Each year it seems like there are more discoveries," Meldrum said. "The phylogeny is becoming bushier and bushier."
The theory is that offshoots of human evolution are recent and could still exist, roaming the earth undiscovered. Therein lies the course's connection to Bigfoot. Discussion about the Yeti is also referenced in the course syllabus.
"Are we the last hominin standing?" the course description asks. "Or could there be others? … Are these mystery hominoids — the sasquatch, yeti, almas, yeren, orang pendek — surviving branches of a bushy family tree?"
The teacher of the course is also an expert in his own right on the topic of elusive, mystery hominoids. A 21-year veteran at ISU and current professor of anatomy and anthropology, Meldrum studies how hominoids made the evolutionary leap to bipedalism. Ancient footprints, archeological records and the science behind legendary creatures have been his life's work. Meldrum has been featured as a scientific expert on Animal Planet TV specials about Bigfoot. He also publishes a peer-reviewed online journal titled "Relic Hominoid Inquiry," which explores the possible existence of relict hominoid species around the world. Bigfoot and the Yeti are assumed by some scholars to be classified as one of those relict hominoid species.
While the class is about human evolution, with only two days devoted to Bigfoot and the Yeti, some faculty at ISU are wary of what it says about their university.
"I tell people it is not a course on Bigfoot," said Mark Austin, chairman of the Department of Biological Sciences at ISU of his conversations with concerned faculty. "It is a course on anthropology."
Austin is the department chairman who approved the course. He was careful to note that the course was approved on its academic merits, not because of its connection to a sensational topic.
"We are going to allow it," Austin said. "There is an issue of academic freedom that we want to uphold at the university."
While the experimental course does count toward degree credit, it is considered an elective. Meldrum can teach the course on an experimental basis for up to three years before its content has to be reviewed by the university's curriculum committee.
"The idea behind it is to propose these new courses to students and give them a variety in the courses they can take," Austin said of experimental courses.
Any faculty at ISU can propose an experimental course. However, starting in the new year, these courses will receive a preliminary review by an ISU teaching committee, Austin said.
Currently about 12 people are enrolled in Meldrum's class. The classroom he is planning to use can fit about 30. Meldrum says that most of the interest has come from serious anthropology students.
"If this is successful we can decide to continue offering it on a regular basis," Meldrum said.
Austin added that student response to the course would be a deciding factor for the course's future.
About Craig Woolheater
Co-founder of Cryptomundo in 2005. I have appeared in or contributed to the following TV programs, documentaries and films: OLN's Mysterious Encounters: "Caddo Critter", Southern Fried Bigfoot, Travel Channel's Weird Travels: "Bigfoot", History Channel's MonsterQuest: "Swamp Stalker", The Wild Man of the Navidad, Destination America's Monsters and Mysteries in America: Texas Terror - Lake Worth Monster, Animal Planet's Finding Bigfoot: Return to Boggy Creek and Beast of the Bayou.