Posted by: Craig Woolheater on September 4th, 2010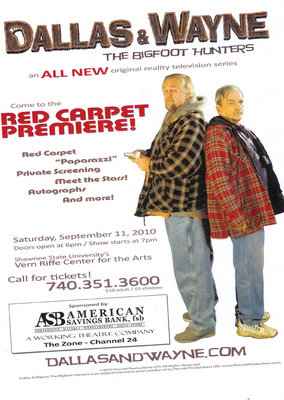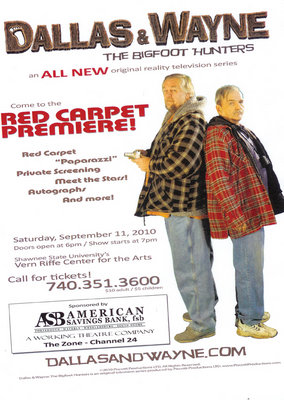 Dallas & Wayne: A Sneak Peek! from the Dallas and Wayne: The Bigfoot Hunters youtube channel.
Bigfoot! Oh My!: Local Reality TV Show Premieres Sept. 11

Red Carpet premieres aren't just for Hollywood anymore. On Sept. 11, Piscotti Productions will premiere its new reality television series, "Dallas and Wayne: The Bigfoot Hunters" at the Vern Riffe Center for the Arts. The series follows Portsmouth residents Dallas Gilbert and Wayne Burton as they search for Bigfoot in southern Ohio.

Andy Dodson of Piscotti Productions described the show as "Dog the Bounty Hunter" meets "MonsterQuest."

"The show is about Dallas and Wayne and their quirky relationship, as opposed to actually finding Bigfoot. That's secondary to the humor that kind of takes place while they're out hunting and the stories that they tell," Dodson said.

Dallas and Wayne's friendship and their adventures were also the focus of local filmmaker Jay Delaney, in his 2008 documentary film "Not Your Typical Bigfoot Movie." Delaney's movie gained national attention and praise by film critics as it played at film festivals across the United States. The film was at one time available on Time Warner OnDemand and now the DVD is for sale at Borders, Barnes and Noble and Amazon.com.

Dodson said he had the idea for his TV series several years ago while he was shooting videos for WHCP in Portsmouth, but at that time Delaney was already filming his documentary.

"This winter things were kind of slow. I had always talked about doing a Bigfoot show, and my wife said either shut up and do it, or just shut up. So I got a hold of them again and they were totally game for it," Dodson said.

But he stresses that his show is its own project and is not part of Delaney's film at all. The series looks at different elements of Dallas and Wayne's friendship than was featured in the film.

"I think (Jay's video) kind of showed a grittier, more sobering side of their lives. Whereas this show is going to be more the lighter, comedic side," Dodson said. "Some of the stuff they say is absolutely hysterical. Whether they realize they're funny or not, they really are. They're really funny, and really sincere. They're really funny, down to earth, nice guys."

In one future episode, Dallas sprays himself with Chanel No. 5 perfume because he believes it will attract Bigfoot.

Each episode condenses 20 hours of footage into only 30 minutes of air-time. There will be at least 13 half-hour episodes in the first season.

The show will premiere with a red carpet showing of the first two episodes, beginning at 7 p.m. the Vern Riffe Center for the Arts at Shawnee State University on Sept. 11. Dallas and Wayne will also be at the event signing copies of Bigfoot Hunters: Episode One DVD. Tickets for the premiere are available at the McKinley Box Office and at Ticketmaster.

Afterward, the series can be found weekly beginning Sept. 18 airing Saturdays at 6 p.m. on WTZP The Zone; channel 24 for Time Warner Cable subscribers. Full episodes can also be seen online after they air on The Zone.

For more information about Dodson's new reality TV show, visit the show's Web site at www.dallasandwayne.com.Ryan Scott Ottney
Portsmouth Daily Times
Here are the two latest videos that Dallas Gilbert uploaded to his youtube channel.
This is taken by me on Dec 26,2009 . It sure a Skinny Black Sasquatch . I know they around me I had one in side a tee-pee after I tok a shot at it . The face and arms and its body looks to be needing food . I hope you can enjoy this one from my new camera .Dallas
I was out at my good area and I was calling them and speaking my words to them . I got this Dec 26,09 . They yelled back at me saying Hi and then one spoke out my name boy I was very excited about that . I was still going over to where I call and took this snap shot and got one walking away from me . I saw around six sasquatchs today there were at least three at the bottom of hill and I missed one running and then disappear from me . . Maybe I do better the next to time go out there again . There are more in front of the black V tree also.Dallas
About Craig Woolheater
Co-founder of Cryptomundo in 2005. I have appeared in or contributed to the following TV programs, documentaries and films: OLN's Mysterious Encounters: "Caddo Critter", Southern Fried Bigfoot, Travel Channel's Weird Travels: "Bigfoot", History Channel's MonsterQuest: "Swamp Stalker", The Wild Man of the Navidad, Destination America's Monsters and Mysteries in America: Texas Terror - Lake Worth Monster, Animal Planet's Finding Bigfoot: Return to Boggy Creek and Beast of the Bayou.