October 30, 2013
Bigfoot Files: The Making of the Yeti Documentary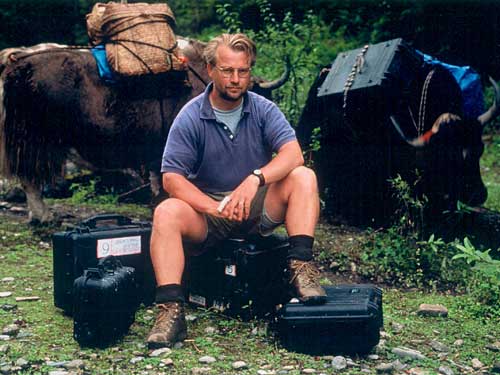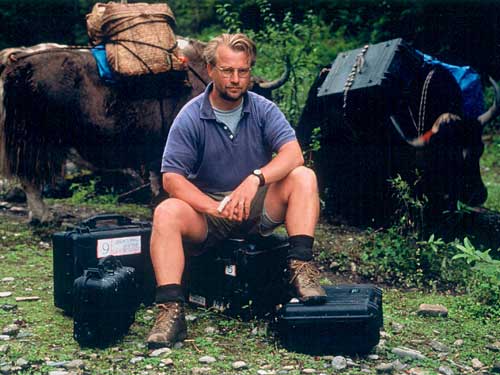 Exec producer Harry Marshall writes about how this documentary came about, to find the real story behind the centuries-old Yeti legend.
How do you turn a pair of hiking boots into a film about the yeti? Well, it's a long story…
In 1997, I was in the Kingdom of Bhutan making a natural history film called The Last Shangri-La. We had a local nomad as a guide called Nado (which means Black) who carried all our equipment on his surly yaks from camp to camp. Nado wore an old pair of holey plimsolls – through which his toes poked – but every morning, when I woke, he'd be up making the fire and feeding the yaks and have on my excellent Gore-Tex trekking boots which I'd leave the night before to dry out by the fire.
As we came to the end of the expedition Nado suggested that if I gave him my boots I could sleep with his wife back at his village. I made a counter offer. If he told me where I could film a Migyur – the name the local give to the yeti – he could have my boots. That evening over a bottle of Bhutanese Mist (the local whiskey made out of molasses), Nado described various stories of where the Migyur lived and of hair raising encounters between nomads and the creature – and where, if I was stupid enough, I should go if I wanted to see one.
When we got back into Thimphu – the capital of Bhutan – Nado had arranged for a huge brown and very smelly skin to be shown to me – it came from a Migyur he told me – and if you sleep on it, it will cure you of impotence (clearly Nado sensed a business opportunity since I'd declined the offer of his wife).
I took a small hair sample from the skin and when I got back to England I sent it to the Professor of Molecular Biology at Oxford, Bryan Sykes, whose book on DNA analysis I'd read. It was a bear declared Sykes, but an unusual bear. Not one he'd come across before. It was enough to persuade a commissioning editor at Channel 4 that there was a story. The yeti was a bear. And we would find it. That was 2001.
The expedition that followed took us up into the North Eastern regions of Bhutan finished in a terrifyingly dense bamboo forest that was full of bears and tigers. It culminated in our on screen biologist collecting a few more samples of hair from a huge hollow tree where we had been led by a man in a traditional kho (the kilt the locals wear) and red wellington boots – who said he was the King's Royal Migyur Hunter. Bryan tested this hair too and declared he had no idea what it was. A mystery.
Last year I heard again from Bryan Sykes – a bit older and a lot wiser. He had refined his DNA techniques and was planning a new project to test the most promising Bigfoot samples from around the world. He wondered if they weren't actually surviving Neanderthals or other relic hominids.
We eventually landed another commission from Channel 4 to make a series on the various Bigfoot myths around the world. This time nothing would escape the all seeing eye of science. Bryan had developed a way of getting rid of the usual contamination on the samples that had beleaguered species identification in the past – and if it were anything interesting out there – we would identify it. There would be no mystery.
As we got to the end of the shooting, I asked Bryan if he remembered the mystery hair we had examined 12 years ago and to my surprise he said he thought it was still in his freezer, alongside the chili con carne, labelled 'Migyur Hair, Bhutan'.
And there, incredibly, it was. The results were astonishing. This time Bryan was able to extract and identify the DNA. It was another bear – but "not as we know it". Instead it was an exact match for an ancient polar bear that died in Svalbard at least 40,000 years ago and probably more like 100,000 years.
Bryan had delivered on his promise that there would be no more mysteries. So, all that remained was to work out how an ancient polar bear got from Norway to Bhutan. Which as my 600 words is already up, is probably another story and maybe another commission. Which all only goes to show, never underestimate the value of a good pair of walking boots.
About Craig Woolheater
Co-founder of Cryptomundo in 2005. I have appeared in or contributed to the following TV programs, documentaries and films: OLN's Mysterious Encounters: "Caddo Critter", Southern Fried Bigfoot, Travel Channel's Weird Travels: "Bigfoot", History Channel's MonsterQuest: "Swamp Stalker", The Wild Man of the Navidad, Destination America's Monsters and Mysteries in America: Texas Terror - Lake Worth Monster, Animal Planet's Finding Bigfoot: Return to Boggy Creek and Beast of the Bayou.
Filed under Abominable Snowman, Bigfoot Report, Cryptozoologists, Cryptozoology, Evidence, Forensic Science, Television, Yeti