September 18, 2013
Bigfoot Footprint Found in NE Ohio Backyard
An abnormally large footprint — which some believe belongs to Bigfoot — has been discovered in a northern Ohio backyard.
Ashtabula County resident Wendy – she asked to have her last name withheld because she's not sure she wants to be involved with Bigfoot stories – was doing yard work on Aug. 11 when she noticed a 7.5 inch wide footprint that was an inch and a half deep into the mud.
"I took a picture to show my mother's husband, who's a hunter, and he said it wasn't a human's," she said. "I'm not claiming that footprint to be anything. I don't know what that is."
Wendy recalls multiple incidents in the past five years in which she and her husband have come across "something not human." She said she hears knocking sounds on the walls of their house late at night, and she remembers a time when she saw a figure in all black running across the railroad tracks.
"The direction they were going, there were no homes. It would've gone out the woods, crossed the tracks, and gone back into the woods," she said.
Wendy and her husband have also heard loud growls outside. "I never walked backwards so fast to get back in the house. But I couldn't see, it was so dark back there." She said the growl was impossible to duplicate and made her husband's "hair stand up."
"I didn't believe in the sasquatch before," Wendy said. "And in fact I'm still fighting it. But I can't make sense of that large footprint."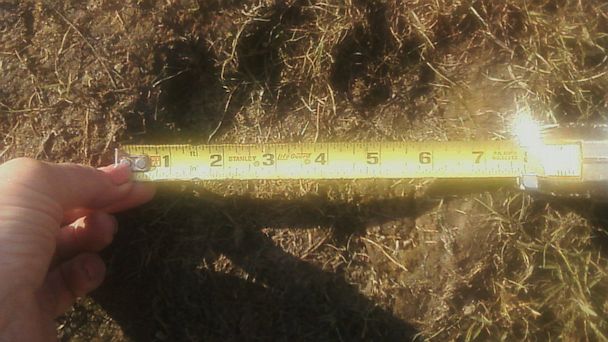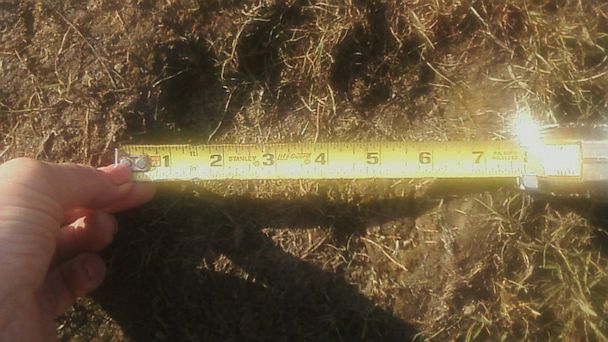 An abnormally large footprint was found in Ohio. Obtained by ABC News
Wendy said the sighting have made her feel "just a little uneasy."
"When I walk the dogs now, I take a lot of lights. And my blinds go down when it gets dark," she said. "It's the unknown, I guess."
Read the rest of the article here, including some interesting quotes from Melba Ketchum.
About Craig Woolheater
Co-founder of Cryptomundo in 2005. I have appeared in or contributed to the following TV programs, documentaries and films: OLN's Mysterious Encounters: "Caddo Critter", Southern Fried Bigfoot, Travel Channel's Weird Travels: "Bigfoot", History Channel's MonsterQuest: "Swamp Stalker", The Wild Man of the Navidad, Destination America's Monsters and Mysteries in America: Texas Terror - Lake Worth Monster, Animal Planet's Finding Bigfoot: Return to Boggy Creek and Beast of the Bayou.
Filed under Bigfoot, Bigfoot Report, Cryptozoology, Evidence, Footprint Evidence, Sasquatch, Television, Videos