Posted by: Craig Woolheater on March 18th, 2016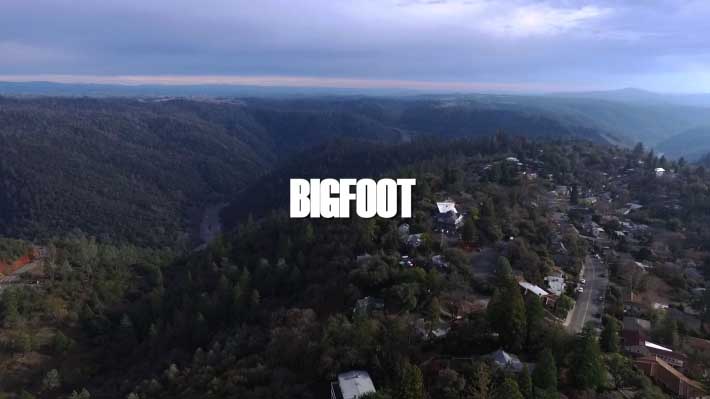 Yesterday's post, Opening Credits to DiCaprio's Next Movie, 'Bigfoot', drew quite a bit of attention, but as alluded to, is not an actual Bigfoot film.
Or an actual film of any kind…
Bigfoot may or may not exist, but one thing is for sure: a movie about Bigfoot starring Daniel Day-Lewis, Morgan Freeman and the Sacramento Kings was never filmed in Auburn.
A mock Bigfoot movie trailer featuring Auburn landmarks is sweeping through social media and has locals debating its authenticity.
Seth Toedter, who also goes by Seth Williams, got a new drone in December, but he quickly realized that people weren't very interested in watching 45 minutes worth of drone footage, so he spiced it up to draw some attention.
"Everyone wants to see footage of familiar surroundings from the drone's elevated angle," Toedter said. "I thought a video the length of a film trailer would make it more internet-friendly."
It worked – a little too well.
Toedter's original Facebook post of the video was shared close to 300 times, with many of the viewers commenting that they couldn't wait to see the movie.
Toedter's tongue-in-cheek message with the video probably didn't do much to quell the frenzy:
"Auburn Peeps! You're not gonna believe this, but I've got the opening credits to Leonardo DiCaprio's next movie 'Bigfoot,'" he wrote. "It was shot in Auburn! How crazy is that?!"
The Placer High School graduate who now works as a film editor in Los Angeles said he didn't really intend to fool anyone with the video.
"I was really surprised people bought into it," Toedter said. "I was around when 'Phenomenon' was filmed, and there wasn't anyone in Auburn who didn't know about it."
Toedter shot the video recently while he was in town visiting family and friends, he said. He included the names of Sacramento Kings players in the credits to tip people off that the trailer wasn't real.
"I guess people have forgotten about that old glorious team," he said.
He made one other mock movie trailer in the town where he lives now and had a similar result, even though the film credits show that the movie was written by Shakespeare.
He said he probably won't do it again.
"I do feel kind of bad about getting people's hopes up," he said. "I hope the thrill of thinking it's real outweighs the eventual disappointment."
About Craig Woolheater
Co-founder of Cryptomundo in 2005. I have appeared in or contributed to the following TV programs, documentaries and films: OLN's Mysterious Encounters: "Caddo Critter", Southern Fried Bigfoot, Travel Channel's Weird Travels: "Bigfoot", History Channel's MonsterQuest: "Swamp Stalker", The Wild Man of the Navidad, Destination America's Monsters and Mysteries in America: Texas Terror - Lake Worth Monster, Animal Planet's Finding Bigfoot: Return to Boggy Creek and Beast of the Bayou.