Posted by: Dave Coleman on December 14th, 2013
The graffiti-inspired work of graphic artist Bigfoot is profiled in this interesting 'Art of Storytelling' magazine profile. He's deeply into sasquatch as a cultural meme… what a kook!

THIS ARTICLE ORIGINALLY RAN IN THE ART OF STORYTELLING MAGAZINE ISSUE #1
Q: So where did your interest in Bigfoot come from and why did you decide to startpainting Bigfoot characters?
A: It's been about 14 years now since I decided to start writing Bigfoot. I realized the symbolism of Bigfoot was the culmination of all things I was into portraying, nature, magic and an opposition to the modern human world.
"If I stayed in Jersey I would definitely be making art but wouldn't have started writing Bigfoot and would've ended up doing hard time for like 2 grams of weed."
Q: Graffiti artists have the luxury of hiding behind their artwork. I have met tons of graffiti artists and there are a lot of dorks, social idiots and loners in the graffiti game myself included. But they have a unique talent, graffiti is illegal, above the law, the act of graffiti has street credibility, so for a lot of people it serves as an alter ego. Is this the case for you as well?
A: Yeah I'm definitely all those things above for sure. I have been a loner my whole life. When I started to write it was something I just wanted to do for myself and then I started to feel better as a person as I accomplished stuff and got some recognition. It makes sense that the people who start doing graffiti are outcasts from society and don't do normal square stuff. You don't hear about people that play football in the daytime and then go out and write. Above all it's a big F.U. to society in general. I feel the need to transcend normal human life and represent the Bigfoot spiritual world of spirits and dimensions, being a human isn't all that.
Q: Many depictions of Bigfoot are of a mean and violent being. Your paintings, at least in my opinion, don't convey that. Even when you do a Bigfoot painting with an angry face it doesn't come off too threatening. Is that intentional? Do you think the big guy has a soft side?
A: Yeah I think it's true for the Bigfoot's out there that they aren't completely mean or else they would be terrorizing humans all the time, which they are capable of. They are more into being undiscovered than attacking. There are so many natural places to hide still that they don't have to attack people. But yeah they definitely have a soft side. They are part Buddhist. I do try to have the faces I draw have a lot of different emotion. Ranging from angry to understanding.
Q: Some of your Bigfoot characters are painted Green. Why? That seems like an unlikely color.
A: Well they all aren't dark brown or black, because I believe there's many Bigfoot's in different stages. The green ones are still in the plant kingdom dimension traveling through earth. The Paterson film…..Fact or Fiction? I don't think its real because a Bigfoot would know better than to get caught on film like that.
Q: Has your commercial artwork been as fulfilling as your street work? Do you like one over the other?
A: The commercial stuff is more fulfilling as far as survival, the amount of content and detail, but the street stuff is more fulfilling to me when I need a release. Stuff comes out better sometimes when I'm giving it away to the world. I've been real addicted to freights lately. They both reach different people and have completely different purposes.
Read the rest of the interview here.
Amazon has a limited edition wrist watch featuring Bigfoot One's art: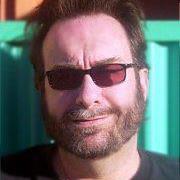 Dave Coleman – has written 53 posts on this site.
Author of THE BIGFOOT FILMOGRAPHY, a new non-fiction reference guide and critique of Cine du Sasquatch. From McFarland in Fall 2011. Hardbound. Oversized.