Posted by: Craig Woolheater on July 14th, 2011
Originally posted here on Cryptomundo on March 18, 2006.
Updated with additional information by Cryptomundian Johnny Poulsen today, July 14, 2011, five years later.
Better hurry, it's only up for bid for 12 more hours. The bidding closes at 21:52:32 CST today.
I can just hear Mr. Haney, played by Pat Buttram, on Green Acres…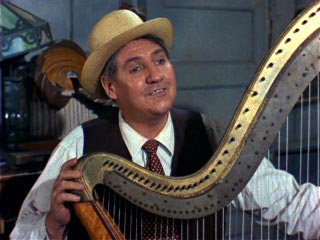 Mister Douglas, can I interest you in a genuine, artificial Bigfoot photograph…
Sasquatch, Bigfoot Photo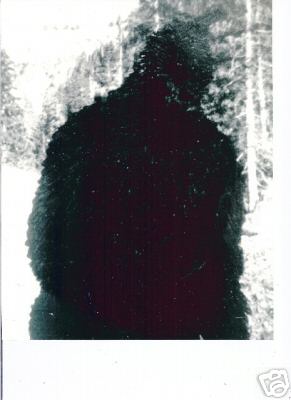 This is for a copy of an enlargement 8 X 10 of a photo that is claimed was taken in the 50′ or early 60's. (From the original photo it could have just as easily been the 40's or up to the 60's) I have seen the original photo, it was about 4X4 and the bigfoot took up a small portion of it. The original photo appeared to be from the correct time frame, but I make no claim to either its authenticity or location. Because I did not take it nor did I know the person who did.
However, this would be a nice photo to add to any collection of this type of thing.
Doesn't look that convincing to me.
What do you Cryptomundo readers think?
Maybe Cryptomundo should bid on the photo…
Update:
This was taken some time in the 1940s in the Pacific Northwest region of North America by Joe Roberts. In The book "Yetis, Sasquatch & Hairy Giants", the author writes on one section "Closeup of the oldest known Bigfoot photo, taken in the 1940s in the Pacific Northwest. Courtesy of Joe Roberts." and in another it reads "The oldest known Bigfoot photo taken in the 1940s in the Pacific Northwest. Courtesy of Joe Roberts."
In actuality, it is not the oldest known Bigfoot photo, the holder of the title "Oldest known Bigfoot photo" goes to a photo of a dead Bigfoot carcass, the hair is long, brown and shaggy and it is lying on the ground semi-frozen in the snow. It was taken in Lilolett, BC and it is associated with Tom Biscardi. The photo was sent to Biscardi by a Nanaimo man, Lyle Billett. It was taken in 1894. I'am pretty sure their is an article about it on this site (Cryptomundo).
~ Johnny Poulsen
About Craig Woolheater
Co-founder of Cryptomundo in 2005. I have appeared in or contributed to the following TV programs, documentaries and films: OLN's Mysterious Encounters: "Caddo Critter", Southern Fried Bigfoot, Travel Channel's Weird Travels: "Bigfoot", History Channel's MonsterQuest: "Swamp Stalker", The Wild Man of the Navidad, Destination America's Monsters and Mysteries in America: Texas Terror - Lake Worth Monster, Animal Planet's Finding Bigfoot: Return to Boggy Creek and Beast of the Bayou.