Posted by: Craig Woolheater on February 8th, 2016
From press release:
O BIGFOOT, BIGFOOT! WHEREFORE ART THOU BIGFOOT? DESTINATION AMERICA DEDICATES VALENTINE'S WEEK TO BIGFOOT: THE ONE THAT GOT AWAY
Week Leading Up to Valentine's Day Will Feature Bigfoot-Themed Programming and Digital Experiences, Culminating with an All-New Episode of MOUNTAIN MONSTERS: BIGFOOT EDITION on Saturday, February 13 at 10/9c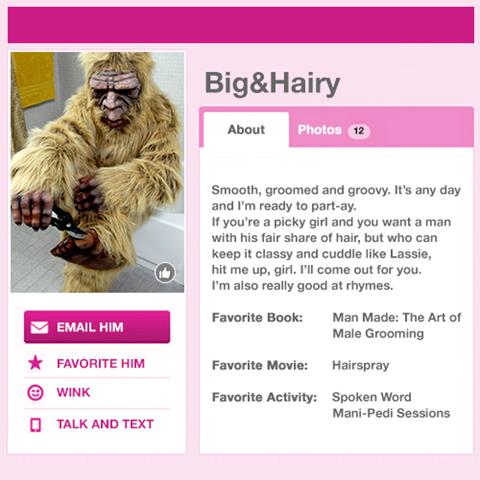 Try Your Luck at Finding "Monster Right" on Mock Dating Site Monstrrr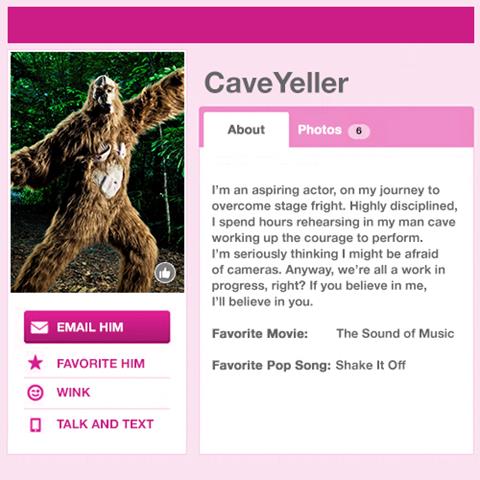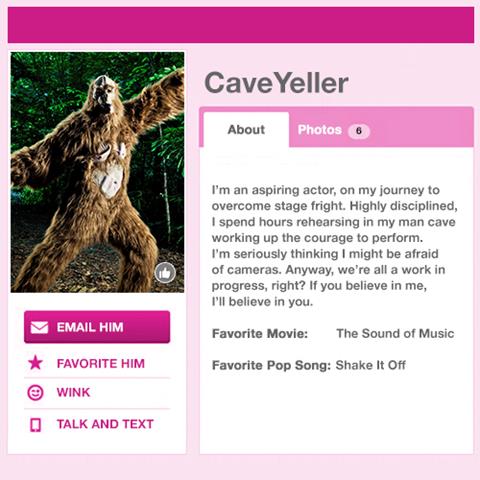 (Silver Spring, Md.) – If you're in the market for a Valentine's Day date who's exotic and mysterious, has that certain je ne sais quoi that makes heads turn, and no sign of a receding hairline, join the club – the lonely hearts club, that is, where Destination America is already brooding for BIGFOOT: THE ONE THAT GOT AWAY.
This V-Day, Destination America looks into the lonely life of America's biggest heartbreaker with BIGFOOT: THE ONE THAT GOT AWAY, a week-long primetime stunt of 'squatch-themed programming airing Monday, February 8 to Thursday, February 11. Then top off the week with an all-new episode of MOUNTAIN MONSTERS: BIGFOOT EDITION on Saturday, February 13 at 10/9c. The Appalachian Investigators of Mysterious Sightings' passionate search for Sasquatch brings them to Pennsylvania, where locals have reported sighting a band of Bigfoots called the Thunder Brothers.
"No one plays harder to get than Bigfoot, but love is patient and so are the dedicated outdoorsmen at the heart of our programs who tirelessly follow the breadcrumb trail in the hoping of bagging a beloved Bigfoot," said Jane Latman, general manager of Destination America. "BIGFOOT: THE ONE THAT GOT AWAY is our love letter to that one special guy – we know he's out there, and we can't wait to find him!"
MOUNTAIN MONSTERS and chill more your speed? A little camera shy yourself? Perhaps you'll find your missing link on Destination America's new mock dating site, Monstrrr, where all of America's most indomitable bachelors are waiting to make a true believer out of you.
Show your Valentine how BIG your love is with Bigfoot-inspired gifts from DiscoveryStore.com. Everything from t-shirts and plush stuffed animals to belt buckles, mugs, bottle openers and household essentials are available. Grab them up before they join Bigfoot as THE ONE THAT GOT AWAY.
MOUNTAIN MONSTERS is produced by American Chainsaws with Colt Straub, Duke Straub, Royal Malloy, Russell Geyser and Jay Bluemke as executive producers. For Destination America, Caroline Perez is executive producer, Jane Latman is general manager and Henry Schleiff is Group President of Investigation Discovery, Destination America, and American Heroes Channel.
#DestinationAmerica #MountainMonsters #Monstrrr
About Craig Woolheater
Co-founder of Cryptomundo in 2005. I have appeared in or contributed to the following TV programs, documentaries and films: OLN's Mysterious Encounters: "Caddo Critter", Southern Fried Bigfoot, Travel Channel's Weird Travels: "Bigfoot", History Channel's MonsterQuest: "Swamp Stalker", The Wild Man of the Navidad, Destination America's Monsters and Mysteries in America: Texas Terror - Lake Worth Monster, Animal Planet's Finding Bigfoot: Return to Boggy Creek and Beast of the Bayou.