Posted by: Craig Woolheater on May 18th, 2015
Family preserves filmmaker's legacy for the future
Charles B. Pierce's papers, other memorabilia going to University of Arkansas
By: Aaron Brand
©2015 Texarkana Gazette
Just like theories of the Phantom Killer and the Fouke Monster persist and thrive in the imagination after so many years, the Charles B. Pierce legacy lives on, alive and well, even beyond the big screen. And it looks like his legacy in physical form will be preserved for the future.
Pierce's papers are in the process of being donated to the University of Arkansas Libraries Special Collections. Pamula Pierce Barcelou, one of Pierce's daughters and the administrator of the late filmmaker's estate, plans on donating items like photographs, scrapbooks, memorabilia and other items to the university.
Longtime Texarkanian Pierce directed cult hits like "The Legend of Boggy Creek" and "The Town That Dreaded Sundown," filming both movies in this area in a faux-documentary style. Pierce, a former ad man, is credited with success as a low-budget indie director and holds a special place in the hearts of many here in Texarkana.
The multi-talented, Indiana-born Pierce, who died in 2010, also worked as a set decorator, screenwriter, art director and even hosted a children's TV show. For many here, he was Mayor Chuckles. With local financing, he started work on "The Legend of Boggy Creek," putting local lore in the movies for all to see and enjoy.
A remake, or perhaps more properly called a reworking or sequel, of the "Sundown" film was released by MGM's Orion Pictures last year, a co-production with Blumhouse Productions. This "meta-remake," as it was called, received mixed reviews but was a stylish, contemporary retelling of the story Pierce told in his movie and which, in reality, chilled Texarkana back in the 1940s.
Clearly, the Charles B. Pierce name persists in film culture.
Barcelou hopes these items from her father's estate will inspire future moviemakers, and she believes both her mother and father would be proud to share these things. The collection will be titled The Charles B. and Florene Pierce Papers, named for her dad and her mother.
One of the most beloved pieces of Pierce memorabilia was just returned to the family, in fact. And it's something legendary: The original Ralph McQuarrie oil painting that served as the basis for "The Legend of Boggy Creek" movie poster. Don't know that name? You know his work. McQuarrie later made conceptual art for the original "Star Wars" characters.
"It's the size of the actual poster, and all the other posters were run off of the painting of 'The Legend of Boggy Creek,'" Barcelou said.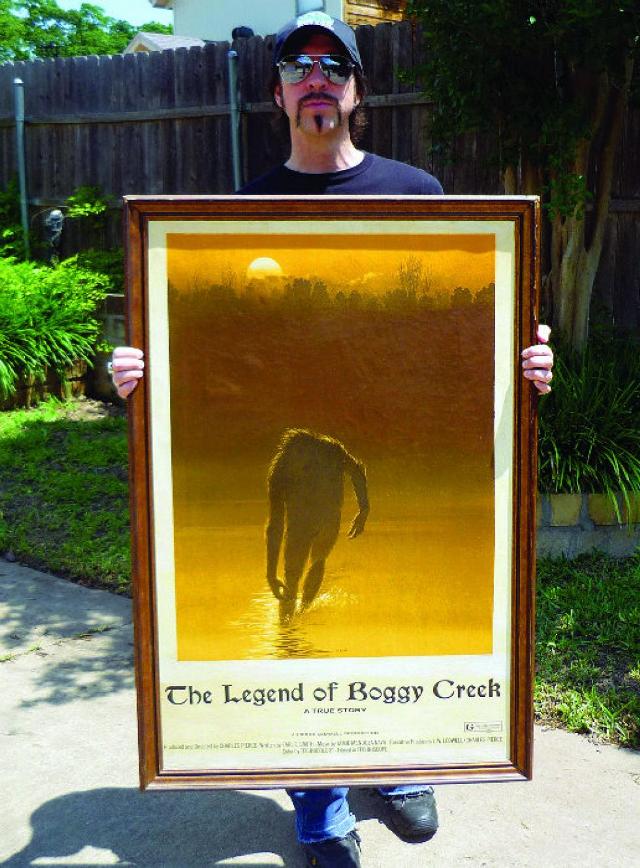 That "Boggy Creek" painting came to her through Lyle Blackburn, cryptozoologist and author who wrote a book called "The Beast of Boggy Creek," which explores the Fouke Monster legends and reported sightings. He acquired the painting from an unnamed Texarkana family.
Barcelou's not exactly sure how it came into their hands, but when she was officially named administrator, she says, she put out the word to people about wanting to collect Pierce estate items.
"All I'm doing is collecting the assets back together," Barcelou said, which put her in contact with Blackburn, a fan of her father's work, and the McQuarrie painting, a treasured piece handed back to a representative of the estate a little more than a week ago.
Barcelou says that to the family, back before McQuarrie became famous, it was just a personal piece. "At that time, Ralph McQuarrie was just an artist," she says. It was only later he achieved greater notoriety through the original "Star Wars" trilogy.
She intends to have the painting appraised, but beyond that she isn't sure what else will happen with this iconic work of art.
The estate items she donates to the U. of A. will include things like photographs, papers and various types of memorabilia.
"There are a lot of photographs that are really interesting photographs," Barcelou said of items kept largely in scrapbooks. "That's not the best way really to keep these pieces," she said, so as part of a collection like this they'll be preserved, which is one of her aims.
Barcelou said she's received correspondence from other filmmakers who believe it would be wonderful if people could see such things at an institution better able to preserve them. In her process of dealing with the estate, she says, she was advised that she should act as her dad would have.
And Pierce, also a longtime Arkansan, was a serious Razorback fan. That fandom even made it into his movies, a scene from the "Boggy Creek" sequel being shot at a Razorback football game in Fayetteville, for example.
"Dad would want it to go to the University (of Arkansas) because he had this mad passion for the Arkansas Razorbacks," Barcelou said, calling the U. of A. a natural fit. Photographs her parents had even tell part of Texarkana's story as they include local business leaders or state political figures.
"A whole lot of Arkansas history" survives in this collection, Barcelou said.
Blackburn said the painting was commissioned by Pierce when the movie was made. He says somehow Pierce was referred to or befriended McQuarrie, whose work for "The Legend of Boggy Creek" is somewhat famous and iconic. It's the simple image of a creature silhouetted against the setting sun in the background.
"It worked perfectly with the way the movie was filmed," Blackburn says.
His interest in the "Boggy Creek" painting arose from his book, "The Beast of Boggy Creek" and role as something of a historian about the movie and the Fouke Monster itself.
"I had heard rumors that the painting had been in the possession of a private owner," Blackburn said. Some said it had even been seen at a Bigfoot conference. He became aware that it was owned by someone other than the Pierce family and set out to find it.
"Eventually, I was able to track it down to a family in Texarkana that had had it for 17 years," he said.
A woman in that family eventually agreed to sell the painting to him, and then as he got to know the Pierce family and, researching further, he felt the proper place for the painting would be back in their hands. He's pleased the estate seeks to honor Pierce's filmmaking achievements.
"I'm very happy that they're going to do something with it," Blackburn said. He says it's "somewhat foggy" how the Texarkana family who owned it got the painting. As an interested researcher, he did the legwork to see it got back to the Pierce family.
"It is in fair shape," Blackburn said. "It is canvas, which is stretched over a frame. Over time, the canvas has loosened somewhat."
What was it like to find the painting in an average Texarkana home? "It was amazing. That was one of the high points of my research into the subject. The painting had kind of taken on this mysterious, legendary status," the author said.
Tim Nutt is head of special collections at the University of Arkansas Libraries. He and Barcelou have been in contact regarding this donation. They're still in the early stages of getting it all worked out, he says.
"The Special Collections collects materials documenting Arkansas history, and that includes all aspects of Arkansas history," Nutt said. This includes the Natural State's movie history, naturally. "Charles Pierce fits right into that," he says.
The Charles B. and Florene Pierce Papers would both preserve Pierce's role in Arkansas film history and complement a number of other collections the U. of A.'s special collections department makes available for researchers. They're collections about Arkansans in the movies.
"After we get the collections, we go through it and our team basically touches every item in the collection and decides what's the best way to present it to the researchers," Nutt said. For example, how should it best be organized for people to find information?
Once it's organized, items in a collection may have special preservation concerns, such as brittle paper. That would be addressed. They create a guide for researchers.
"We put that up online," Nutt said, and they make the collection available for access in the reading room. Typically, they also create an exhibit that stays up six months to a year.
Nutt said he hasn't seen the collection yet, but he's hopeful there's good material in there. "We've just been in the talking process with Pamula, and she approached us about the possibility of donating the collection to us," he said.
He says once a collection arrives there, it depends on the scope and size of it as to how long it takes to organize. It could be six months, could be a year.
"We try to get the collection out as quickly as possible once we get a collection," Nutt said.
Barcelou welcomes items that people feel should be part of the Charles B. and Florene Pierce Papers collection. She plans to talk with filmmakers who were inspired by Pierce and to also visit Hampton, Ark., where he was raised. Someone is sending radio promo spots to her, for example.
If people are interested in adding to the estate's collection, they can contact Barcelou at Pamula@outlook.com. Her probate attorney, Michael Dale, can also be reached at 931-572-0700.
About Craig Woolheater
Co-founder of Cryptomundo in 2005. I have appeared in or contributed to the following TV programs, documentaries and films: OLN's Mysterious Encounters: "Caddo Critter", Southern Fried Bigfoot, Travel Channel's Weird Travels: "Bigfoot", History Channel's MonsterQuest: "Swamp Stalker", The Wild Man of the Navidad, Destination America's Monsters and Mysteries in America: Texas Terror - Lake Worth Monster, Animal Planet's Finding Bigfoot: Return to Boggy Creek and Beast of the Bayou.