Posted by: Craig Woolheater on September 25th, 2012
The Viceroy Cryptozoology trading cards that we posted last week on Cryptomundo start shipping today!
Ordering information: Cryptids Sketch Set
Here are excerpts from a trade publication interview with Viceroy owner Ryan Fields.
Viceroy Card Co is a brand new card company and their first release ships today. We thought it was a good time to check in with the company and see how they came to the hobby, what Cryptids are, and what exactly is a cryptozoologist, anyway? Viceroy's Ryan Fields graciously gave us answers to these questions and a whole lot more. Our interview follows:
Who is behind Viceroy Card Co.?
Viceroy Card Co. was founded in the Fall of 2010 in Las Vegas, NV by owner Ryan Fields and artist Ashleigh Popplewell, who joined the team as Art Director. We also have several other artists and collectors who serve as consultants in various key areas of research and production.

Can you tell us about Cryptids Sketch Set, your first release?
When considering themes for this set, we wanted to do something that was somewhat new and different from what was currently on the market. One thing we noticed right away was many sketch sets focus on scantily clad women, no matter what the designated set theme may be. We made a conscious decision to not produce sketch sets with this subject matter. It's not that we're morally opposed to it or anything like that, we simply felt that the market had its share of those sets, and we would attempt to bring something new to collectors.
After going through about two dozen potential set themes, we settled on cryptozoological creatures, or Cryptids. We felt this subject matter was fun, visually appealing and a nice change for the artists involved.
We researched these creatures, and created a master list of potential cryptids the artists could use in the set. Some are very common, such as Bigfoot, Loch Ness Monster and Chupacabra. Others such as the Squonk, a melancholy wart-covered creature that collapses into a puddle of tears when gazed upon, are less well known but just as interesting! The artists had a great time discussing which ones to draw, discovering new and obscure cryptids on their own, and finding various descriptions and reported sightings of these elusive creatures.
The set will be limited to 500 packs priced at $21.99 each, with 34 sketch artists included in the set. No artist has more than 25 sketches total, so each one will be quite rare compared to most sketch sets.

From what I have read, in addition to the sketch card, you are including cryptozoologist autograph cards and relic cards in each pack. What are those?
When researching Cryptids, we were lucky to have the help of Craig Woolheater, Loren Coleman, and the team at Cryptomundo.com, the leading cryptozoology blog online. Originally the Cryptids set was going to be a sketch-only set, with no base cards or inserts at the $21.99 price point. We came up with the idea of adding autographs of leading cryptozoologists and cryptid hunters as a little bonus in each pack. We were able to get autographs from Craig, Loren, Lyle Blackburn, Ken Gerhard, and Nick Redfern. Each one has numerous credits to their name in the field of cryptozoology, including top selling books, television appearances and consulting jobs. Each cryptozoologist will have 100 hand numbered autographs in the set, spread across the 500 packs. These will be included one per pack.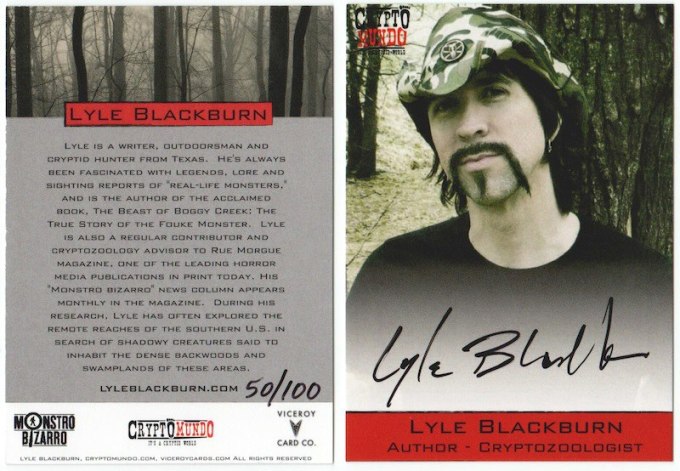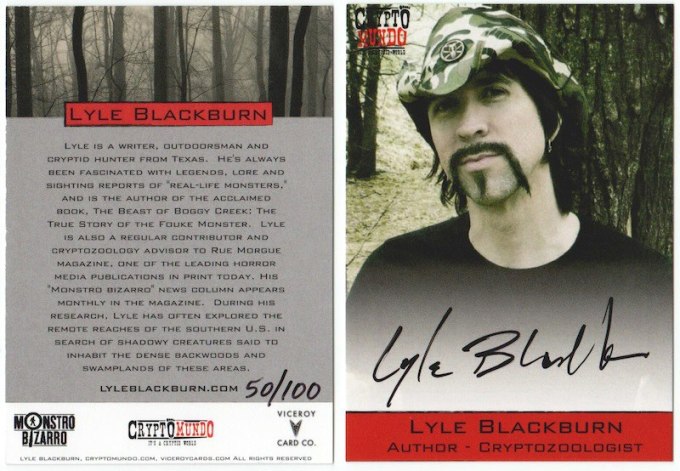 Around this same time, we thought it would be fun to add another bonus card to the set. We came up with the idea of a stamp relic card, something that is currently popular in many sport and mixed product releases. We came across an interesting set of 1966 stamps from Bhutan, that depict a 'Snowman', or Yeti. The stamps had really interesting colors and imagery, along with having a funky triangle shape. Since we were doing a stamp card, we decided to design the card to give the impressive of a vintage postcard that might have been sent in 1966 from Bhutan with these stamps affixed.
The design of the stamp relic cards was one of the most fun projects we had for this set! We took inspiration from vintage "Greetings from Los Angeles" post cards, and added a twist. Bhutan is near the base of the Himalayan Mountains, so we took this concept and came up with a design that invoked the feel of the Los Angeles post cards, but depicted the harsh conditions of the snowy Himalayas. The end result is a fun post card from the fabulous Himalayas showing you the stark, cold landscape that awaits your arrival.
On the back of the cards, we decided to continue the theme and add dialog from a nephew to his uncle about his hunt for the elusive Yeti. In the top right corner is 1 of 15 different 1966 Bhutan Snowman stamps, each with a different color and image. The stamps have been affixed to the cards in the same position they would with a normal post card. We considered placing the stamps in a recessed area on a double thick card, but came to the conclusion that by simply placing the stamp on the card it kept the vintage post card feel we were going for.
The stamp relic cards will be be hand numbered to 35 for each of the 15 different stamps across the set. These will also be included one per pack.
Read the entire interview here: Cryptids Ships Today
About Craig Woolheater
Co-founder of Cryptomundo in 2005. I have appeared in or contributed to the following TV programs, documentaries and films: OLN's Mysterious Encounters: "Caddo Critter", Southern Fried Bigfoot, Travel Channel's Weird Travels: "Bigfoot", History Channel's MonsterQuest: "Swamp Stalker", The Wild Man of the Navidad, Destination America's Monsters and Mysteries in America: Texas Terror - Lake Worth Monster, Animal Planet's Finding Bigfoot: Return to Boggy Creek and Beast of the Bayou.