February 20, 2016
Cryptozoological Casualties Abound In 'Stomping Ground'
Ben & Annie are a young couple living in Chicago, on a weekend trip to Annie's small North Carolina hometown. At the local bar they run into Paul, a charming old friend of Annie's, and Ben learns something he never knew about his girlfriend: She believes in Bigfoot. In fact, she and her friends used to "hunt" for the creature when they were kids. Before Ben knows it, he's off on an impromptu Squatchin' trip deep in the Carolina backwoods. Amidst the Squatch calls, campfire stories and beers, Ben quickly realizes that Paul may have an ulterior motive in bringing Annie to the woods. And something else out here seems to be after her as well. Everyone but Ben thinks its Bigfoot. But it can't be, can it? After all, Bigfoot isn't real…
Stomping Ground is a creature feature/rom-com hyrbrid by first time feature director Dan Riesser. The film features a cameo appearance by Theresa Tilly, one of the original "Ladies of the Evil Dead" from Sam Raimi's 1981 horror classic The Evil Dead.
This trailer promises four things: romance, comedy, Ryan Gosling's long-lost country cousin, and Sasquatch. Needless to say, I'm all about it. Stomping Ground looks like a lot of fun, a romantic horror-comedy that sits nicely between those genres. It seems like a proper showcase of what audiences should expect, and they even threw in a few shots of Sasquatch, who looked great. If you're itching for a creature-feature this looks like it'll be a good way to scratch.
You can look forward to Stomping Ground on VOD and DVD, March 8th, 2016.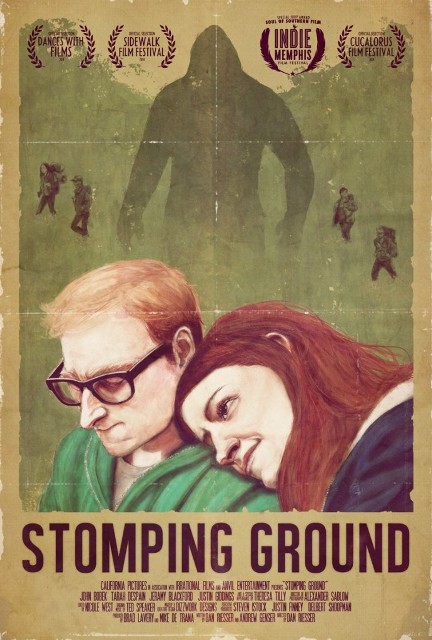 ON DVD & VOD – MARCH 8th, 2016! Amazon.com
See also:
World Premiere of Bigfoot Feature Film "Stomping Ground"
You Can Help Finish "Stomping Ground," A Bigfoot Movie
Bigfoot Stomps Into North Carolina
#StompingGround
About Craig Woolheater
Co-founder of Cryptomundo in 2005. I have appeared in or contributed to the following TV programs, documentaries and films: OLN's Mysterious Encounters: "Caddo Critter", Southern Fried Bigfoot, Travel Channel's Weird Travels: "Bigfoot", History Channel's MonsterQuest: "Swamp Stalker", The Wild Man of the Navidad, Destination America's Monsters and Mysteries in America: Texas Terror - Lake Worth Monster, Animal Planet's Finding Bigfoot: Return to Boggy Creek and Beast of the Bayou.
Filed under Bigfoot, Bigfoot Report, Cinema News, Cryptid Cinema, Cryptofiction, Cryptozoology, Movie Monsters, Pop Culture, Sasquatch, Social Media, Videos