Posted by: Craig Woolheater on August 5th, 2014
From press release:
Swamp Monsters
All-New Series Premieres Friday, August 22 at 9/8c
Across the American wilderness, millions of acres of uncharted swamplands and underground lairs are rumored to be inhabited by unidentified monsters. Generations of speculation have piqued the curiosity of nearby communities and monster enthusiasts alike, but none have come close to solving the mystery of what these elusive creatures are… until now. Destination America hunts for the truth in the new three-part series Swamp Monsters, premiering Friday, August 22 at 9/8c, followed by back-to-back premiere episodes of the new six-part series Monsters Underground at 10/9c and 10:30/9:30c.
Deep in the heart of Louisiana's bayou, upwards of 100 people go missing each year and, if you ask locals, many will say Swamp Monsters got 'em. Elliot Guidry and his Cajun crew have made it their mission to track down, identify, and eliminate the threat posed by legendary, deadly monsters like the Cajun werewolf.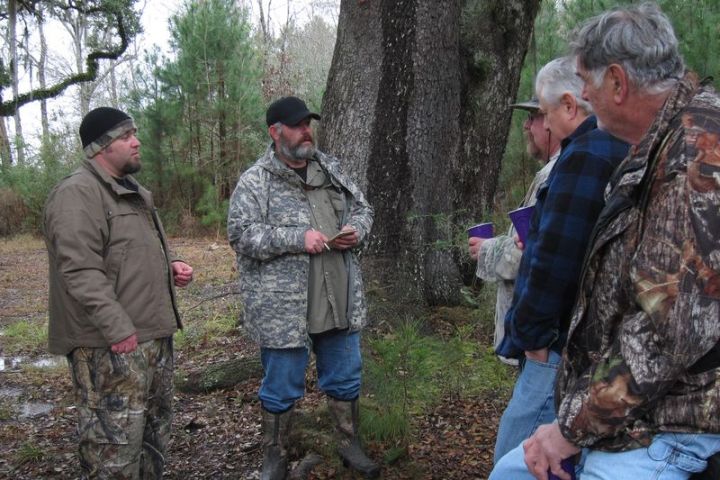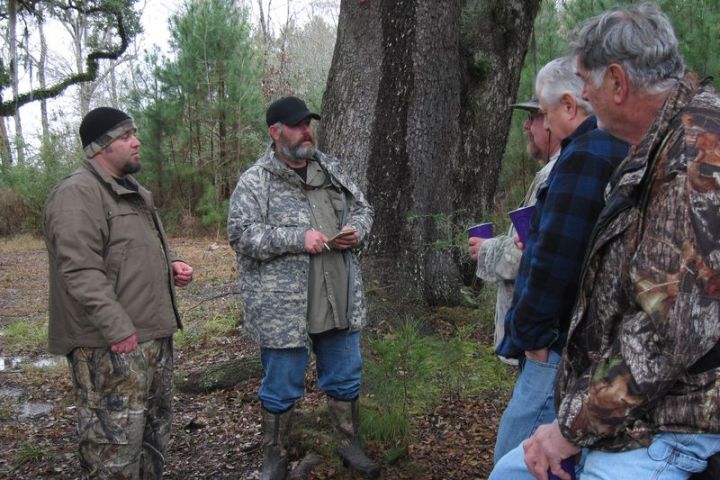 Credit: Destination America
Elliot, Nacho, Nolan, Ciaus and Claude talking.
"America's swamps and caves are inherently terrifying places with real-life dangers like quicksand, gators, disorienting darkness, and claustrophobic passageways with only one way out – not to mention monsters," said Marc Etkind, general manager of Destination America. "These hostile conditions ward off every-day visitors, but the time has come for a few good men to brave the elements and stand up against these Swamp Monsters and Monsters Underground. No one but Elliot, Brock, and their teams of expert trackers, trappers, and hardcore outdoorsmen is better suited to accept the mission."
Swamp Monsters investigates Cajun creatures that thrive in the muck and mud of Louisiana's bayou, where residents have been reporting mysterious encounters for 100 years. Risking life and limb, a bayou-born-and-bred band of investigators who call themselves the Bayou Enforcement Agency for Supernatural Threats (BEAST), are ready for battle against these marshy monsters. Their team leader, Elliot Guidry, is a hunting and fishing guide who has seen the signs of deadly bayou creatures but has never been close enough to take a shot. Now, he's ready to take back the swamp with the help of his life-long friends: a weapons and tactics aficionado, an expert tracker, and a water navigator who also serves as the team researcher.
Episodes include:
•The Grunch premieres Friday, August 22 at 9/8c
In the mystical lagoons, marshes and swamps of Louisiana's bayou, Elliot Guidry and his team of BEAST (the Bayou Enforcement Agency on Supernatural Threats) battle the elements while tracking down a pack of the infamous Grunch. Born of the Devil himself, the Grunch have been terrorizing Louisiana residents for centuries. These skin and bones, dog-like creatures have ridged backs, stand three feet tall and emit a horrible screech. After following these monsters into the middle of the swamp, BEAST realizes that the hunter has become the hunted as they're surrounded by a hungry pack of Grunch.
•The remaining two episodes feature the Honey Island Swamp Monster and the Cajun Werewolf.
Swamp Monsters is produced by Varuna with Al Bazzy, Prema Ball, Tulsy Ball, Tim Furlong, Andy Lipson, and Rob Zazzali as executive producers. For Destination America, Fay Yu is executive producer, Marc Etkind is general manager, and Henry Schleiff is Group President, Investigation Discovery, Destination America, American Heroes Channel and Discovery Fit & Health.
#DestinationAmerica #SwampMonsters
About Craig Woolheater
Co-founder of Cryptomundo in 2005. I have appeared in or contributed to the following TV programs, documentaries and films: OLN's Mysterious Encounters: "Caddo Critter", Southern Fried Bigfoot, Travel Channel's Weird Travels: "Bigfoot", History Channel's MonsterQuest: "Swamp Stalker", The Wild Man of the Navidad, Destination America's Monsters and Mysteries in America: Texas Terror - Lake Worth Monster, Animal Planet's Finding Bigfoot: Return to Boggy Creek and Beast of the Bayou.