Posted by: Craig Woolheater on February 10th, 2015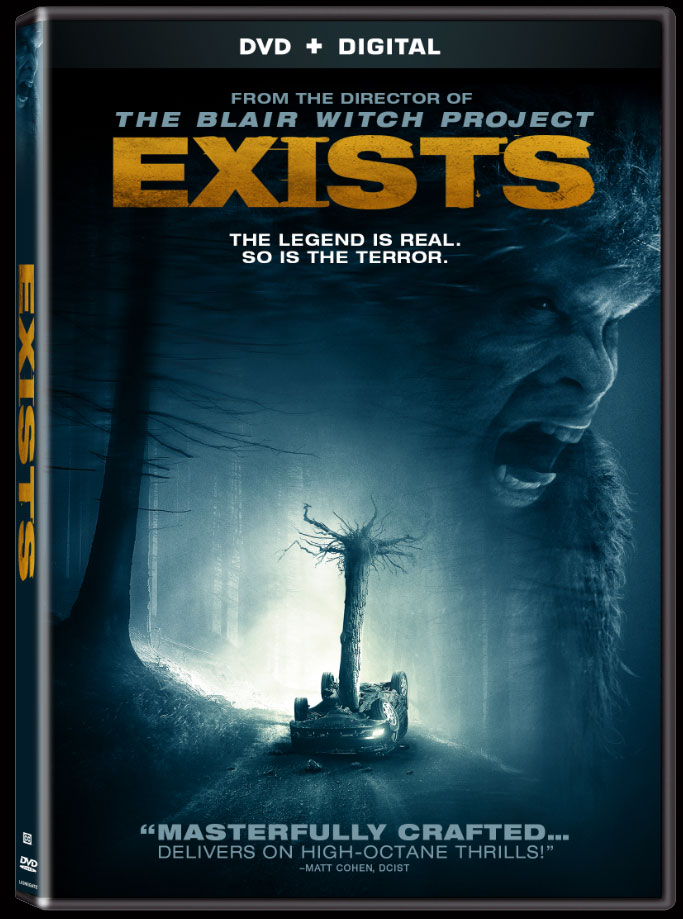 That Wasn't No Deer, Bro
With films like Hunting the Legend, Willow Creek, and Bigfoot Wars being released, 2014 was definitely the year of the bigfoot. Although it isn't officially released until tomorrow (release date was 2/3/15), another Sasquatch related flick that was all over the place last year was Exists, directed by Eduardo Sanchez who is perhaps most known for directing The Blair Witch Project.
Brothers Matt and Brian steal the keys to their uncle Bob's cabin in order to have a fun getaway weekend with their friends. Brian is known to make videos for his YouTube channel, so naturally he has tons of cameras for this trip, in hopes of capturing some kickass footage of the crew mountain biking, paintballing, etc. What he didn't have planned, however, was getting footage of a real live bigfoot…
I have to tell you guys, I really enjoyed all of the bigfoot movies from 2014, but Exists is, by far, the best one. When fans didn't get what they wanted with Hunting the Legend, they turned to Bobcat Goldthwait's Willow Creek for an answer. Unfortunately, while that movie was very enjoyable, it still didn't do it for me. I was expecting a bit more. Well that 'bit more' is exactly what I found in Sanchez's Exists!
Exists is the movie that other filmmakers wanted to make, but were too afraid to because they feared that it would come off too cheesy. Unlike those other films, Sanchez didn't bother following to same old formula. He decided to go all in and it paid off, big time! There was no filler footage of interviews with the local townspeople on the surrounding areas legend. Hell, Sanchez already did that with Blair Witch and he wasn't looking to make the same movie all over again. No, instead, the bigfoot action starts right away and is unrelenting for the remaining 81 minutes. We get to actually see the creature in all of its glory and boy was it wonderful!
Brian Steele who is a monster of a man, measuring in at six feet and seven inches, is no stranger to the Sasquatch genre. He was an integral part of the TV series version of Harry and the Hendersons, playing the creature himself, Harry, in 1993. Instead of once again being that friendly monster this time around, Steele is a snarling, angry beast, who has no mercy on the unsuspecting youths. His masterful creature acting was enhanced by insanely beautiful make-up and prosthetic work, which allowed for an authentic look for a creature that so many others have failed at creating in the past. Instead of hiding off in the distance or being presented at some obscure angle, barely able to be recognized, audiences are treated to multiple close-range, full-bodied shots of monster, giving us exactly what we've been waiting for all along.
If you were searching for the definitive bigfoot movie, look no further; Exists is exactly what you've been looking for.
Available at Amazon.con for only $13.99. Order here.
See also:
Bigfoot Exists on DVD in the UK
Exists DVD Release Today!
Bigfoot Exists on DVD
CryptoCast Archive: Eduardo Sanchez and Exists
Bigfoot Exists for Halloween
Troglodyte Gives Exists Two Non-Opposable Thumbs Up!
Exists: Links for Video on Demand
Cryptologic Radio Archive: Eduardo Sanchez
SasWhat: Exists
Exclusive Exists Clip
Bigfoot Exists and He is PISSED OFF!
Check Out the Bigfoot From Exists
'Blair Witch' Director Eduardo Sanchez Goes Back to the Woods for 'Exists'
Exclusive Exists Clip
Exists Opens on October 24th
Exclusive Exists Clip
Update: Exists Trailer Released!
Exists Trailer Released!
Exists Movie Poster and Release Date Update
Eduardo Sanchez Talks Exists
Bobcat's Willow Creek Rips Off Exists
Another SXSW Film Review: Exists
SXSW Film Audience Award for Exists
SXSW: Lionsgate Acquires Rights to Bigfoot Found Footage Pic 'Exists'
Exists Review, Fresh on My Mind
SXSW Film Review: Exists
Reminder: Exists Screens at SXSW!
Exists sells at SXSW!!!
Exists is One of Most Anticipated Films at SXSW
Exists World Premiere at SXSW!
Eduardo Sanchez wants "Exists" to feel like a feature length Patterson-Gimlin film
Berlin: Eduard Sanchez's Found-Footage Horror 'Exists' Sells Wide
Exists to Screen at SXSW
Exists News
Sexy Starlet Talks Bigfoot Thriller 'Exists'
Bigfoot Exists, If They Exist
Extinct Twinkies Might Have Proven Bigfoot Exists
Forthcoming Film #EXISTS Making Big Tracks
Premiere of Clips for New Bigfoot Film #Exists
New Found Bigfoot Footage Exists
#bigfootexists #existsmovie #eduardosanchez #lionsgate #BlairWitchProject
About Craig Woolheater
Co-founder of Cryptomundo in 2005. I have appeared in or contributed to the following TV programs, documentaries and films: OLN's Mysterious Encounters: "Caddo Critter", Southern Fried Bigfoot, Travel Channel's Weird Travels: "Bigfoot", History Channel's MonsterQuest: "Swamp Stalker", The Wild Man of the Navidad, Destination America's Monsters and Mysteries in America: Texas Terror - Lake Worth Monster, Animal Planet's Finding Bigfoot: Return to Boggy Creek and Beast of the Bayou.