Posted by: Craig Woolheater on April 8th, 2015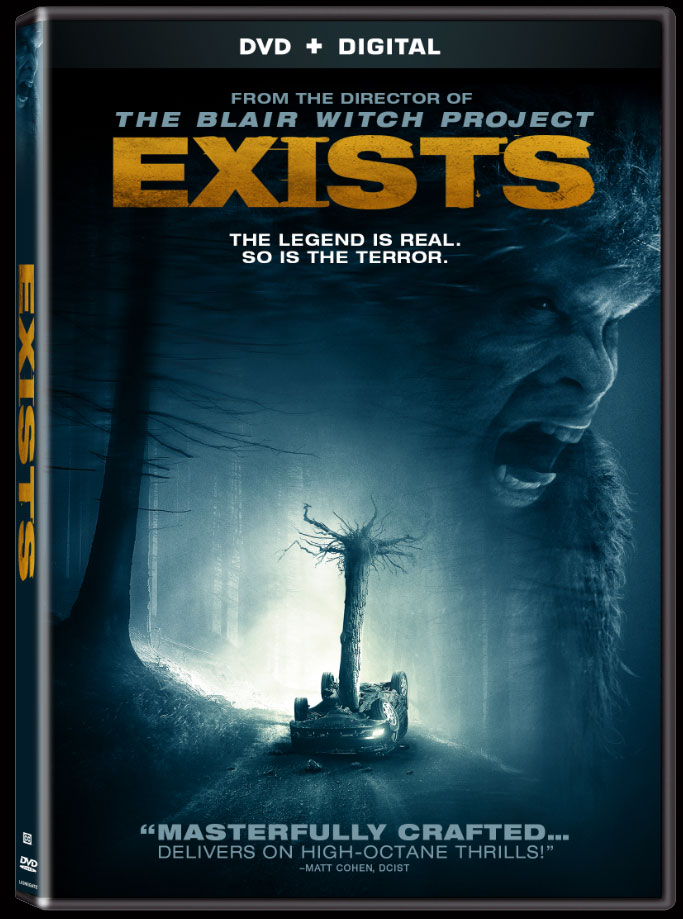 Eduardo Sanchez and co. return to the genre they helped shape with Exists. When a group of friends travel to a secluded cabin in the woods, they get far than they bargained for when they enrage a creature who lurks in the trees. Armed with little more than a few cameras, the group find themselves on the run from a sasquatch.
The found footage aesthetic is definitely hit and miss with many films failing to use the formula well. However, with Eduardo Sanchez – director of The Blair Witch Project – at the helm, it would be adequate to expect something favourable from this. Thankfully, Exists does deliver many great moments and is a generally enjoyable, quite scary and entertaining found-footage flick.
Despite the setting being almost identical to The Blair Witch Project, this film takes a very different approach to telling its 'real' tale. There are no interviews with the locals and no mention of this footage actually being 'found'. The group are not heading out in the name of research and are just looking for an old-fashioned good time. Exists opts for a traditional and subtle route, not attempting to persuade its audience that this is real, so you can breathe a sigh of relief and enjo this one for its fantastical ride. There have been countless found-footage films that begin with a warning; telling the audience that what they are about to see is real and, truth be told, it's no longer effective. The Blair Witch Project began this idea way back in 1999, so it's nice to see that the film-makers understand it's no longer a requisite of found-footage to start like this.
Exists begins in a typical fashion as we are introduced to our group of young folk who want some fun in the forest. Where's better for a good time than an isolated cabin in the middle of the woods? That's right, nowhere! If there's been sightings of Bigfoot, even better! The film doesn't hang around and within the first few minutes we're treated to some Bigfoot action when the group hits one with the car; they're going to regret that I think. The group replay the recording to see what they hit, but their minds quickly drift as they take a tiny dirt road to the cabin. Honestly, this was annoying and unbelievable. Clearly, they've hit a big, hairy creature, but they don't give it a second thought. However as an audience, we will be replaying the image over and over in our head, eager to see the consequences of their abominable mistake.
There's a slow and steady build-up to the terror with eerie dialogue like, "It looks like somebody left here in a hurry" and sideways glances to the camera, insinuating that a couple of people might be hiding something from the rest of the group. Surprisingly, Exists essentially skips the part where the lone member of the group must persuade his friends of the truth, because on the first night Mr Sasquatch comes a-knocking and they have no choice but to believe in the mythical creature. The fun starts quickly; it's clear that Bigfoot is not the peaceful creature they've read about as he soon sets out on a relentless rampage, determined to make the group pay for what they've done. The tension builds well and is maintained throughout with a genuine air of dread surrounding the film. We are given a full-blown, uncensored look at Bigfoot, showing that Exists is confident in its depiction of the creature. Furthering the film's fearlessness is its decision to shoot much of the film in broad daylight; it doesn't hide in darkness or rely on shadowy figures in the night and, instead, tackles its presentation of a creature feature head-on. It works extraordinarily well and makes for some downright terrifying moments. It's refreshing to see a film that refuses to follow in the footsteps of many found-footage films; there's no moments where the camera picture wavers at the most crucial time and we are shown a mostly realistic and believable little story.
It may not offer too much we haven't seen before, but if you're after something scary with a few surprises then I urge you to watch Exists. It's a bold, frightening and one hell of a blast. It does well to play on our fears of the unknown as humans are pit against the unforgiving wrath of nature. People are helpless when they are stripped down; and Exists exploits this in an effective manner as our group wander aimlessly in the woods, with no phone signal or car, hoping to find a way home. They are at the mercy of Bigfoot and he's in no mood to help a group of technology-obsessed humans. However, if the film is warning us about anything, it's not to lay off the tech, but to always make sure that someone else knows where you're going!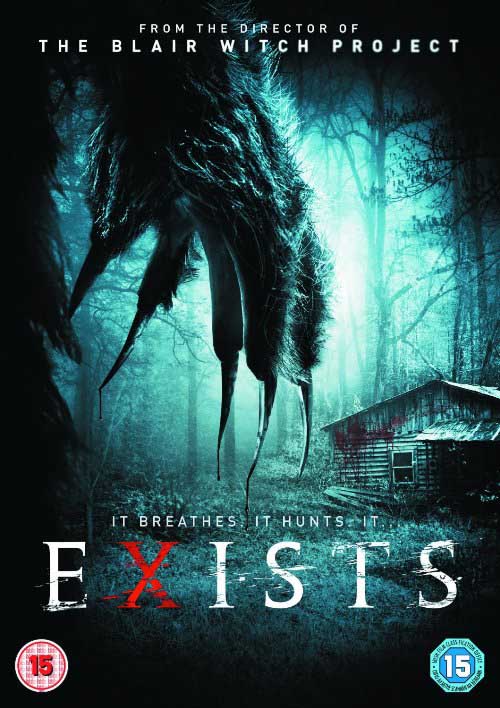 See also:
Exists UK DVD Released
Bigfoot Exists on DVD in the UK
Exists DVD Release Today!
Bigfoot Exists on DVD
CryptoCast Archive: Eduardo Sanchez and Exists
Bigfoot Exists for Halloween
Troglodyte Gives Exists Two Non-Opposable Thumbs Up!
Exists: Links for Video on Demand
Cryptologic Radio Archive: Eduardo Sanchez
SasWhat: Exists
Exclusive Exists Clip
Bigfoot Exists and He is PISSED OFF!
Check Out the Bigfoot From Exists
'Blair Witch' Director Eduardo Sanchez Goes Back to the Woods for 'Exists'
Exclusive Exists Clip
Exists Opens on October 24th
Exclusive Exists Clip
Update: Exists Trailer Released!
Exists Trailer Released!
Exists Movie Poster and Release Date Update
Eduardo Sanchez Talks Exists
Bobcat's Willow Creek Rips Off Exists
Another SXSW Film Review: Exists
SXSW Film Audience Award for Exists
SXSW: Lionsgate Acquires Rights to Bigfoot Found Footage Pic 'Exists'
Exists Review, Fresh on My Mind
SXSW Film Review: Exists
Reminder: Exists Screens at SXSW!
Exists sells at SXSW!!!
Exists is One of Most Anticipated Films at SXSW
Exists World Premiere at SXSW!
Eduardo Sanchez wants "Exists" to feel like a feature length Patterson-Gimlin film
Berlin: Eduard Sanchez's Found-Footage Horror 'Exists' Sells Wide
Exists to Screen at SXSW
Exists News
Sexy Starlet Talks Bigfoot Thriller 'Exists'
Bigfoot Exists, If They Exist
Extinct Twinkies Might Have Proven Bigfoot Exists
Forthcoming Film #EXISTS Making Big Tracks
Premiere of Clips for New Bigfoot Film #Exists
New Found Bigfoot Footage Exists
#bigfootexists #existsmovie #eduardosanchez #lionsgate #BlairWitchProject
About Craig Woolheater
Co-founder of Cryptomundo in 2005. I have appeared in or contributed to the following TV programs, documentaries and films: OLN's Mysterious Encounters: "Caddo Critter", Southern Fried Bigfoot, Travel Channel's Weird Travels: "Bigfoot", History Channel's MonsterQuest: "Swamp Stalker", The Wild Man of the Navidad, Destination America's Monsters and Mysteries in America: Texas Terror - Lake Worth Monster, Animal Planet's Finding Bigfoot: Return to Boggy Creek and Beast of the Bayou.