Posted by: Craig Woolheater on June 27th, 2015
From Mysterious Universe:
Delaware, the first state to ratify the United States Constitution, sits on the Delmarva Peninsula, and is bordered by New Jersey, Maryland, and Pennsylvania. The second smallest state in the Union Delaware is one of the least populous, but it does have a few monsters.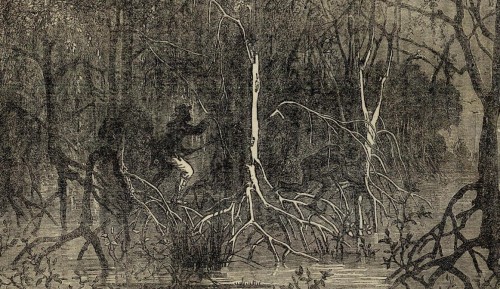 Selbyville Swamp Monster
Two raccoon hunters trudging through the Great Cypress Swamp of Selbyville, Delaware, one night in the 1920s found something unexpected. The hunters knew something was wrong when their dogs froze, and tucked tail, but they didn't expect what they encountered next. "They heard something screaming, and this horrible noise started coming toward them," author Andy Nunez told the newspaper Coastal Point. "Rather than fire on whatever it was, they backed away. Something large and heavy continued to follow them, snapping through the branches as it came."
The hunters encountered the Selbyville Swamp Monster, a large, hairy, hulking beast.
An editor of the Delmarva News, Ralph Grapperhaus, claimed he created the Selbyville Swamp Monster as a hoax in the 1960s, and dressed friend Fred Stevens in a hairy costume Stevens used to terrify motorists on Route 54, and Grapperhaus printed stories of Swamp Monster hunts in the Delmarva News. Stevens revealed his part in the hoax in 1987. He'd stopped dressing as the monster after a few months as hunts for the creature became common, and he feared for his life.
However, Stevens' claims don't account for encounters since the 1920s, or those that continued long after he hung up his costume.
Read about the other monsters from Delaware like the Zwaanendael Merman and Bigfoot here.
See also:
Exploring American Monsters: Connecticut
Exploring American Monsters: Colorado
Exploring American Monsters: California
Exploring American Monsters: Arkansas
Exploring American Monsters: Arizona
Exploring American Monsters: Alaska
Exploring American Monsters: Alabama
About Craig Woolheater
Co-founder of Cryptomundo in 2005. I have appeared in or contributed to the following TV programs, documentaries and films: OLN's Mysterious Encounters: "Caddo Critter", Southern Fried Bigfoot, Travel Channel's Weird Travels: "Bigfoot", History Channel's MonsterQuest: "Swamp Stalker", The Wild Man of the Navidad, Destination America's Monsters and Mysteries in America: Texas Terror - Lake Worth Monster, Animal Planet's Finding Bigfoot: Return to Boggy Creek and Beast of the Bayou.