Posted by: Craig Woolheater on June 24th, 2013
OGDEN — "I found a fossilized Bigfoot skull."
A journalist can go his or her entire life waiting to hear those six magic words. And yet, on a recent weekday afternoon, that very thing happened.
Todd May, of Ogden, dropped by the offices of the Standard-Examiner to see if someone would be interested in a story about a fairly impressive fossil find. After showing off a couple of digital photos, May offered six even more compelling words — "Do you want to see it?" — followed by the motherlode of sentences: "It's out in the trunk of my car."
In the trunk of your car? Do I want to see it? Does Bigfoot make in the woods?
May proceeded out to his car, where he popped the hatchback on his Nissan 300 ZX. Peeling back an American flag draped across the cargo area of the vehicle, he hefted a black piece of luggage that resembled an oversized bowling-ball bag, lowering it to the asphalt of the parking lot with a clunk. He struggled to pull a noggin-sized, seemingly ordinary rock out of the bag, held it up and turned it over.
A face.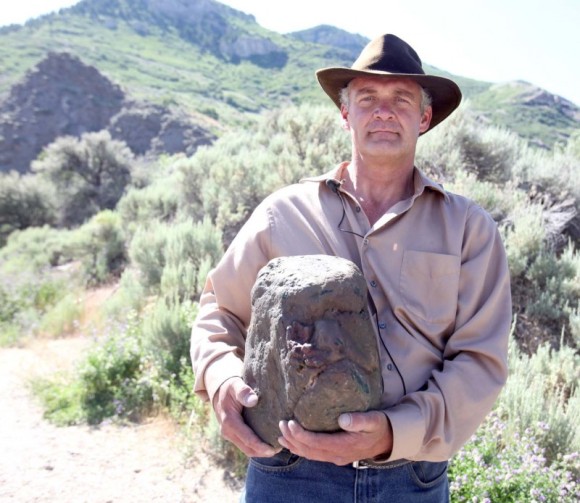 The rock looks vaguely like a smaller version of one of those Easter Island heads. Pronounced forehead. Large, flattened nose. What could only be described as a chiseled chin and jaw line.
It's been about six weeks since May found the rock near the mouth of Ogden Canyon.
"I was looking for some fossils," the 49-year-old "semi-retired" private investigator explains, "and I was kind of drawn to something in the ground."
It was a rock, sticking up out of the dirt.
"So I went and dug it out, and you couldn't tell what it was 'cause the head was face down; all you could see was the back of it," he said. "But when I dug it out you could see the face, perfect."
May believes his weighty prize — it tips the scales at 70 pounds — is a fossilized Bigfoot skull. What compels him to make such a claim? Because he says he has seen a couple of the nonfossilized, live skulls — attached to their monstrous, hairy bodies — in recent years.
"I've been tracking and watching for Bigfoot," May said. "I'm very curious, interested in that, and wanted to get footage on it 'cause I've ran across him a couple of times."
The first time was in April of 2011, just before dark one evening. May was "kicked back, enjoying the hot springs" near the mouth of Ogden Canyon when he spotted something emerge from the bushes just across the river. It was black with a silky coat, and it moved quickly, never looking over at May.
"My first thought was, 'My heck, there's a gorilla escaped from the zoo or something,' " he said. "I thought, 'What in the heck's a gorilla doing?' Then it dawned on me what it was."
The only other time May has seen Bigfoot was about a month ago, in the same area. He says he likes to go to the hot springs late at night, when there are fewer people there. He was at the springs about 2 a.m. one night.
"A couple of nights something was breaking branches and throwing rocks in the water," May recalls. "And I thought it was just some obnoxious people or kids or something in the canyon."
On this particular night, however, he decided to investigate, thinking perhaps it was an animal. May was walking down the trail when he saw it, down in the trees by the water.
"I had the light on it, and I thought, 'Oh my land,' " May says. "It was tall, it was big, it was big around — pretty good size. And it kind of looked back at me and I was just frozen. … So I just stood there with the light on it for a minute, and then I heard somebody across the way yell, 'Oh my gosh, it's a monster!' or something. So somebody else had seen it."
May says he found the fossilized skull about two weeks before his second Bigfoot sighting. He has been hunting fossils for two or three years in that area, and says he has found "a lot of things that look like different types of animals."
Read the rest of the story here.
About Craig Woolheater
Co-founder of Cryptomundo in 2005. I have appeared in or contributed to the following TV programs, documentaries and films: OLN's Mysterious Encounters: "Caddo Critter", Southern Fried Bigfoot, Travel Channel's Weird Travels: "Bigfoot", History Channel's MonsterQuest: "Swamp Stalker", The Wild Man of the Navidad, Destination America's Monsters and Mysteries in America: Texas Terror - Lake Worth Monster, Animal Planet's Finding Bigfoot: Return to Boggy Creek and Beast of the Bayou.