Posted by: Craig Woolheater on January 25th, 2008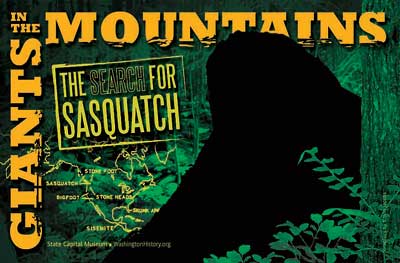 Hello, again! This is Gwen Perkins, guest curator of "Giants in the Mountains: The Search for Sasquatch". I sent a press release over some time ago for our January program but Susan Rohrer, the director of that museum's been able to add even more to it, so I wanted to keep Cryptomundo in the loop! I've copied the press release below.

Thank you so much for helping us share our programs with the Sasquatch community- we really appreciate it.

– Gwen
NEWS RELEASE
January 11, 2008
Contact: Susan Rohrer
State Capital Museum
360/586-0166
srohrer@wshs.wa.gov
The Search for Sasquatch Continues at the State Capital Museum
Olympia – Find out everything you ever wanted to know about the ongoing search for Sasquatch from some recognized leaders in the field. The State Capital Museum hosts Bigfoot Expeditions: The Search for Sasquatch featuring presentations by Robert Gimlin, Richard Noll and Owen Caddy.
The public program will be held on Saturday, January 26, 2008 from 10 AM to noon. The presentations will be repeated in a second session from 1 to 3 PM. Admission is FREE, with a suggested $2 donation.
Gimlin was with Roger Patterson when they shot the now-famous Patterson-Gimlin film, 24 feet of color film showing a female Bigfoot walking along a sandy creek, filmed forty years ago at Bluff Creek in Northern California. It is now among the most famous evidence of the creature's existence. Expedition partner and outfitter Gimlin will talk about his experience and the famous encounter on that trail.
Noll, a longtime Bigfoot researcher, will talk about his work and the well-known Skookum cast. The cast was made from a partial body print found near Mt. St. Helens in 2000, believed to have been made by a living Sasquatch. A copy of the cast will be on display during Noll's presentation.
Caddy will present "Digital Enhancement of the Patterson-Gimlin Film Subject." He will share the results of the film's digital enhancement, revealing for the first time many details of the film subject's face.
All three speakers were featured in a recent Bigfoot episode of Monster Quest on the History Channel.
Edited out the part about a Bigfoot organization, that will remain unnamed here, that will have a table promoting their expeditions.
This program is offered in conjunction with the exhibit Giants in the Mountains: The Search for Sasquatch, on view at the museum through September 2008. The exhibit explores the Sasquatch mystery and focuses on the Pacific Northwest environment which has created a rich setting for the traditional beliefs that have grown up around these beings. Scientific explanations, hoaxes and popular cultural interpretations about Bigfoot are tackled. Tribal artifacts and artwork as well as physical evidence collected in the field by anthropologist Dr. Grover Krantz are on display. Organized by the Washington State Historical Society. Regular museum admission applies.
The State Capital Museum and Outreach Center is located in the historic Lord Mansion, seven blocks south of the capital campus in Olympia, at 211 21st Avenue SW. The museum is dedicated to preserving and interpreting the history and culture of Washington and features two floors of exhibits. The building also houses outreach programs of the Washington State Historical Society, including the Women's History Consortium, Heritage Resource Center, National History Day and Traveling Exhibits Service. For more information, please contact the State Capital Museum and Outreach Center at 360/753-2580 or visit our web site, WashingtonHistory.org.
HOURS: Wednesday – Saturday, 11 AM – 3 PM. ADMISSION: $5 for families; $2 for adults; $1.75 for seniors; $1 for youth 6 – 18 years old; children age 5 and below, and members are always FREE.
Admission to the program in the Coach House only is free with a suggested donation of $2 appreciated.
About Craig Woolheater
Co-founder of Cryptomundo in 2005. I have appeared in or contributed to the following TV programs, documentaries and films: OLN's Mysterious Encounters: "Caddo Critter", Southern Fried Bigfoot, Travel Channel's Weird Travels: "Bigfoot", History Channel's MonsterQuest: "Swamp Stalker", The Wild Man of the Navidad, Destination America's Monsters and Mysteries in America: Texas Terror - Lake Worth Monster, Animal Planet's Finding Bigfoot: Return to Boggy Creek and Beast of the Bayou.