Posted by: Craig Woolheater on February 19th, 2014
On Saturday, February 15, I posted the following to my Facebook page: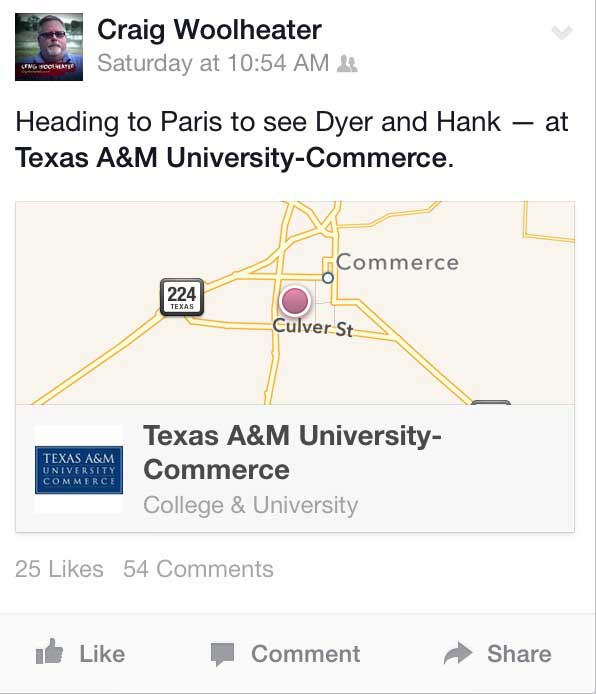 As you can see there were quite a few comments were made, asking for my opinion:
Adam Davies: It will be good to see you post on it afterwards Craig.
Darryl Jones: Yeah, let us know what you think about it. All aspects. Not just the "body".
Raven Storm: Wear a hidden camera 🙂
Stacey Fundaburk Turis: That's SO awesome…can't wait to hear your thoughts! Aww. Sounds like a fun adventure to me. Worst case you get to photobomb Hank! Craig let me know what you think…I'm heading there tomorrow for kicks and giggles.
Tai Hewitt: Ya gotta do it! Please don't disappointed…lol
Tasha Rody: Be safe and let us know what your opinion is on the so called body. 🙂
Pamela Farley: Hurry home Craig ! I want details!
Bryan Impey: In some ways it would be kind of interesting to get a close look at it. Your opinion carries a little more weight than most people commenting right now.
Karen Sue Dingess Nye: I would Like to hear what happens Craig.
I wasn't even planning to write up my trip to see Hank until I was bombarded with people wanting to know what I thought. And instead of answering a million questions on Facebook, I wrote it up here at Cryptomundo: Hangin' With Hank.
The comments really took a nosedive on Steven Streufert's group Coalition for Reason, Science, Sanity in Bigfoot Research. I eventually deleted the post, taking the comments with it.
When Steven said that he didn't know why they attacked me, why they shot the messenger, I replied:
Because they wanted me to say it was 100% fake. Saying I was 99.999999999999% sure it wasn't real wasn't enough. That I still didn't KNOW after seeing it from 2 feet away.
I based my opinion on what I saw, though a sheet of glass. Had I been able to touch it, examine the inside of the body cavity, I'm sure I would have been able to make an absolute statement.
People asked me my opinion of what I SAW THAT day. That's what I wrote and stated it was as such.
About Craig Woolheater
Co-founder of Cryptomundo in 2005. I have appeared in or contributed to the following TV programs, documentaries and films: OLN's Mysterious Encounters: "Caddo Critter", Southern Fried Bigfoot, Travel Channel's Weird Travels: "Bigfoot", History Channel's MonsterQuest: "Swamp Stalker", The Wild Man of the Navidad, Destination America's Monsters and Mysteries in America: Texas Terror - Lake Worth Monster, Animal Planet's Finding Bigfoot: Return to Boggy Creek and Beast of the Bayou.