Posted by: Craig Woolheater on April 9th, 2007
Whenever we post a story here on Cryptomundo about an upcoming Bigfoot film, invariably Harry and the Hendersons is mentioned.
Well, Harry and the Hendersons is finally being released on DVD on April 24. Coincidently, or not, that's the same day that Loren's expanded, republished Mysterious America is available.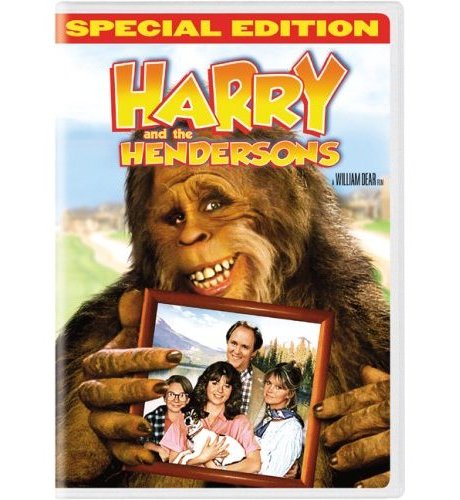 It is available from Amazon.com for the meager price of $9.99. Order that and Loren's book (only $11.20) and another crypto item and get them shipped for free.
The film was originally released in 1987 by Amblin Entertainment.
Harry was played by actor Kevin Peter Hall, who also played the Predator in Predator and Predator 2.
According to Cryptomundo's Loren Coleman, some characters in the film are based to varying degrees on actual figures in the search for Sasquatch. "Jacques LaFleur" (David Suchet) is a nod to the late Canadian Rene Dahinden, and "Dr. Wallace Wrightwood" (Don Ameche) combines some qualities of John Green, Peter Byrne and the late Dr. Grover Krantz.
From Universal Studios Home Entertainment: John Lithgow Stars in a Big-Hearted, Wholesome Comedy Sure to Delight the Entire Family, 'Harry and the Hendersons: Special Edition'

Digitally Remastered Picture, 5.1 Surround Sound and Never-Before-Seen Bonus Features Available on DVD April 24, 2007 From Universal Studios Home Entertainment

UNIVERSAL CITY, Calif., March 29 /PRNewswire/ — A legendary Bigfoot moves in with an All-American family and generates giant laughs when "Harry and the Hendersons: Special Edition" comes to DVD on April 24, 2007 from Universal Studios Home Entertainment. Emmy(R) Award winner John Lithgow ("Third Rock from the Sun") is at the top of his unmatchable comedic form as the patriarch of a family that falls for a furry stranger and then finds it's harder to keep a Bigfoot under the radar than they ever dreamed. This all-time favorite family comedy from Amblin Entertainment is directed by William Dear ("Angels in the Outfield") from a heartwarmingly whimsical script he co-wrote with William E. Martin and Ezra D. Rappaport. An Academy Award(R) winner for Best Make-Up, "Harry and the Hendersons: Special Edition" will tickle adults and enchant children with its inspired depiction of the comfort-loving Sasquatch who came to dinner.

Available on DVD for the very first time, "Harry and the Hendersons: Special Edition" features a new digitally remastered picture and 5.1 Surround Sound audio, plus all-new bonus features that deliver bigger-than-ever laughs for the entire family. The DVD is priced at $14.98.

BONUS FEATURES

The new special edition DVD of "Harry and the Hendersons" includes an oversize bundle of fun and funny special features, including:

Harry — Finding the Missing Link — Makeup artist Rick Baker won an Oscar(R) for transforming actor Kevin Peter Hall into adorably hirsute Harry. Go behind the scenes with Baker and director William Dear to see how they created a brilliant, believable Bigfoot for the camera.
The Making of "Harry and the Hendersons" — Conversations with the director and cast give viewers a backstage peek at the process of bringing the story of the big-hearted Harry to the screen.
Newswrap — A faux news report investigates the mysteries swirling around Harry and his adoptive human family.
Audio Commentary with Director William Dear
Original Theatrical Trailer
Hilarious Deleted Scenes

SYNOPSIS

When an average American family meets a legendary creature the fur is sure to fly. After John Lithgow's car accidentally hits "Harry," his life is turned upside down when he "makes friends" with the real-life Bigfoot. It's a race against time to get Harry back to his natural environment in this hilarious comedy for the entire family. Featuring new bonus features, a digitally remastered picture and all-new 5.1 Surround Sound audio, this is a must-own DVD for every family's library!PRNewswire
And just to tide you over, here is a clip from the film.
About Craig Woolheater
Co-founder of Cryptomundo in 2005. I have appeared in or contributed to the following TV programs, documentaries and films: OLN's Mysterious Encounters: "Caddo Critter", Southern Fried Bigfoot, Travel Channel's Weird Travels: "Bigfoot", History Channel's MonsterQuest: "Swamp Stalker", The Wild Man of the Navidad, Destination America's Monsters and Mysteries in America: Texas Terror - Lake Worth Monster, Animal Planet's Finding Bigfoot: Return to Boggy Creek and Beast of the Bayou.