Posted by: Craig Woolheater on May 8th, 2015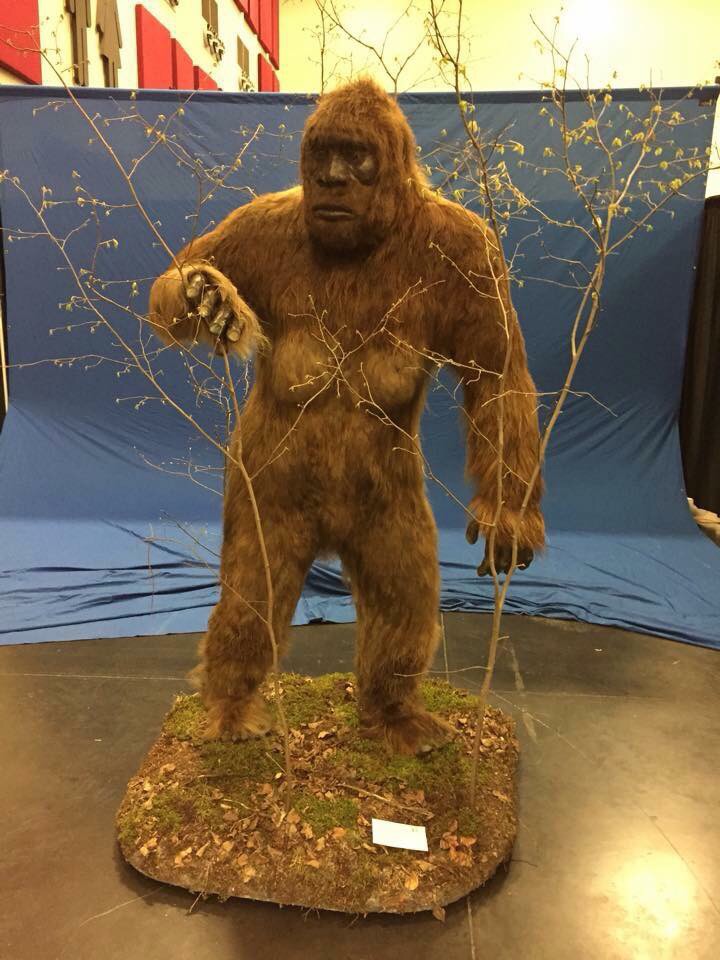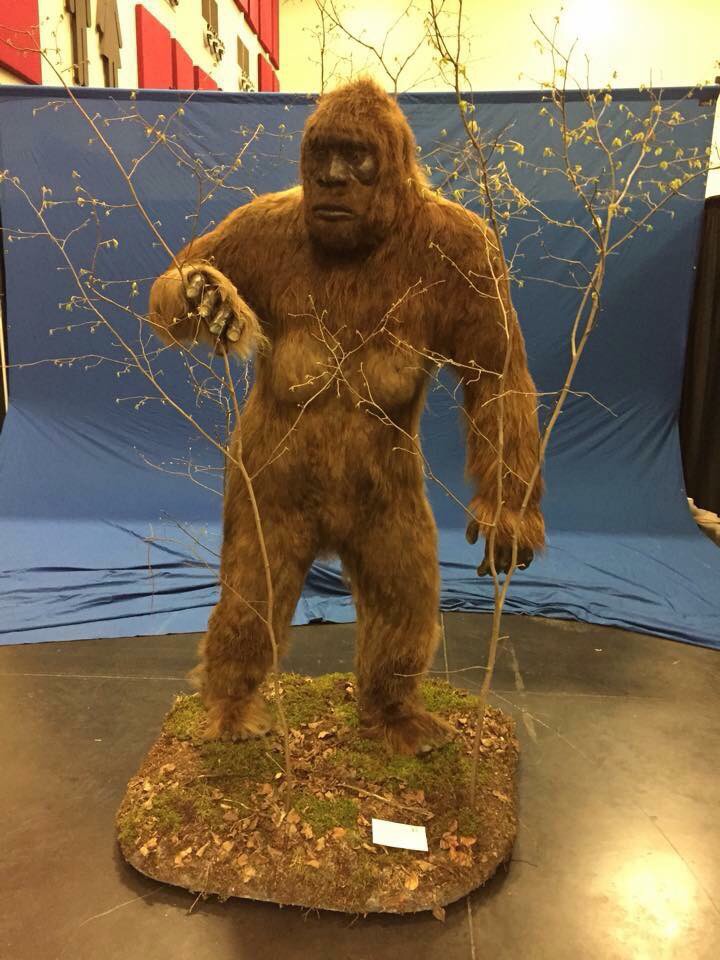 Do you believe? Sasquatch replica draws curious
It towers above us, standing 6 feet 6 inches from bare feet to top of its furry head.
Thick, reddish fur covers its gorilla-wide body. Eyes glistening like shiny pools of ink peer back.
Renowned taxidermist Ken Walker has no doubt that Sasquatch is real.
And if you visit the World Taxidermy and Fish Carving Competition in Springfield Friday or Saturday, you'll see a lifelike recreation of what Walker says he witnessed.
A native of Canada, Walker said he saw something strange run across the road deep in the Alberta wilderness some 30 years ago and became fascinated with the legendary beast.
"It was on two legs during the bear season in the middle of nowhere — there were no cars, there were no people around," he said. "I assumed whatever it was was a person. But they were like 400 yards away and running scared. It cleared a big ditch in one leap. I found it very odd because it ran up a hill without even slowing down. Even bears don't do that.
"The guy with me said, 'Was that a Sasquatch?' And I said, 'No, there's no such thing.' Back then you couldn't convince me."
But after hearing similar encounters from people who visited his taxidermy shop, and investigating reports of Sasquatch sightings, Walker said "it makes way more sense that what I saw was a Sasquatch or a Bigfoot than anything else, or a person."
The female Sasquatch he crafted is the subject of a documentary that's being filmed called "Big Fur," and a camera crew is following Walker in Springfield during the taxidermy competition.
He sculpted the beast's body out of hard foam, and used the skin and long reddish fur from a Scottish Highland cow to capture what a real Sasquatch would look like.
Walker said he knows Sasquatch and Bigfoot creatures are controversial to many. But the Smithsonian National Museum of Natural History taxidermy expert said he would never gamble his reputation with false claims about these mysterious creatures.
He set out to craft a lifelike Sasquatch after getting many requests from people who knew the exacting detail he puts into his taxidermy work.
Along with the creature he witnessed, Walker said he studied the famous 1967 Patterson film, that purports to show a Sasquatch walking away from the cameraman along a creek near Orleans, California. Various analysts have concluded the film was a clever hoax, including the man who claimed he was the one inside the ape suit.
Real or not, Walker drew from the film to sculpt a female Sasquatch.
"Believe it or not there is enough data in that film and reference to get something that was probably very close to what was filmed," he said. "I don't want to make something unless I can do it accurately."
See also: Big Fur
About Craig Woolheater
Co-founder of Cryptomundo in 2005. I have appeared in or contributed to the following TV programs, documentaries and films: OLN's Mysterious Encounters: "Caddo Critter", Southern Fried Bigfoot, Travel Channel's Weird Travels: "Bigfoot", History Channel's MonsterQuest: "Swamp Stalker", The Wild Man of the Navidad, Destination America's Monsters and Mysteries in America: Texas Terror - Lake Worth Monster, Animal Planet's Finding Bigfoot: Return to Boggy Creek and Beast of the Bayou.