Posted by: Craig Woolheater on January 10th, 2007
Mountain Lion Sightings In Northern Kentucky
Last Update: 1/9/2007 7:36:43 AM
Local 12 WKRC-TV Cincinnati
A mountain lion is spotted running loose near a local neighborhood.
In the past three weeks, six people reported seeing the big cat.
It was first seen near Camp Springs, just off the AA Highway in Campbell County. More recently, the cougar has been seen much closer to Cincinnati.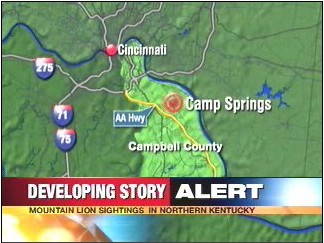 Local 12's Shawn Ley even spotted the cat and has more.
Call it a Campbell County small dog leash alert. If little guys like these two were to get loose, they'd be mere snacks for a new neighbor moving in to the Wilder-Highland Heights area.
Friday night, right along the guardrail on westbound, I-275 approaching the AA Highway, my jaw dropped when I saw a big, healthy looking mountain lion.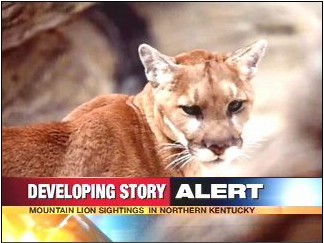 That's right, cougar, mountain lion, catamount, whatever you want to call it, it's here and others have spotted it.
"Like the back was about that high and about that long," said Cathy Rust, spotted mountain lion. "And had the real long tail that dragged the ground."
Cathy Rust saw a mountain lion three weeks ago, about seven miles south off the AA Highway in Camp Springs. She saw it outside the Saddle Club. The cat was across the street, prowling outside the Campbell County Animal Shelter. She made sure the five others in the club got a look at it and reported it. "Yeah, that's why I was glad and called them," said Rust. "So people wouldn't think I was nuts!"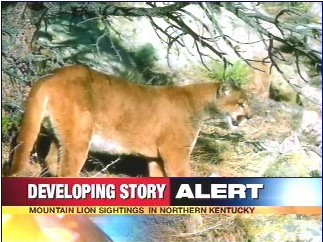 "I'm not as surprised as I would have been years ago," said John Dinon, Cincinnati Zoo's Conservation Program.
In fact, John Dinon, the head of the Cincinnati Zoo's Conservation Program, says there is so much wildlife in the area he's not surprised a mountain lion would migrate in just for the food. Or if one escaped captivity, like the cougar on the run from a preserve west of Indianapolis.
"If you see a mountain lion, I'd suggest number one, steer clear of it," said Dinon. "Inform your neighbors and also call the Department of Natural Resources."
They're elusive, and the lion like this may not surface again, but you and your dog should be aware he's out there, no matter how ferocious your pet is.
A man in Villa Hills Monday night sent Local 12 an email asking if a mountain lion was loose, thinking he heard one.
Again, call the Department of Natural Resources to report if you see the cat, although they won't act unless pets start disappearing.
It's rare, but there were other mountain lion sightings in Kentucky last year. A man outside of Louisville had a cougar on his front lawn.
About Craig Woolheater
Co-founder of Cryptomundo in 2005. I have appeared in or contributed to the following TV programs, documentaries and films: OLN's Mysterious Encounters: "Caddo Critter", Southern Fried Bigfoot, Travel Channel's Weird Travels: "Bigfoot", History Channel's MonsterQuest: "Swamp Stalker", The Wild Man of the Navidad, Destination America's Monsters and Mysteries in America: Texas Terror - Lake Worth Monster, Animal Planet's Finding Bigfoot: Return to Boggy Creek and Beast of the Bayou.