Posted by: Craig Woolheater on July 21st, 2014
The centuries-old legend of a lake creature is alive today thanks to a handful of folks who are driven by scholarship, obsession and the irresistible mystery.
There it … there it is! Over by that fishing boat. No, there! Omigosh, they don't see it! They must think it's a log.
Unless it is a log.
Or a catfish. Or an otter. Or a boat wake.
But it also could be a sea serpent. (It could be.)
For hundreds of years, people have glanced across the glistening waters of Lake Pepin, where the Mississippi River widens to a basin as long and wide as Scotland's famous Loch Ness (the same size!), and seen … something.
Most often, the sight turns out to be a dead tree hung up on a sandbar, or a huge sturgeon breaking the surface, or the wake of a boat unfurling toward shore.
But not always. (Maybe.)
"I firmly believe there was something at one time," said Jil Garry, who owns Treats and Treasures in Lake City, Minn., a town of 5,000 on Lake Pepin.
Garry sells T-shirts, bibs, mugs and candy depicting a friendly Pepie, which is what everyone calls the (possible) creature. "There were those accounts of French explorers and the newspaper stories," she said, then shrugged. "But now?"
Larry Nielson, who plies the lake daily offering tourists excursions on his sparkling paddlewheeler, Pearl of the Lake, doesn't know, either. A few years ago, he offered a $50,000 reward to anyone providing "undisputable evidence that proves the existence of the real live creature living in Lake Pepin," according to www.pepie.net.
So far, there hasn't been a single claim, although he added, half-laughing, that "my wife's always worried." No question, the reward is a publicity stunt (and has reeled in some national press) but Nielson also would like some proof because, well, he's seen "things I can't explain."
Such as 11 years ago, on a calm lake, midweek with few boats out, he saw "this wake 200-some feet long and 2 feet high going upstream." (Upstream!)
Then in 2009, he saw a log in the water — he knew it was a log; it looked just like a log — but then it began moving against the current (against the current!) before slipping out of sight.
Is Pepie real?
"I don't know," Nielson said, hands on the spokes of the Pearl's big wheel. "That's for you to make up your mind."
From "Sacré bleu!" to "What the – ?!"
When Father Louis Hennepin explored this region for France in the late 1600s, he reported seeing "a huge serpent as big as a man's leg and seven or eight feet long" where the Minnesota River flows into the Mississippi. In those days, the river ran unimpeded from Lake Itasca to the Gulf of Mexico — and, in turn, was open from the ocean to Minnesota.
Indians used only strong dugout canoes on the lake, given legends of something large enough to swamp a birchbark boat. Ancient effigy mounds in the region appear to depict huge serpents. Still, we can't know if they reflect sightings, creation myths or something else entirely, said Chad Lewis, a Minneapolis man who's written "Pepie, the Lake Monster of the Mississippi River" and maintains www.chadlewisresearch.com.
The first known newspaper account in August 1867 was from river rafters from St. Louis, Mo., who reported seeing a large, unknown creature in the water. A more vivid account appeared four years later in the Wabasha County Sentinel, describing "a marine monster between the size of an elephant and rhinoceros," moving "with great rapidity."
Four years later, another newspaper described a "dark, strange-looking object" that rose 6 feet out of the water. Another newspaper noted that a huge eel later was caught.
Sightings have continued over the years, with Nielson, the Pearl's captain, considering 15 to have some degree of credibility, in that they can't easily be explained away.
Local lore even claims that one moonlit night in 1922, a young man named Ralph Samuelson saw a creature gliding across Lake Pepin and thought, "If a large aquatic creature can skim across the water's surface, why can't I?" A few months later, he invented the sport of water skiing.
Except for the fact that Samuelson did invent water skiing, and Lake City is known as "the birthplace of water skiing," this is almost certainly not true.
Plans are being made for the first Pepie Festival in September, which promises to be the most family-friendly of events.
"When Larry Nielson brought Pepie back to life, some were afraid that people would think we're dumb, or they'd be scared to go in the water," said Garry, the shopkeeper. "But we see Pepie as a shy creature. Like we say, if you haven't seen it, it's not going to bite you."
Read the rest of the article here.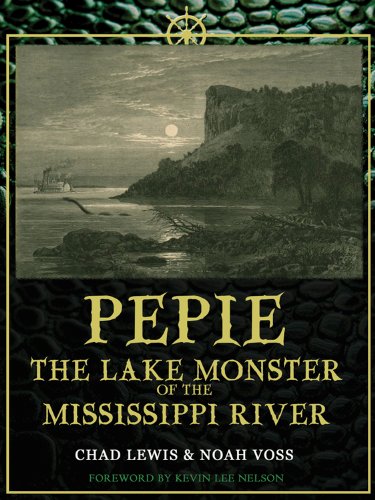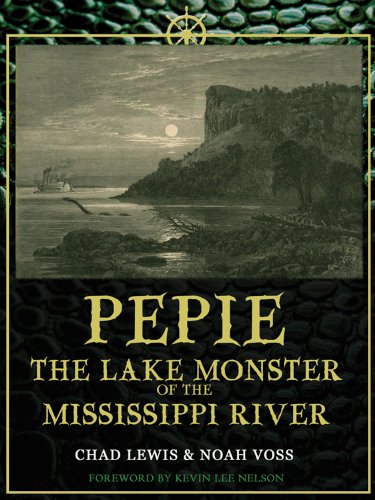 Pepie: The Lake Monster of the Mississippi River is available on Amazon.com.
See also:
Pepie: The Lake Monster of the Mississippi River
Monsters and Mysteries in America: Marathon
Project Blue Book Bigfoot

Monsters and Mysteries in America: Alien Bigfoot, Cajun Werewolf, Lake Pepin Monster
Meanwhile, $50,000 For Pepie
About Craig Woolheater
Co-founder of Cryptomundo in 2005. I have appeared in or contributed to the following TV programs, documentaries and films: OLN's Mysterious Encounters: "Caddo Critter", Southern Fried Bigfoot, Travel Channel's Weird Travels: "Bigfoot", History Channel's MonsterQuest: "Swamp Stalker", The Wild Man of the Navidad, Destination America's Monsters and Mysteries in America: Texas Terror - Lake Worth Monster, Animal Planet's Finding Bigfoot: Return to Boggy Creek and Beast of the Bayou.