Posted by: Craig Woolheater on January 9th, 2007
An anonymous Cryptomundo reader just tipped us off to this story.
Cougar plays starring role in Manitoba history books
Big cat caught live in photos
Tue Jan 9 2007
By Martin Zeilig
Winnipeg Free Press
PHOTOGRAPHIC history has been made with the first-ever pictures of a wild cougar roaming rural Manitoba.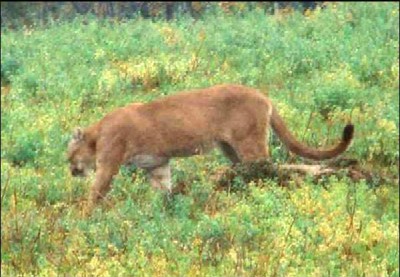 Click on image for full size version
When a farmer near Duck Mountain Provincial Park came upon an elk calf that had just been killed, he suspected a cougar was to blame. At daybreak the next day, he had the proof: photos of the big, elusive cat returning to feed. Wildlife officials say his are the first such photos taken in Manitoba.
Retired miner and farmer Guy Dew took the photos last Sept. 16 after encountering the male animal on land adjacent to his Swan Valley farm, which is on the edge of the Duck Mountains, five hours northwest of Winnipeg and about 15 minutes east of the Saskatchewan border.
Bill Watkins, a zoologist with Manitoba Conservation, says Dew's shots are the first showing a live cougar in the province.
"Over the years that I've been with the wildlife branch, a lot of people have submitted photos. But this was the first one which was unequivocally a cougar. There's no doubt whatsoever.
'Excited'
"I feel excited about it," he said, adding that cougars are a protected species under the provincial Wildlife Act. Dew's adventure began on a drizzly afternoon last Sept. 15 when he came upon a dead elk calf while scouting for a place to hunt elk.
"It was recently dead and still warm. It was apparent to me that the calf had been killed by a cougar because of the puncture marks on its neck and the manner in which it was covered with grass and dirt.
"At that point, I was satisfied that it was a cougar kill," Dew said in an interview.
The next morning, he and three friends went out archery hunting. Dew said he made a point of walking to a site about 275 metres from the dead elk calf.
"The light was just coming up and we were lucky enough to see the cougar feeding on the kill. The four of us watched for a few minutes and then retreated without disturbing it. We left him at the kill and then went on with our hunt," he said.
After returning home, Dew and one other hunting buddy went out again early that same evening. This time Dew took along his digital camera.
They walked back to the dead elk calf, but there was no sign of the big cat.
"We stood there looking around for several minutes and suddenly he appeared, walking towards the kill. He began to feed again. "I took several shots with my camera and then made the decision to get closer," Dew said.
Unaware of presence
"There were a number of round bales of hay, so I picked out a route from bale to bale to keep hidden, taking pictures all the way. During this time, he fed on the kill and after he finished feeding, he proceeded to cover it over with dirt and debris."
The cougar was unaware of his presence, Dew said.
"I was there about 20 minutes and got as close as 56 yards (51 metres) from him."
Watkins said Dew is the first person since Nov. 1, 2004 to sight a cougar in Manitoba.
On that date, a 91-pound female cougar was shot by a landowner on the southern boundary of the Duck Mountain forest reserve.
Just over a month later, a 115-pound male cougar was taken "accidentally by a licensed trapper" south of Riding Mountain National Park, just over 97 kilometres from where the first cougar was killed.
About Craig Woolheater
Co-founder of Cryptomundo in 2005. I have appeared in or contributed to the following TV programs, documentaries and films: OLN's Mysterious Encounters: "Caddo Critter", Southern Fried Bigfoot, Travel Channel's Weird Travels: "Bigfoot", History Channel's MonsterQuest: "Swamp Stalker", The Wild Man of the Navidad, Destination America's Monsters and Mysteries in America: Texas Terror - Lake Worth Monster, Animal Planet's Finding Bigfoot: Return to Boggy Creek and Beast of the Bayou.