Posted by: Craig Woolheater on September 4th, 2014
The Monsters Underground premiere was postponed and moved from Destination America to Discovery.
Tonight the show premieres with two episodes.
All-New Series Premieres Thursday, September 4 at 10:02/9:02c and 10:32/9:32c
Monsters Underground Produced Open from Go Go Luckey Entertainment on Vimeo.
In Monsters Underground, Bill Brock and his team are hell-bent on proving the existence of monsters living beneath the earth's surface. During their underground investigations, one wrong move could turn the cave into their tomb. But the most dangerous threat of all is the pitch-black darkness and the risk of coming face to face with a cave creature – such as the shape-shifting Aswang or the bat-like Olitiau – and not seeing it until it's too late.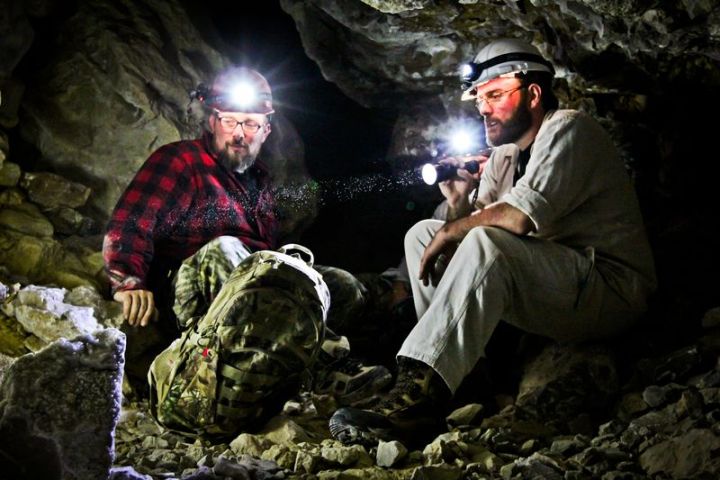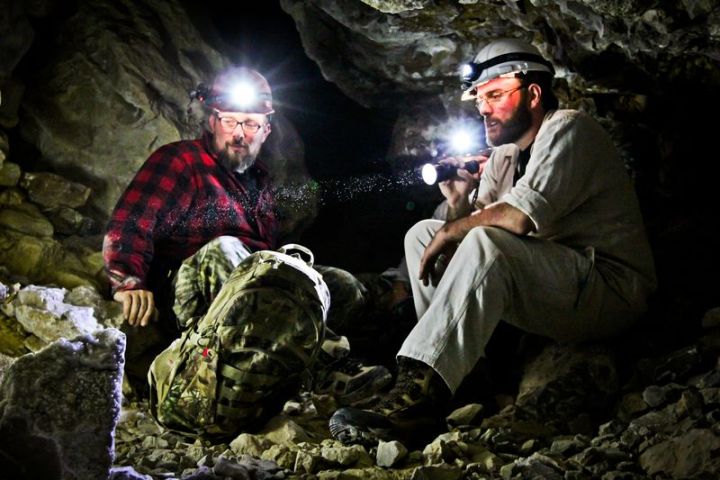 Credit: Destination America
Bill Brock (L) and Casey Onik (R).
Volcano Cavern Olitiau premieres Thursday, September 4 at 10:02/9:02c
In the maze that is Volcano Caverns in Flagstaff, Ariz., Bill Brock and his team believe that a giant, deadly reptilian bat creature known as the Olitiau, or "cave demon" has made this cave its home. One of the attributes of this blood-sucking creature is that it can sense fear in its prey. As the team explores the labyrinth of tunnels, sounds of the creature get closer and closer. The team gathers where they last heard the creature and wait. As a heat signature begins to appear on their thermal camera, their night vision dies, leaving them blind and vulnerable to becoming the Olitiau's next victims.
Graveyard Gulch Mapinguari premieres Thursday, September 4 at 10:32/9:32c
Something has been feeding on Northern California's black bear population, and Bill Brock's team of monster hunters suspects the culprit is the Mapinguari, a descendant of the giant prehistoric sloth. Evidence leads them to Graveyard Gulch, an isolated cave that's treacherous because of what might be living there but also due to extremely narrow passageways and slippery surfaces that lead to deadly drop-offs. Following the stench of the Mapinguari, the team sets their trap deep underground. As they wait in the dark, Brock's thermal camera picks up an image while something unexpected and deadly prepares to strike.
See also:
Bill Brock on Bigfoot Baiting
Destination America: Monsters Underground
Monsters Underground's Bill Brock
CryptoCast Archive: Swamp Monsters and Monsters Underground
#MonstersUnderground
About Craig Woolheater
Co-founder of Cryptomundo in 2005. I have appeared in or contributed to the following TV programs, documentaries and films: OLN's Mysterious Encounters: "Caddo Critter", Southern Fried Bigfoot, Travel Channel's Weird Travels: "Bigfoot", History Channel's MonsterQuest: "Swamp Stalker", The Wild Man of the Navidad, Destination America's Monsters and Mysteries in America: Texas Terror - Lake Worth Monster, Animal Planet's Finding Bigfoot: Return to Boggy Creek and Beast of the Bayou.