Posted by: Craig Woolheater on March 13th, 2013
Source
Reviewed by Gabino Iglesias
Written by Gina Ranalli
2012, 158 pages, Fiction
Released on August 31st, 2012
Order here
Review:
A few months ago a friend asked me which author I'd like to trade brains with for a day. My response was automatic: Gina Ranalli. Besides being the reigning queen of strange horror (you can also call if bizarro horror if you want), Ranalli consistently delivers top-notch fiction that's unlike anything else out there. With every new book, she brings to the table something fresh and exciting. When I heard about Mothman Emerged: A Cryptozoological Thriller, my excitement was immediate: a superb author whose work I enjoy had tackled the Mothman! As fan of cryptozoology and Ranalli's work, I had to get my hands on it. I'm glad I did.
Mothman Emerged starts with creepy stuff right away and throws readers into the woods of Lockwood, a small town in Washington, where there are some big, strange cocoons hanging from the trees. No one spots them for a while, but they soon start encountering what comes from them: dark, winged creatures with glowing eyes, razor-sharp talons, and a very violent disposition. When Sheriff Steven Collie gets the first call, he thinks nothing of it, but he quickly has a first-hand encounter that lets him know there is something dangerous out there attacking the people he's supposed to protect. Unfortunately, it's almost impossible to be safe from creatures that come out of nowhere, can fly really fast, and are seemingly indestructible. Before Collie figures out a way to save everyone, members of a secret branch of the FBI arrive in town to investigate. If they fail to control the situation, Lockwood might face something more terrible than anyone could have ever imagined.
The first thing you should know is that this is not a book about Mothmen; it's a story about Mothmen by Gina Ranalli. Forget what you think you know about these creatures because the author has reinvented them. From the cocoons they come from and the way sound affects them to their barely-there bodies and violent behavior, the beings Ranalli created are scary, unique, and destructive in more than one way. In fact, one of the book's treats comes in the form of the black dust the Mothmen are made from: it melts human skin.
As you would expect from a Ranalli story, there is a great mix of elements: an incredible amount of action, healthy doses of violence and gore, and the narrative maintains a great pace at all times. However, the best thing about Mothman Emerged is that it spins wildly toward a finale that seems made for a movie, but which eventually becomes a nightmare that dishes out death on a large scale and proves the author pulls no punches.
Mothman Emerged: A Cryptozoological Thriller is one of those strange tomes that will please horror fans and cryptozoology aficionados alike. Get a copy today and learn why the government can be as dangerous as the creatures in the woods.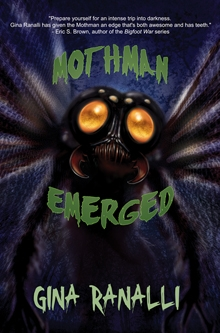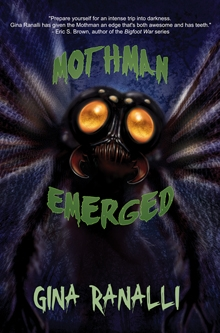 About Craig Woolheater
Co-founder of Cryptomundo in 2005. I have appeared in or contributed to the following TV programs, documentaries and films: OLN's Mysterious Encounters: "Caddo Critter", Southern Fried Bigfoot, Travel Channel's Weird Travels: "Bigfoot", History Channel's MonsterQuest: "Swamp Stalker", The Wild Man of the Navidad, Destination America's Monsters and Mysteries in America: Texas Terror - Lake Worth Monster, Animal Planet's Finding Bigfoot: Return to Boggy Creek and Beast of the Bayou.