Posted by: Craig Woolheater on May 12th, 2006
In the week and a half or so before we left for San Antonio for the second round of lectures at the Bigfoot in Texas? exhibit at the Institute of Texan Cultures, I tried to line up a private tour of the Primarily Primates sanctuary for the speakers that weekend.
The speakers were Jeff Meldrum, Jimmy Chilcutt and Rick Noll. Dr. Meldrum had attempted to visit the facility previously to study their arguably most famous resident, Oliver.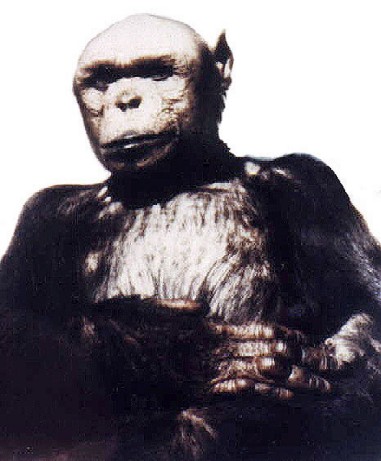 I wasn't having much luck. My initial phone call was returned, but after that, my following calls were not. On the day I left for San Antonio, I was told that "things have been crazy around here all week. Wally has been really busy."
Wally would be Wallace Swett, the president and founder of the facility, which was founded in 1978. I had talked to Wally on two occasions. I invited him out to the talks at the Institute and the exhibit. He expressed great interest in the subject of Bigfoot in particular, and cryptozoology in general. From my initial talks, I thought that the private tour was going to happen. But then the lack of communication set in, and time was ticking off the clock.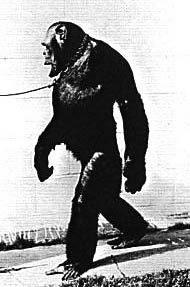 Saturday came and went, with no word from Wally. Sunday morning, when we went down to eat breakfast at the hotel, I picked up a copy of the Sunday San Antonio Express-News. You can imagine my shock at seeing the following front page article:
Primates in the courtroom: Sanctuary at center of fight
…a raging debate that's no laughing matter: whether Primarily Primates, a well-known, 28-year-old animal sanctuary in Northwest Bexar County, has fallen into a state of decay that endangers the welfare of some 1,000 animals living there.
Boysen says the San Antonio sanctuary is substandard. She has been joined by other researchers and animal rights groups, along with some former employees of the sanctuary.
They describe an aging facility on the decline, suffering from dwindling financial support, staff shortages and management problems that put the basic health and safety of the animals at risk.
Wallace Swett, founder and president of the 75-acre sanctuary in Leon Springs, says a long-standing disagreement between him and PETA is at the heart of the matter. He said PETA and like-minded animal rights groups disfavor sanctuaries, which still keep animals confined in enclosures while allowing them to live out their lives.
"It's not about the animals. The animals will be fine," Swett said after a court hearing Thursday. "They are definitely after the money."
Many famous people and famous animals have made their way to Primarily Primates, which Swett opened in 1978 as one of the first places offering refuge to apes, chimpanzees and other animals that had exhausted their usefulness to roadside zoos, medical research and other human enterprises.
Notable retirees have included chimps from the American space program, an orangutan that starred in a Clint Eastwood movie and a chimpanzee that once belonged to Panamanian dictator Manuel Noriega.
Not listed in the online version, but in the print version as one of the animals that have come to the sanctuary is:
1996: Oliver, age 32, one of 12 chimps retired from Buckshire Corp., a Pennsylvania research facility. Oliver toured the world in the 1970's as a so-called 'man-ape.' Claims that he had 47 chromosomes people have 46; apes 48) later proven untrue.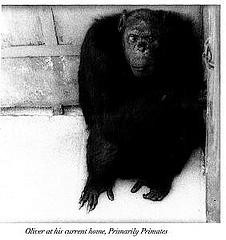 Well, things made much more sense now, things had been crazy around there all week. The lack of return phone calls was now understandable. They had bigger fish to fry than to host a tour of Bigfoot researchers…
Okay, back to Oliver, and why he was of interest to us Bigfoot researchers.
There was talk that Oliver was a Bigfoot in some circles. A woman I talked to in 2001 suggested this very thing. She had seen a news segment featuring the TBRC on a local Dallas news station. The station listed my home phone number to contact the group. As soon as the segment aired, I was besieged with calls. One of them was from a local woman who had been in the circus business her entire life. Her father owned a circus, and she had grown up in the business and was currently running it.
She told me that her father had known the people who originally owned Oliver, the Burgers. She insisted that he was a Bigfoot, at least that was the impression she had gotten from her father telling her about Oliver. I soon surmised that she was talking about Oliver, and I sent her links to websites with information about him. She was telling me that her father had seen this 7 foot tall bipedal ape that was from China, I believe. After she mailed me a photo, I knew it was Oliver and that the story had apparently been embellished by her father. When I called her back, she told me about the people that had owned him, the Burgers, who were friends of the family.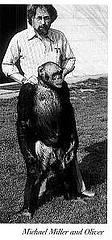 The Burgers sold Oliver to a New York attorney, Michael Miller, who exhibited Oliver as ape-man hybrid. He had become too much for them to handle.
For more information on the history of Oliver, see Amazing Missing Links.
What fate will befall Oliver with the looming legal troubles facing his caretakers?
About Craig Woolheater
Co-founder of Cryptomundo in 2005. I have appeared in or contributed to the following TV programs, documentaries and films: OLN's Mysterious Encounters: "Caddo Critter", Southern Fried Bigfoot, Travel Channel's Weird Travels: "Bigfoot", History Channel's MonsterQuest: "Swamp Stalker", The Wild Man of the Navidad, Destination America's Monsters and Mysteries in America: Texas Terror - Lake Worth Monster, Animal Planet's Finding Bigfoot: Return to Boggy Creek and Beast of the Bayou.