Posted by: Craig Woolheater on May 23rd, 2007
In the May-June 2007 issue of Skeptical Inquirer, a cadre of skeptics review Jeff Meldrum's book, Sasquatch: Legend Meets Science.
The list includes Ben Radford, Michael R. Dennett, Matt Crowley, and David J. Daegling.
Ben Radford shared the review with me to share with the readers of Cryptomundo.
As there were four separate reviews, I will share them individually over the next few days here at Cryptomundo.
This is the third part of the review, Matt Crowley's review of the book.
The Nonsense and Non-Science of Sasquatch
Benjamin Radford, Michael R. Dennett, Matt Crowley, and David J. Daegling
Sasquatch: Legend Meets Science. By Jeff Meldrum.
Forge Books, New York, 2006. ISBN 0-765-31216-6.
Hardcover, $27.95.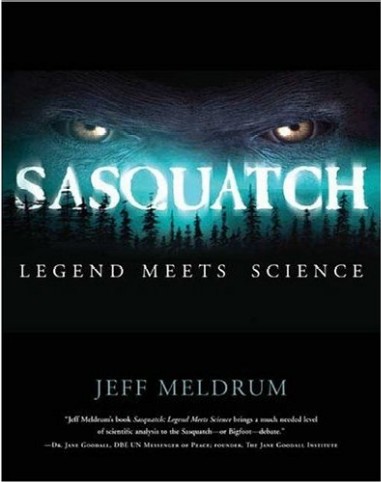 Psst, you can purchase the book at Amazon.com for only $18.45. Click on the book cover to be whisked away to Amazon.com to purchase the book.
(SI) Editor's note: This review is comprised of analyses by four noted researchers of Bigfoot claims, each of whom was asked to briefly critique the book on their areas of expertise.
Matt Crowley previously worked as a pharmacist, sideshow performer, lamp builder and is now a certified welder. He has spoken at several sasquatch conferences on the topic of "Dermal Ridges and Casting Artifacts."
Dermal Ridges

One of the main pieces of evidence for the claim that Bigfoot tracks exhibit dermal ridges is the "Onion Mountain" footprint, a thirteen-inch cast made by researcher John Green in August 1967. An additional set of tracks, the "Wrinkle Foot" casts, allegedly also display similar ridge patterns. The Wrinkle Foot set of prints were discovered by Paul Freeman. Photographs of the Onion Mountain and Wrinkle Foot casts appear on opposite pages of Meldrum's book, and so allow for an easy comparison.

On May 29, 2005, Matt Crowley spoke at a Sasquatch conference in Bellingham, Washington, claiming that the unique surface textures of the Onion Mountain cast had a prosaic explanation; they were "casting artifacts." basically, textures that closely resemble dermal ridges can sometimes spontaneously form on cement casts when the casts are made in very fine, dry soils, like those in which John Green found his tracks. The ridges that spontaneously form somewhat resemble the sand patterns that form on shallow beaches after the tide has gone out. In a surprising turn of events, Meldrum himself publicly proclaimed this hypothesis a "slam dunk." Unknown to Crowley at the time, Meldrum had previously made test casts in fine Idaho loess soil that also exhibited casting artifacts.

Perhaps not surprisingly, Meldrum's current treatment of the Onion Mountain cast in his book is something of a retrenchment from his "slam dunk" proclamation. If the casting artifact hypothesis is correct, then Chilcutt's claim that the textures must represent Bigfoot's dermal ridges is wrong, and rather spectacularly so. Indeed, Chilcutt previously set the stakes for himself very high, when he claimed (on the 2003 "Sasquatch: Legend Meets Science" documentary) that he would "stake his reputation" on his dermal ridge interpretation.

The provenance and chain of custody of the Onion Mountain cast is even more fundamentally damning for Meldrum's current position. What he claims is the original cast has clearly written "Onion Mountain" in ink on the cast itself. Yet until presented with evidence in the form of an e-mail from John Green, Chilcutt maintained that the cast had come instead from Northern California's Blue Creek Mountain. It is not clear that Chilcutt even examined the cast that Meldrum claims is the original. If he did, why didn't he use the unique, unambiguous nomenclature of "CA-19," especially when multiple casts were made of that trackway? This would seemly be an obvious procedure for a veteran crime scene investigator such as Chilcutt.

Unfortunately for Bigfoot advocates, the situation is even more chaotic. John Green claims the original cast is lost. Thus the very provenance and chain of custody of a cast which Chilcutt has previously referred to as "the best one with the clearest dermal ridges" is in dispute. If this sort of "scientific evidence" was used in a legal trial, police detectives would be laughed out of court with such sloppy science and careless protocols. Yet this is typical of the evidence Meldrum and others proffer for Bigfoot.

Incredibly, a recent claim by Bigfoot advocate Rick Noll casts further doubt on the situation. Noll claims that John Green and Bob Titmus regularly scrubbed "surface imperfections" off of their casts with wire brushes. If so, thus calls into question the wisdom of Meldrum's advocacy of yet another dermal ridge cast, one made by Bob Titmus in 1963.

As forensic or scientific evidence for Bigfoot's dermal ridges, the Onion Mountain cast is tainted at the very root and so falls short of even minimum standards of what is considered scientific evidence. Because Meldrum selectively presents his experts and evidence, there is no hint in Sasquatch of the many problems associated with the dermal "evidence." In view of Meldrum's familiarity with – and acceptance of – Crowley's experiments demonstrating serious problems with a cornerstone of dermal ridge evidence, his chapter on this topic is inexplicable. – Matt Crowley
You can read Benjamin Radford's review of the book, the first part of the review here at Cryptomundo at Radford Reviews Meldrum.
You can read Michaels Dennett's review of the book, the second part of the review here at Cryptomundo at Michael Dennett Reviews Meldrum.
And here's a photo of Ben Radford and Matt Crowley, posing for my photo entitled "Twins: Separated at Birth."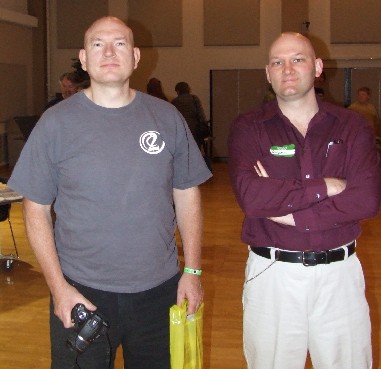 Click image for full-size version
About Craig Woolheater
Co-founder of Cryptomundo in 2005. I have appeared in or contributed to the following TV programs, documentaries and films: OLN's Mysterious Encounters: "Caddo Critter", Southern Fried Bigfoot, Travel Channel's Weird Travels: "Bigfoot", History Channel's MonsterQuest: "Swamp Stalker", The Wild Man of the Navidad, Destination America's Monsters and Mysteries in America: Texas Terror - Lake Worth Monster, Animal Planet's Finding Bigfoot: Return to Boggy Creek and Beast of the Bayou.