Posted by: Craig Woolheater on July 30th, 2016
Bigfoot stars in pedestrian safety PSA
The elusive, hirsute Oregon resident gets a lesson in crosswalks.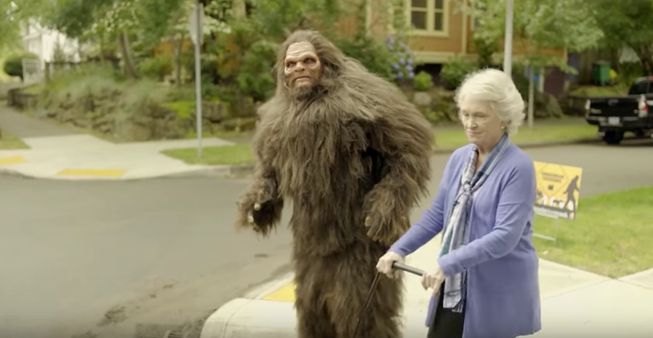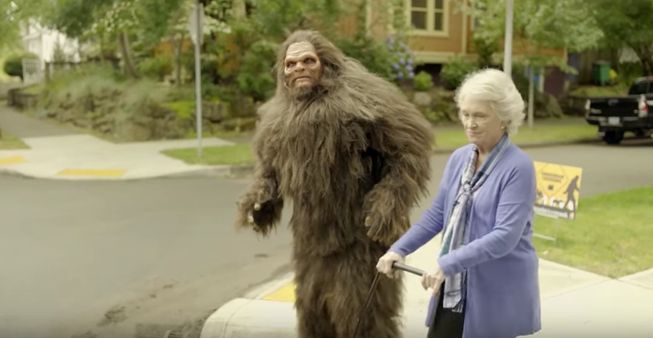 Just two typical Portland pedestrians carefully crossing an intersection. (Video screenshot: OregonDOT/YouTube)
While it's generally agreed that the Pacific Northwest is Bigfoot's preferred stomping ground (sorry, Pennsylvania), there's never been solid consensus about exact whereabouts of the shaggy recluse's primary residence.
Some believe he lives in the woods outside of Sedro-Wooley, a "Twin Peaks"-y logging town roughly halfway between Seattle and the Canadian border.
Northern Californians like to claim Bigfoot as their own, which is understandable given that a sizable stretch of California State Route 96 passing through Klamath National Forest has been designated as a scenic byway named in his honor.
What's more, a sizable number of British Columbians are convinced the elusive beast is a proud Canadian who spends his free time on the shores on Lake Okanagan shootin' the breeze with Ogopogo.
Deeming Bigfoot as the "original hairy, smelly hipster," folks in Oregon — known for having supported Sasquatch protection-minded pieces of legislation in the past — have embraced him as a resident of the Beaver State. Heck, the Oregon Department of Transportation has even managed to get him to come out of hiding and appear in a new public safety campaign about crosswalks. Not an easy feat!
Launched by the ODOT in collaboration with Metro, the Portland metro area's regional governmental organization, the Sasquatch-starring PSA aims to remind drivers of the state's pedestrian right-of-way laws — "in Oregon, every intersection is a legal crosswalk, striped or not." It also serves as a message to pedestrians ("whether you are a person or a mythical forest creature") to remain alert — and, of course, to look both ways and acknowledge drivers and cyclists — before stepping off the curb and into the street.
"In this video, Sasquatch helps remind us that we all have to look out for one another," Rian Windsheimer, the Oregon Department of Transportation's Portland area manager, explains to KATU. "When you're driving or biking, you have to stop for anyone showing intent to cross the street."
According to ODOT statistics, pedestrian deaths jumped a staggering 50 percent in 2015.
In the clip, we see Bigfoot timidly attempting to cross an intersection, not entirely sure of what the rules are as an oncoming car comes screeching to a halt. Is he good to cross?
Then, a kindly, cart-pushing elderly woman joins Bigfoot at the intersection to assure him that, with a wink, "we can go." The woman then confidently proceeds across the street with Bigfoot, cautious at first, following behind as he lets out a Chewbacca-esque howl.
Naturally, the little old lady is unfazed by Bigfoot's presence. After all, Portland is the kind of town where most folks won't so much as bat an eyelash when encountering a 7-foot-tall hermit plucking bugs out of his own chest hair on the street.
"Aside from the fur, the grunting and groaning, he's a normal person," Ira Kortum, the Portland-based actor who plays Bigfoot, tells local news station KGW-TV. "Like anyone else, he appreciates safety!"
Via [CityLab]
About Craig Woolheater
Co-founder of Cryptomundo in 2005. I have appeared in or contributed to the following TV programs, documentaries and films: OLN's Mysterious Encounters: "Caddo Critter", Southern Fried Bigfoot, Travel Channel's Weird Travels: "Bigfoot", History Channel's MonsterQuest: "Swamp Stalker", The Wild Man of the Navidad, Destination America's Monsters and Mysteries in America: Texas Terror - Lake Worth Monster, Animal Planet's Finding Bigfoot: Return to Boggy Creek and Beast of the Bayou.