Posted by: Dave Coleman on March 27th, 2013
Something, uh, smells in the woods… title card from 'Scent of the Sasquatch.'
The ever-popular 'Girls Gone Gorilla' imagery so prevalent in Bigfoot Cinema. It harkens to 'King Kong' and countless other Killer Gorilla flicks, and is a common motif when cryptids meet human wimmen!

From 'Scent of the Sasquatch' … let's hope the Big Guy used some Axe for Men, or Cryptids, anyway!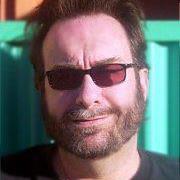 About Dave Coleman
Author of THE BIGFOOT FILMOGRAPHY, a new non-fiction reference guide and critique of Cine du Sasquatch. From McFarland in Fall 2011. Hardbound. Oversized.