April 8, 2015
Survivorman Bigfoot Returns to Canada
Watch the series premiere of Survivorman: Bigfoot, Wednesday April 8th at 9pm ET/PT on OLN.
Show Synopsis
In Survivorman: Bigfoot our intrepid survival hero and the Godfather of the survival TV genre, Les Stroud, puts the challenge out there to all the claims of the existence of a large bi-pedal great ape living in the forests of North America. Of all the possible explorer-adventurers and survival guru's, Les Stroud is the one man ideally suited to travel into the 'hot spots' of bigfoot territory to get to the bottom of things. If there's anything out there Les Stroud will continue down his path of sharing and teaching how to illicit a response from these mythical beings in an effort to get as close as possible to the truth. There is only one man the world of bigfoot advocates trust to show the truth to the world; Survivorman Les Stroud. In each location he shows the tricks and techniques to getting close to these large creatures reported to still be alive and thriving in the forests of North America. If they are there in the remote regions, if they are there in the national parks, if they are there in people's back yards; Survivorman will boldly walk straight into the zone and attempt to experience a connection and ultimately capture high definition film footage of these legendary creatures.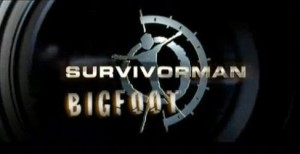 See all of the Survivorman posts on Cryptomundo here.
#LesStroud #SurvivormanBigfoot #DiscoveryChannel #OLN
About Craig Woolheater
Co-founder of Cryptomundo in 2005. I have appeared in or contributed to the following TV programs, documentaries and films: OLN's Mysterious Encounters: "Caddo Critter", Southern Fried Bigfoot, Travel Channel's Weird Travels: "Bigfoot", History Channel's MonsterQuest: "Swamp Stalker", The Wild Man of the Navidad, Destination America's Monsters and Mysteries in America: Texas Terror - Lake Worth Monster, Animal Planet's Finding Bigfoot: Return to Boggy Creek and Beast of the Bayou.
Filed under Bigfoot, Bigfoot Report, Cryptozoologists, Cryptozoology, Evidence, Expedition Reports, Eyewitness Accounts, Footprint Evidence, Pop Culture, Sasquatch, Television, Videos