Posted by: Max Hawthorne on May 1st, 2016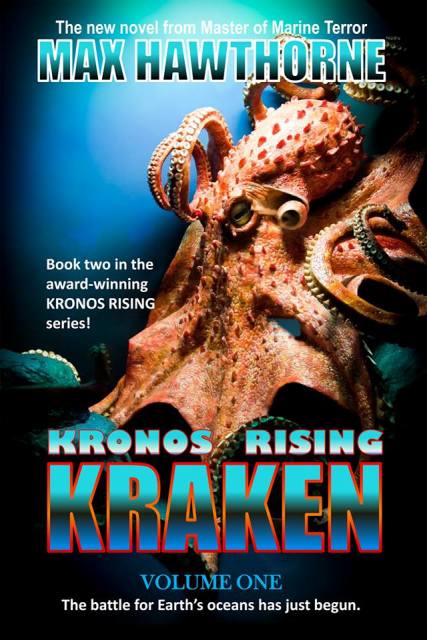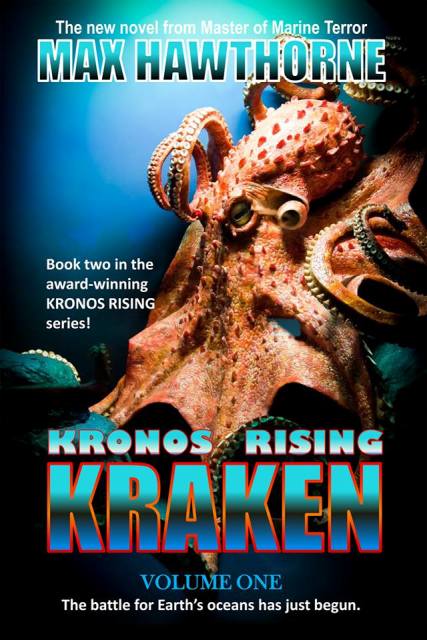 Media Contact
Far From The Tree Press, LLC
manager@farfromthetreepress.com
FOR IMMEDIATE RELEASE
KRONOS RISING: KRAKEN – The battle for Earth's oceans has just begun.
Buckingham, PA, April 24th, 2016 –
* Krank.ie. called Kronos Rising: "A master class in the suspension of disbelief, reminiscent of the work of Michael Crichton."
* The San Francisco Book Review called Kronos Rising: "An addictive read… worthy of sitting on the shelf next to Peter Benchley's JAWS."
* Prehistoric Times Magazine named Kronos Rising: "PIX Book of the Year!"
Not since the 1975 movie JAWS, starring Richard Dreyfuss, Roy Scheider, and Robert Shaw, have people been so afraid to go into the water as they have after reading Max Hawthorne's marine terror novel, Kronos Rising. In what can only be described as an adrenaline pumping roller coaster ride into pure terror, Hawthorne introduces readers to the deadliest predator the world has ever seen, "freed, after 65 million years!"
NOW, the eagerly awaited second book in the award-winning Kronos Rising series, Kronos Rising: Kraken (vol.1) has been unleashed on 4/24/2016
The Manhattan Book Review gave Kronos Rising "5 stars!"
As NY Times Bestselling Author, Stan Pottinger, put it: "A word to the wise: if you bite your nails, you'd better wear oven mitts when reading Kronos Rising. It will drag you down to the depths of fear and take you back for a breath of air as fast as you can turn the pages. Readers beware: a new master of marine terror is in your bookstore, and his name is Max Hawthorne!"
Known as "The Prince of Paleo-Fiction," Max Hawthorne makes an entertaining guest. He grew up in Philadelphia, where he graduated with a BA from Central High School and a BFA from the University of the Arts. He is the author of MEMOIRS OF A GYM RAT, an outrageous exposé of the health club industry, as well as the award-winning KRONOS RISING novel series. In addition to being a full-time writer, he is a voting member of the Author's Guild, an IGFA world record-holding angler, and an avid sportsman and conservationist. His hobbies include fishing, boating, and the collection of fossils and antiquities. He lives with his family and an impossibly large rabbit in the Greater Northeast.
Book synopsis:
Book 2 in the award-winning KRONOS RISING series!
Thirty years have passed since the destruction of Paradise Cove. Since then, pliosaurs the size of whales have wreaked havoc on the world's oceans. Despite tragic losses, Garm Braddock and his brother Dirk wage a bloody war of attrition against the voracious marine reptiles: Garm from the helm of the anti-biologic submarine Gryphon and his brother from the top-secret military research facility known as TARTARUS.
In spite of ongoing attempts to destroy them, the prehistoric predators that rose from the ashes of Diablo Caldera continue to multiply. They are bringers of death, and via more than just their deadly jaws. Their blood contains a primeval pathogen so virulent that, left unchecked, could spell the end of mammalian life.
Meanwhile, in the icy darkness of the deep, an evil as ancient as the dinosaurs stirs in response to the changes in Earth's oceans. Rising hungrily to the surface, it brings with it an intellect as cold as the abyss and an irrepressible need to destroy and devour.
And conquer.
Available 4/24/2014 at fine bookstores, online outlets, and the author's website.
Amazon.com: paperback or Kindle Edition.
Kronos Rising: Kraken (vol. 1)
by Max Hawthorne
Release Date: 4/24/2016
Publisher: Far From The Tree Press, LLC
ISBN-13: 978-0692658147
ISBN-10: 0692658149
Page count: 552 pages
For more information, please visit: www.kronosrising.com
###
TIP SHEET:
"Max Hawthorne explores the sinister side of the dark abyssal world with a new kind of beast, one that makes white sharks and giant squid as threatening as guppies and tadpoles."
–Doug Olander, Editor-in-Chief, Sport Fishing Magazine
"Until today, the deepest, darkest depths of the ocean remained an impossible mystery. But no more – a violent earthquake has finally unleashed a wonderfully horrific secret waiting to eat you alive. From the opening scene of black market shark hunters invading forbidden waters, Kronos Rising sweeps you onto a surprising, wildly inventive, thrill ride. A fabulous debut by Max Hawthorne. Simply put, it's got teeth. Big ones!"
–Christ Parker, screenwriter (Heave if For Real, Vampire in Brooklyn, Mulan II, Battle of the Year)
"What a ride! An adrenaline pumping, non-stop descent into terror, Kronos Rising will do for this generation what "JAWS" did for the last one. Forget going into the water; I'm not going near it!"
–Mara Corday, sci-fi classic star of Tarantula, The Black Scorpion, and The Giant Claw
#ReleaseTheKraken

About Max Hawthorne
Max Hawthorne is the author of Kronos Rising, book one in a new marine terror series. He grew up in Philadelphia and graduated with a BA from Central High School and a BFA from the University of the Arts. He is a world record-holding angler whose writing has appeared in a multitude of outdoor magazines and periodicals. He is an avid sportsman and conservationist. His hobbies include hunting, fishing, and the collection of fossils and antiquities. He lives with his family in the Greater Northeast.