December 5, 2013
The Lake Monsters of America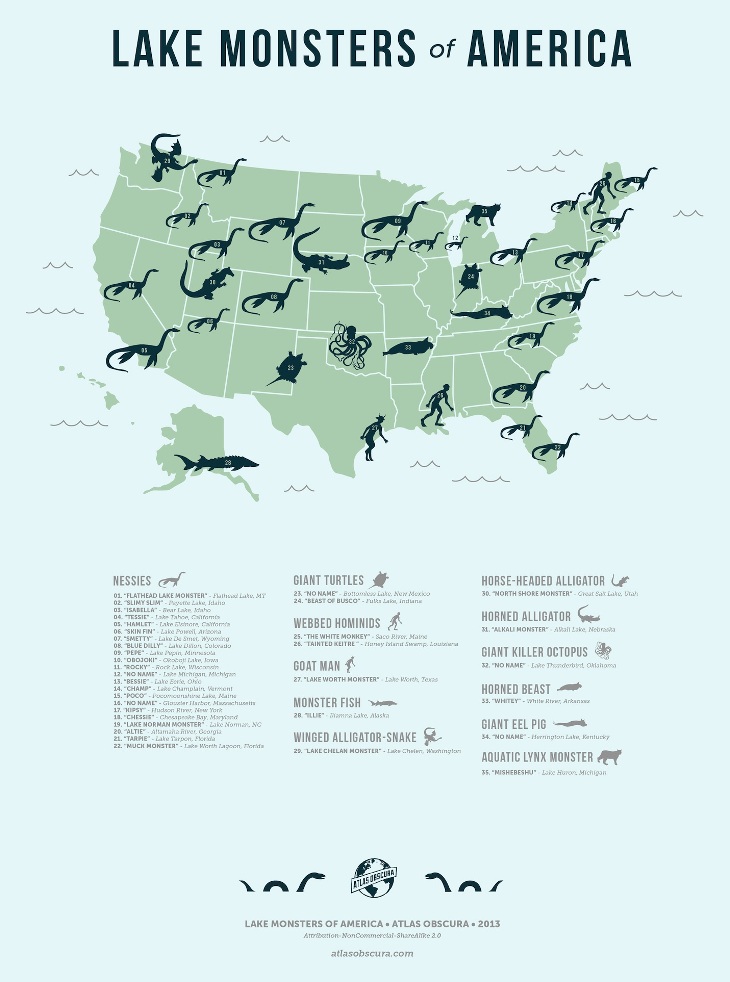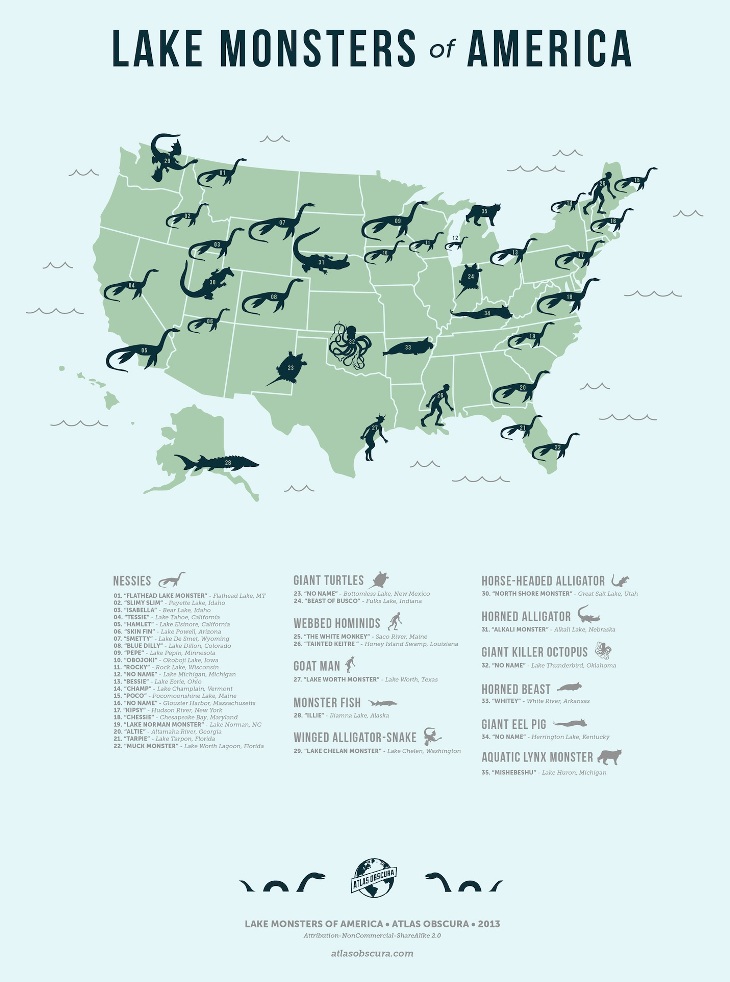 Click on map for full-size version
People love to fill in mysterious areas of nature with myths of monsters. Early maps had voids of knowledge marked with warnings that "Here be Dragons," sasquatches are believed to be prowling the thick forests, and legends tell of strange creatures that might be concealed beneath the surface of our lakes. Here we present our map of American lake monsters (view it large here), showing the spread of cryptids that might be lurking in the depths of the waters of the United States.
You'll see a good share of serpent-like animals of the Loch Ness Monsters variety, such as Isabella of Bear Lake in Idaho who was spotted by a Mormon pioneer in the 19th century and even had Brigham Young himself send a hunting party after the possible plesiosaur. There's also the famed Champ of Lake Champlain, possibly the most famous of American lake monsters, and the Lake Dillon monster in Wyoming that some think is being suppressed by a secret society. However, that's just where the fun of this fauna folklore begins, as there are also legends of monolithic turtles, webbed hominids, a goat man, a winged alligator snake, a horse-headed alligator, a giant killer octopus, and an eel with a pig head.
Check out the original article here, with some illustrations and descriptions of the various lake monsters depicted on the above map.
About Craig Woolheater
Co-founder of Cryptomundo in 2005. I have appeared in or contributed to the following TV programs, documentaries and films: OLN's Mysterious Encounters: "Caddo Critter", Southern Fried Bigfoot, Travel Channel's Weird Travels: "Bigfoot", History Channel's MonsterQuest: "Swamp Stalker", The Wild Man of the Navidad, Destination America's Monsters and Mysteries in America: Texas Terror - Lake Worth Monster, Animal Planet's Finding Bigfoot: Return to Boggy Creek and Beast of the Bayou.
Filed under Bigfoot Report, Cryptotourism, Cryptozoology, Eyewitness Accounts, Lake Monsters, Merbeings, Pop Culture, River Monsters, Swamp Monsters