Posted by: Craig Woolheater on July 7th, 2016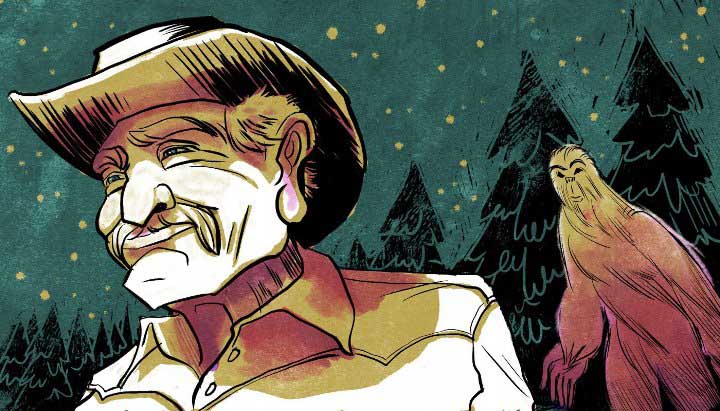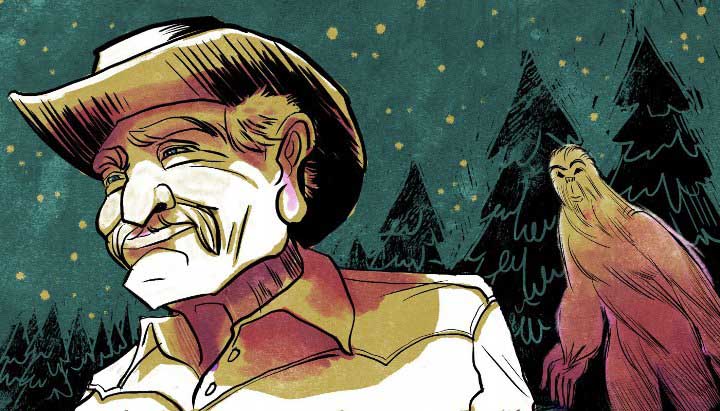 Before he had ever heard of Bigfoot, Bob Gimlin had led the life of a man who feared nothing, who thrived on dares and several times cheated death. Photo: Erin Wilson
Bob Gimlin was a small town cowboy when his friend coaxed him into hunting the famous mythical creature 50 years ago. Today, as the legend of Bigfoot has grown, Gimlin is viewed by the community of believers around the country as something of a prophet.
For weeks in the fall of 1967 the cowboys rode from sunrise to sunset in search of the creature no one had ever captured on film. Two rodeo men from Washington's apple country, they'd traveled to Northern California's thick forest. They'd read headlines of unidentifiable footprints. The smaller cowboy was driven by a long obsession with the mythic beast known as Bigfoot; the other liked to see things for himself.
One late October afternoon near Bluff Creek, the men trundled on horseback, half a day's ride from the nearest signs of civilization. The sun shone bright, lighting the leaves all around them in a grand finale of orange and red and yellow. Roger Patterson rode in front, pausing his quarter horse to point his lens toward the leaves, the film chattering inside his rented 16mm Cine Kodak camera. When he finished, he tucked the camera into his saddlebag, leaving the leather flap open.
Bob Gimlin brought up the rear. He rode a pony, leading a packhorse loaded with supplies behind him. Patterson navigated around a bend where a large tree had fallen and jammed up the nearby creek—its root system upturned and exposed, like blind fingers reaching for an anchor.
The horses saw it first. Patterson's reared, kicking and protesting, then Gimlin's. Less than 100 feet away, the men saw why: a hulking gorilla-like figure covered in dark hair hurried on two legs along the creekbed. Its sloped head and torso were pushed forward, its upper back hunched, thigh muscles rippling, long arms swinging, breasts exposed.
Patterson scrambled off his spooked animal, holding its reins just long enough to reach inside his saddlebag for the camera. Gimlin, a cowboy famous through the Yakima Valley for taming wild colts and running in breakneck "suicide races" (in which riders careen down steep slopes), dropped the packhorse's rope and gripped the reins of his frightened pony to steady it.
Patterson scrambled across the uneven ground, waving the camera in one hand, the film blurry as he ran. He stopped to crouch and steady himself, then trained the lens on the strange figure, the camera shaking from his breathing. "Bob! Cover me!" he yelled over his shoulder to Gimlin, who rode toward the creek, dismounting his pony and drawing his rifle.
The picture steadied as the creature, mid-stride, turned to look over its right shoulder—just a glance—before it disappeared into the forest. A skunky, rank odor hung heavy in the air. The whole affair was over in less than a minute.
The final 59.5-second film, which the men would airmail back home to be developed, would soon become the world-famous Patterson-Gimlin film—arguably one of the most scrutinized pieces of video footage ever made. It is the cryptozoological equivalent to the Kennedy assassination's Zapruder film. The film met immediate criticisms accusing Patterson and Gimlin of being master pranksters who simply filmed a man in an ape suit and laid fake footprints in the mud.
The film tore Patterson's and Gimlin's friendship apart. Patterson partnered with his brother-in-law, Al DeAtley, to take the film on a national tour as a way to raise funds for a full-fledged expedition back at Bluff Creek. The three took equal shares in the film, but soon Gimlin felt edged out, and sold his share of the rights for less than $10 to another Bigfoot researcher.
After five years estranged, Patterson and Gimlin made amends in 1972 as Patterson lay on his deathbed, dying of cancer at age 38. Patterson apologized for ousting Gimlin, pleading with him that when he recovered that they would go back to California and catch Bigfoot. He died the next day.
More than 40 years later, the film has never been conclusively debunked. It has withstood scrutiny from scientists, forensic analysts, Hollywood special effects experts, and costume designers. No one can quite explain it—except those who believe in folklore. In that time, Bigfoot has evolved into a full-fledged American myth, propagated by a national congregation of believers who regard Gimlin as a kind of prophet.
"Meeting Bob Gimlin, to a Bigfooter, is like meeting the President of the United States to an American," says Cindy Rose Caddell, a researcher and author. "Or what meeting the Pope is to a Catholic."
Read the rest of the article here on the Outside Online website.
About Craig Woolheater
Co-founder of Cryptomundo in 2005. I have appeared in or contributed to the following TV programs, documentaries and films: OLN's Mysterious Encounters: "Caddo Critter", Southern Fried Bigfoot, Travel Channel's Weird Travels: "Bigfoot", History Channel's MonsterQuest: "Swamp Stalker", The Wild Man of the Navidad, Destination America's Monsters and Mysteries in America: Texas Terror - Lake Worth Monster, Animal Planet's Finding Bigfoot: Return to Boggy Creek and Beast of the Bayou.