Posted by: Christopher Noël on January 20th, 2015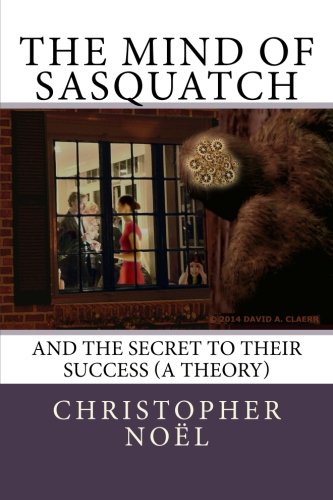 I'm happy to report that my new book has gotten three Amazon reviews and all of them are five stars! So far, so good.
Finally An Original Theory!
By Midwestern Writer on January 5, 2015
I've been reading books about this subject for years and finally, this is a book that does something brand new. It approaches the mystery of Sasquatch behavior from a psychological perspective, making a serious and intelligent analysis that sees the world through the Sasquatch viewpoint and tries to explain how and why they avoid humans. What a break to get away from the same old same old! Before reading Noel's book, I could never figure out how they keep staying undiscovered, but now I feel I've been brought a long way toward the answer. This book may not have ALL the solutions (Mr. Noel even asks for help from other researchers), but I greateful for his bravery and refreshing originality, and the great variety of sources of information he brings together to form his theory: archeology, DNA research, autism memoirs, evolutionary theory, and direct links to dozens of videos about current Sasquatch research. I hope he and others will build on the important work he presents here in The Mind of Sasquatch.
Onto Something True
By Thomas Fairbanks on January 11, 2015
I am an amateur Bigfoot researcher and a professional social worker who has worked with autistic children and adults for more than thirty years. A number of years ago, I began to see weird similarities between Bigfoot behavior and my autistic clients. Noel's new book hits on most of these similarities and some others that I hadn't thought of, and he takes them further than anyone else ever has. Probably some readers will think this connection is far-fetched, but anyone who has studied both Bigfoot and people "on the spectrum" will understand that there is a LOT of validity in Noel's theory. This book really opened up my mind in a way that no other book on the subject has.
Christopher Noel has drawn some amazing connections between autism and the mind of the Sasquatch
By Regina Nielsen on January 19, 2015
Verified Purchase
Based on years of observation and personal experience, Christopher Noel has drawn some amazing connections between autism and the mind of the Sasquatch. After reading this book, anyone having Sasquatch experiences will recognize the connection to certain behaviors found along the autistic spectrum. This could quite definitely speak to the Sasquatch's ability to elude. This book offers a fresh and interesting new direction in which to proceed in the understanding of Sasquatch nature. This research is groundbreaking!
See also:
The Mind of Sasquatch
GoFundMe Project: Finally, Footage Update
GoFundMe Project: Finally, Footage

About Christopher Noël
Christopher Noël is the author of Sasquatch Rising 2013 and editor of the newly released anthology How Sasquatch Matters: Writers Respond to the New Natural Order. Christopher Noël holds a Master's degree in Philosophy from Yale. Noël is a freelance editor (ChristopherNoel.info) and lives with his daughter in Vermont's Northeast Kingdom.