Posted by: Christopher Noël on January 2nd, 2015
And the Secret to Their Success (a theory)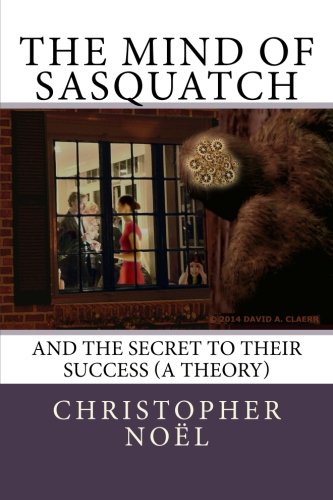 Although we cannot study the psychology of Sasquatch directly, we are in good position already to make educated guesses about their mentality based on behavioral analysis.
Skeptics are fond of asking, as though no answer were remotely possible, "HOW could an eight-foot-tall primate exist undiscovered in our backyard?"
This book meets the issue head-on, offering a personality profile of the species that differs substantially from those offered before.
Sasquatch are hardwired by evolution to conceal themselves, interacting with us only in a mediated, indirect fashion. Their tactical genius and other striking abilities mirror gifts seen in people known as autistic savants.
Exploring this surprising connection in depth, THE MIND OF SASQUATCH makes a fresh contribution to our collective pursuit of one of the profound puzzles of our time—the true nature of this kindred species.
TABLE OF CONTENTS (partial)
-How Do They Do It?
-Why the "Training" Concept Does Not Work
-Order vs. Chaos, Part One
-The Sasquatch Listening Project
-Order vs. Chaos, Part Two
-Morning Visits
-Why all the Music?
-Incoming!
-Swaying
-Exposure Anxiety
-The Meaning of "Aim"
-Field Notes from the Gorilla Nation
-A Day on the Clock
-Habituation Sites
-Echolalia
-Stick and Tree Structures
-Indirect Communication
-So Close Yet So Far
-The Native American Question
-Wildness vs. Human Self-Domestication
-A Crash Course in Hybridization
-News Flash: We Ourselves are Hybrids
-Melba Ketchum and the Hybrid Theory of Sasquatch Origins
-Autistic Savants and "Animal Genius" (Temple Grandin)
-Animals Aren't Ambivalent
-The Birth of Logos
-The Ratchet Effect
-Pattern Recognition and Strategic Thinking
-Proto-Humans and Autism
-Autism as Naturally Selected?
-The Occam's Razor Test
See also:
GoFundMe Project: Finally, Footage Update
GoFundMe Project: Finally, Footage
The Sasquatch Listening Project 2014: Return to the Ravine
The Sasquatch Listening Project 2014: Morning Visits

About Christopher Noël
Christopher Noël is the author of Sasquatch Rising 2013 and editor of the newly released anthology How Sasquatch Matters: Writers Respond to the New Natural Order. Christopher Noël holds a Master's degree in Philosophy from Yale. Noël is a freelance editor (ChristopherNoel.info) and lives with his daughter in Vermont's Northeast Kingdom.