Posted by: Craig Woolheater on September 17th, 2014
And Cryptomundo will be representing at both!
First up is the 2014 Florida Skunk Ape Conference. Cryptomundo contributor Lyle Blackburn will be speaking at this event among many other notables.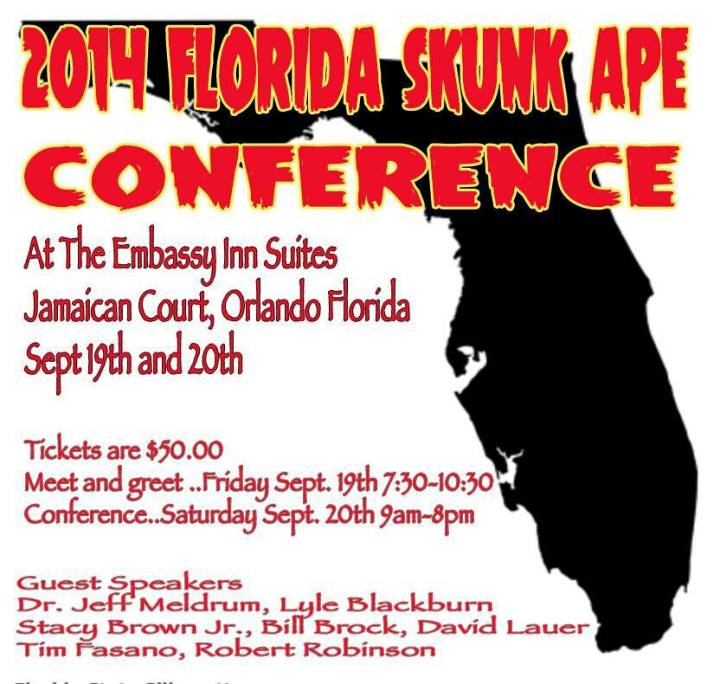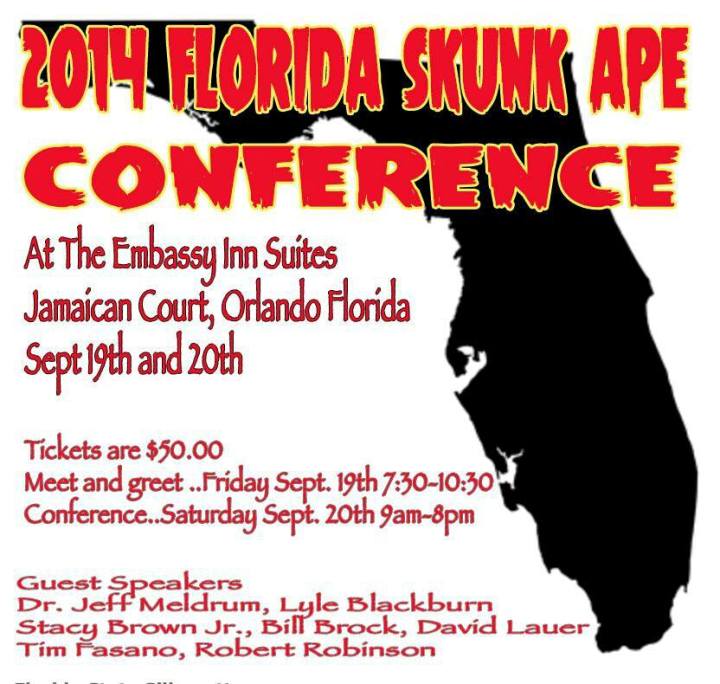 The First ever Skunk ape conference will be held in Orlando, FL. on September 19th-20th 2014. It will be held at the beautiful Embassy inn & suites Jamaican court. This years Speakers include….Dr.Jeff Meldrum, Lyle Blackburn, Stacy Brown Jr., David Lauer, Robert Robinson, Bill Brock and Tim Fasano. More to be announced soon. Tickets for the event are $50 and will include a meet & greet Friday the 19th at the hotel from 7:30-10:30 pm. Which will include appetizers. Ticket holders will recieve a 15% discount off of rooms at the hotel. The conference will begin Saturday the 20th at 9 a.m. and run thru 8 p.m. There will also be vendors set up so you can demo all kinds of squatchie equipment, meet authors and get all the cool bigfoot swag you want!!! Tickets are limited and will go quick so get yours today!!!
Purchase tickets below thru Paypal. You will recieve an email notification of your purchase and your name will be put on the will call list at the door. Your ticket purchase includes 15% off room rates at the hotel and access to the meet and greet Friday the 19th from 7:30-10:30 p.m. Tickets are $50.00
And then we have the 13th Annual Mothman Festival.
Nick Redfern and myself will be representing Cryptomundo.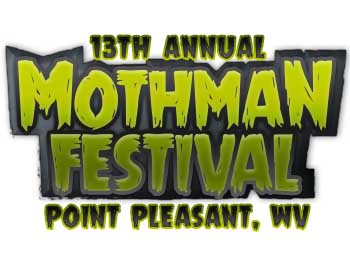 As Nick mentioned last week here, Mothman Festival 2014, he will be speaking at the event.
Here is the lowdown on the event:
A celebration of Mason County's most infamous resident is less than a month away and the official 2014 Mothman Festival schedule of events has been released.
The festival is slated for Saturday, Sept. 20 and Sunday, Sept. 21. and is centrally located in downtown Point Pleasant at Gunn Park which houses the Mothman statue. Activities are also traditionally planned at the Mothman Museum, State Theater, Riverfront Park, West Virginia State Farm Museum and Lowe Hotel.
On Saturday, Sept. 20, the festival kicks off at 9:45 a.m. at the new home of the Mothman Museum on the corner of 4th and Main streets next to the Mothman statue. This will be a grand re-opening of the museum followed by the Mayor's welcome and the debut of the new Mothman costume.
Guest speakers on Saturday, Sept. 20 at the State Theater:
10 a.m., Patricia Gray;
11 a.m., Chad Lambert;
noon, Neal Parks;
1 p.m., Sharon Shull, Faye Dewitt;
2 p.m., Rosemary Ellen Gulley;
3 p.m., Susan Sheppard;
4 p.m., Craig Woolheater and Nick Redfern;
5 p.m., Fred Saluga;
6 p.m., Sherri Brake;
7 p.m., Stan Gordon;
8 p.m., Robin Bellamy;
9 p.m., Andy Calvin.
Following the speakers is a free presentation of the film "White Zombie," also at the State Theater.
Bands on Saturday, Sept. 20 at Point Pleasant Riverfront Park:
3 p.m., Bunkhammer;
4:30 p.m., Still Water;
6 p.m., Blitzkrieg;
7:30 p.m., 40lb. Snapper;
9 p.m., Blue Z Band.
Also on Saturday, Sept. 20, Mothman Hayrides will be offered through the TNT area starting at 7 p.m. at the West Virginia State Farm Museum. However, you must have tickets for the hayrides. Tickets can be purchased starting at 10 a.m. at the information tent located in front of the Mothman statue in downtown Point Pleasant. These tickets tend to sell fast.
Guest speakers on Sunday, Sept. 21, at the State Theater:
11 a.m., round table discussion with various speakers;
noon, Brian Seech;
1 p.m., Chris McDaniel;
2 p.m., Dale Morton (Mothman costume creator);
3 p.m., Joedy Cook.
Bands on Sunday, Sept. 21, at Point Pleasant Riverfront Park:
noon, Jesse Crawford Band;
1:30 p.m., Andy Park and the True Lovers;
3 p.m., Sandergeist.
For more information:
#MothmanFestival
About Craig Woolheater
Co-founder of Cryptomundo in 2005. I have appeared in or contributed to the following TV programs, documentaries and films: OLN's Mysterious Encounters: "Caddo Critter", Southern Fried Bigfoot, Travel Channel's Weird Travels: "Bigfoot", History Channel's MonsterQuest: "Swamp Stalker", The Wild Man of the Navidad, Destination America's Monsters and Mysteries in America: Texas Terror - Lake Worth Monster, Animal Planet's Finding Bigfoot: Return to Boggy Creek and Beast of the Bayou.