Posted by: John Kirk on July 15th, 2014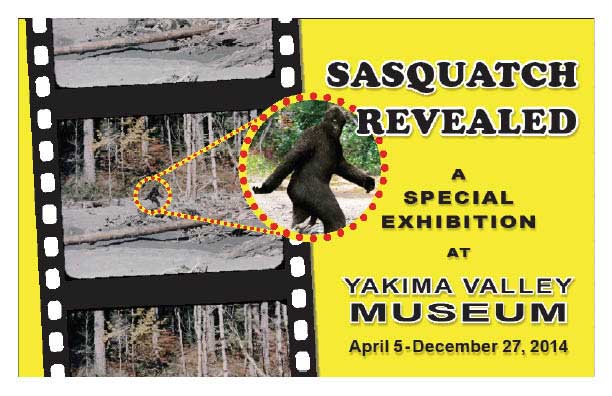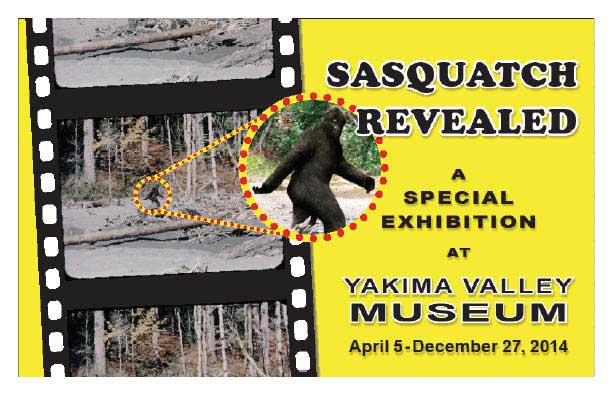 I've been waiting awhile to announce this and finally the day has come.
Keep your October open.
Tom Yamarone (mostly) and I have been working on a major event in Yakima, Washington as a tie-in with the "Sasquatch Revealed" exhibit at the Yakima Valley Museum.
At last, we have the details, so here they are:
The Yakima Valley Museum and the Friends of Bob Gimlin present
The Yakima Bigfoot Round-Up 2014
October 10-12, 2014
Yakima Valley Museum
Yakima, Washington
This event will bring together the leading sasquatch researchers, authors, investigators and enthusiasts for a weekend of informative presentations and a tribute banquet to some of the pioneer researchers in this field. Join us the weekend of October 10, 11 & 12, 2014 as we celebrate Sasquatch Revealed in Yakima, Washington. For most of this year, the Yakima Valley Museum is hosting an exhibit, exquisitely displayed, featuring sasquatch and bigfoot artifacts and rare memorabilia from the collection of Christopher L. Murphy. It is the first time since the inaugural bigfoot tribute event in May 2009 that a serious-minded sasquatch conference has been hosted in the hometown of Bob Gimlin and Roger Patterson.
(Tentative schedule and ticket pricing below)
Friday, October 10, 2014
5:30 – 7:00 p.m. Registration and Social Mixer at the Museum. After hours viewing of the Sasquatch Revealed Exhibit for conference attendees.
7:00 – 7:50 p.m. Christopher L. Murphy "Curator Introduction to Sasquatch Revealed Exhibit" and "Pioneers of Bigfoot Evidence – Jerry Crew, Al Hodgson, Bob Gimlin and Roger Patterson" (w/ Tom Yamarone)
8:00 – 9:30 p.m. "Willow Creek" Bobcat Goldthwait's bigfoot movie to be screened in museum theater.
Saturday, October 11, 2014
1:00 – 4:30 p.m. Yakima Bigfoot Round-Up 2014
1:00 – 1:45 p.m. Dr. John Bindernagel "Current Scientific Evaluation of Sasquatch Evidence"
1:55 – 2:45 p.m. Dr. Jeff Meldrum "Best Evidence for Sasquatch to Date"
Break
3:10 – 4:00 p.m. Bill Munns "The Patterson-Gimlin Film Examined – When Roger (and Bob) Met Patty"
Break
4:20 – 4:50 p.m. Bob Gimlin "Recounting October 20, 1967"
Yakima Bigfoot Round-Up 2014 Tribute Banquet
6:15 – 6:30 p.m. Seating for Tribute Banquet
6:30 – 7:45 p.m. Dinner is served
7:45 – 8:00 p.m. Dessert
8:00 – 9:00 p.m. Tributes to Pioneers of Bigfoot Evidence
Sunday, October 11, 2014
Yakima Bigfoot Round-Up 2014 Sasquatch Revealed Lectures
$15 / separate admission
1:00 – 4:00 p.m.
Cliff Barackman, Mel Skahan and John Mionczynski (?)
Tickets for the Yakima Bigfoot Round-Up 2014
$65 General Admission – includes Friday social mixer and movie, Saturday lecture series and tribute banquet
$90 Reserved Ticket – includes all of the above with a reserved seat for the movie in a private row, reserved seat in Rows 1 through 3 for the lecture series.
$15 Souvenir t-shirt
$5 Souvenir program
Event poster included with ticket purchase. (sold separately for $7)
Now, the magic word for some aspects is "tentative". Things can and do change so be advised.
October will be a magic month with this event, plus The Original Texas Bigfoot Conference in Jefferson, Texas the following weekend, then followed by Lyle Blackburn's Boggy Creek Conference in Fouke, Arkansas the weekend after Jefferson.
This is the most epic month I have ever known in Sasquatch history.
Tom and I are looking forward to seeing everybody. If you'd like to financially sponsor or donate items for auction at the Yakima event please private message Tom or me. We'd be delighted to hear from you.
Thanks a ton to everybody who has already responded and said you are coming to Yakima. We'll have an unbelievably good time.

About John Kirk
One of the founders of the BCSCC, John Kirk has enjoyed a varied and exciting career path. Both a print and broadcast journalist, John Kirk has in recent years been at the forefront of much of the BCSCC's expeditions, investigations and publishing. John has been particularly interested in the phenomenon of unknown aquatic cryptids around the world and is the author of In the Domain of the Lake Monsters (Key Porter Books, 1998). In addition to his interest in freshwater cryptids, John has been keenly interested in investigating the possible existence of sasquatch and other bipedal hominids of the world, and in particular, the Yeren of China. John is also chairman of the Crypto Safari organization, which specializes in sending teams of investigators to remote parts of the world to search for animals as yet unidentified by science. John travelled with a Crypto Safari team to Cameroon and northern Republic of Congo to interview witnesses among the Baka pygmies and Bantu bushmen who have sighted a large unknown animal that bears more than a superficial resemblance to a dinosaur. Since 1996, John Kirk has been editor and publisher of the BCSCC Quarterly which is the flagship publication of the BCSCC. In demand at conferences, seminars, lectures and on television and radio programs, John has spoken all over North America and has appeared in programs on NBC, ABC, CBS, PBS, TLC, Discovery, CBC, CTV and the BBC. In his personal life John spends much time studying the histories of Scottish Clans and is himself the president of the Clan Kirk Society. John is also an avid soccer enthusiast and player.