Posted by: Dave Coleman on May 10th, 2013
Download the eBook as a way to re-Kindle your romance with the great outdoors (though you gotta be a ripe crypto-bastard to try the grab n' go methodology for biking paths as the author suggests!).
I dig those Birkensquatches he's wearin', too. You wanna show the opposite sex a little pizzazz while yer courtin', after all.
Sneakers are a bit too urban for even the most suave of Squatches to pull off. I mean, literally, later, the laces really send 'em mental. It's like the six-pack plastic thingie: be kind, or some squatch will be stuck wearing shoelaces!
Jes' don't let squatch steal yer woman. Sumbitch may be endangered n' misunderstood n' all, but he's also a lady killer — literally — and he digs 'em hitched. 'Got MILF?' is his sick retort if you rank him for it, too.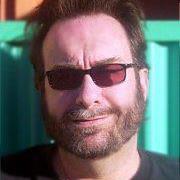 Dave Coleman – has written 53 posts on this site.
Author of THE BIGFOOT FILMOGRAPHY, a new non-fiction reference guide and critique of Cine du Sasquatch. From McFarland in Fall 2011. Hardbound. Oversized.