Posted by: Nick Redfern on May 5th, 2012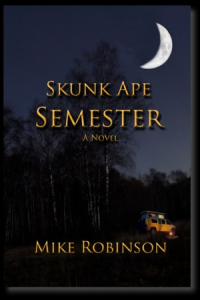 I was contacted yesterday by one Mike Robinson, who told me of his new crypto-themed novel, Skunk Ape Semester, that it's "…part 'On the Road', part 'X-Files', and part Fortean textbook. It covers not only Bigfoot but the Chupacabra, UFOs, the Kelly Goblins, Champ, the Dover Demon, and the Lizard Man."
If you want to learn more about Mike's book, you can do so at his website: Skunk Ape Semester.
And, if you click on this link, you can also read an excerpt from the book, which will give you a good flavor of what it's all about.
I have to say, it looks good, and I'll be buying, and reviewing, a copy soon!

About Nick Redfern
Punk music fan, Tennents Super and Carlsberg Special Brew beer fan, horror film fan, chocolate fan, like to wear black clothes, like to stay up late. Work as a writer.