March 28, 2011
Sylvanic Bigfoot and Todd Standing Erased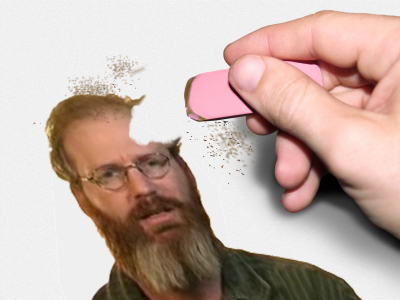 There are two great post here regarding Todd Standing; one is From Loren Coleman, "Todd Standing is Confused" and the other is from Craig Woolheater, "Todd Standing: Bigfoot Authority" (tongue-in-cheek title).
One of our fans at BigfootLunchClub.com noted the Sylvanic.com web site is down, and has been for weeks. In fact, Todd Standing and his Sylvanic Bigfoot is missing from three prominent places:
1.) Sylvanic.com been down for weeks
2.) Sylvanic You Tube videos have been switched to private
3.) There is no trace of him at the Erickson Project's website.
We tried to contact Todd and have not heard back from him yet. What we do know is the erasing of Sylvanic and Todd Standing has not been an accident, meaning the domain has not expired. Sylvanic.com does not expire until November 9th of this year. The site is down because Todd Standing wanted it down. The You Tube videos are unavailable because Todd made them to be unavailable.
You can read more about Sylvanic Bigfoot speculation and rumor at BigfootLunchClub.com

About Guy Edwards
Psychology reduces to biology, all biology to chemistry, chemistry to physics, and finally physics to mathematical logic. Guy Edwards is host of the Portland, OR event HopsSquatch.com.
Filed under Bigfoot, Bigfoot Lunch Club, Cryptozoology, Hoaxes, Sasquatch